Daily I am crossing Utrecht Centraal, the biggest railway-station of the Netherlands. I am entering at the Jaarbeurs-zijde, which is an unrecognizable mess because of a construction project which apparently is going to last for several years. I pass through the hectic station hall; I walk through the still closed and silent shopping centre of Hoog Catherijne. It is a pleasant walk, silence before a hectic day. Good especially with a cappuccino in the hand.  Then, three weeks ago, there suddenly was a Voice echoing through the mall.
Cruelly I was brought out of my comfortable semi-sleeping morning state with the words (perhaps sarcastic, given the situation): HET IS BETER IETS TE ZEGGEN DAN NIETS TE ZEGGEN!  IT IS BETTER TO SAY SOMETHING THEN NOTING! The voice took those wise words quite literally and kept on talking, mostly in Dutch, sometimes in English and sometimes in German. Now and then it laughed hysterically, or started snoring or whispering. I kept on looking around for quite a while expecting to see a mentally retarded homeless person or someone in that range, but after some time (it was still early) I found out the voice came from the loudspeakers.
While the voice kept on talking (it was now giving an endless row of city and years: Rome, 1967; Berlijn, 1968; Bombay, 1970; St. Petersburg 1971) I slowly started to realize more things were different in the mall. What was that never moving mannequin doing in one of the corridors? What was with the colored ropes in one of the open spaces? And, well visible from outside:  was that big teapot on the roof there before?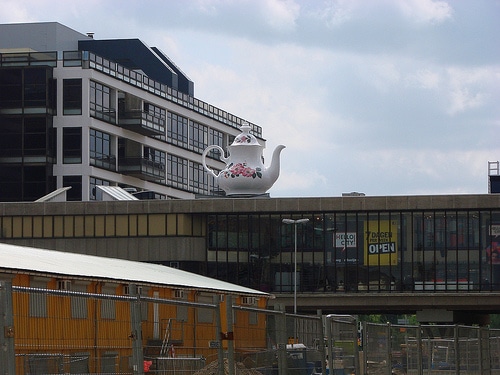 All turned out to be part of a very interesting art project at probably one of the busiest places in the Netherlands, Hoog Catharijne: Call of the Mall. The project has "the fast changing world in which we live" as its theme. Undeniable our world is changing: internet and social media are omnipresent, contacts have become less personal, and bioengineering is taking a flight. Today's rapidly changing world is visible at Hoog Catherijne as well:   According to the organizers of the event "the station and the shopping mall are a time capsule and a pressure cooker in which big changes in the outer world are reflected on a small scale". A brave new world is developing, and just like in Huxley's novel it brings a lot of ethical and practical questions. At Call of the Mall artists are "showing us a mirror" and "try to get hold of the changes" with their work of art.
In and around the mall are more than 25 works of arts that can be seen. Some cannot be missed, like the "Celestial Teapot" on the roof by Lily van der Stokker. The giant pot is 7 meters high, contains no tea (definitely not hot tea) and is made of composite. With her work of art Lily replies to the "Cosmic Teapot" of French filoser Bertrand Russell, who stated that we all can claim there is a teapot flying to Mars, but that we better come up with some evidence rather than expecting the other to believe it without further doubt (yes, Bertrand used that when he had a good discussion about religion). Lily van der Stokker brought the tea pot all the way down from universe to Utrecht, bringing some tea time spirit in a normally hectic location.
Here's a visual report on the Call of the Mall (Be carefull, do not click if you can't handle Skrillex!)
Not less spectacular is the rope fountain, developed a number of London artists who are working under the name " Troika". The fountain is a reminder to the years that Hoog Catherijne included a fountain that in the 60ies was inaugurated by our former queen Beatrix. This fountain breaks with the more conventional views of fountains though; it does not circulate water but colored ropes, leaving the audience with a sense of puzzled fascination.
Other works are much more subtle, and sometimes leave the crowd (or at least me) with the question whether a certain situation is real or part of the at times surrealistic art project.  A good example is the tank man, by Spanish artist Fernando Sanchez Castillo: a well-dressed oriental man is standing in one of the corridors, wearing two shopping bags. Who is this man? Is he alive? Is it a living statue? Does he not look familiar? Well, he is familiar: this is a replica of the Chinese man who became world famous when he refused to step aside for a tank at the Tianamen Square (Plein van de Hemelse Vrede) in 1989. What is he doing here in Utrecht now? And what he is trying to stop here? Perhaps the progress and the plan of a reconstruction of Hoog Catherijne and its surrounding?  Or is he just waiting in despair for his wife who went yet again in another shop looking for a new  dress (I look like that at such times…)?
Other works that can be seen include those of Robie Cornelissen (giant pencil made drawing  in station hall), several light  sculptures on the outside of Hoog Catherijne, and The Idea of Gift – a wishing well in an empty shop – by Mexican artist Antonio Vega Macatela. Special tours are also organized in areas normally restricted for the public.
Call of the mall will be running until the 22th of September. So for all of you who are passing through Utrecht Centraal: for a change take some time off to visit this fascinating project and see what happens when art and daily live are merging. The mall is calling for you!
For more information see:
–          http://www.kunstinhetstationsgebied.nl/nl/actueel/#call-of-the-mall
–          http://www.vredevanutrecht2013.nl/event/call-of-the-mall