Last Thursday, the new official ceremonial portraits of our king were revealed. Although already many portraits of our king exist, these three King's official portraits are special, because the Dutch Government commissions them.
So now, one year after his reign began in 2013, the king's portraits are ready to be placed in government buildings all over the country. Because we Dutchies don't like when something is imposed on us, there are three different portraits to choose from. These three portraits evidently painted by three different painters, in order to divide the chances of painting the king's portrait over more artists. Dutch sense of equality, oppurtiny and democracy at its best! Although it is always nice to have more than one option, choosing a portrait might become a stressful task for the people who have to make that decision. What are the arguments to choose one portrait over the other two? Let's take a look…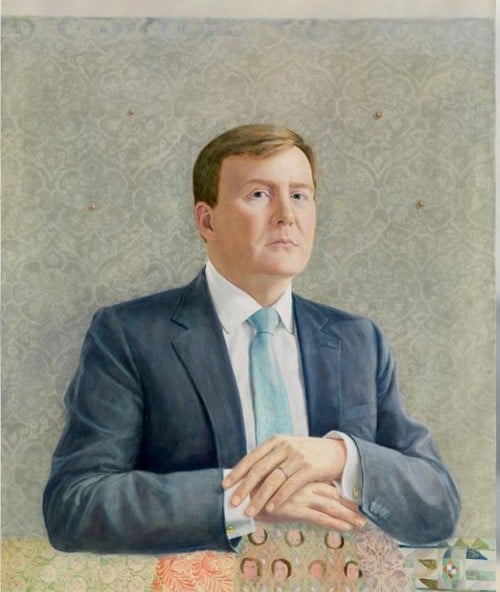 Young artist Femmy Ottens (32. Yes, I consider that young) work usually contains human figures, so portraits are not atypical for her. Mythical themes and icons are a returning aspect in her work. She usually uses soft, toned down colours. All this is also evident in Otten's portrait of our king. Because of the use of these colours, the king looks rather friendly in this portrait. The details of the background appeal to me, but are not too distracting. Even though I rather like the portrait, I find it a bit dull as well.. Conclusion: if you're easily distracted and you need quiet colours to keep you calm, this is the portrait for you.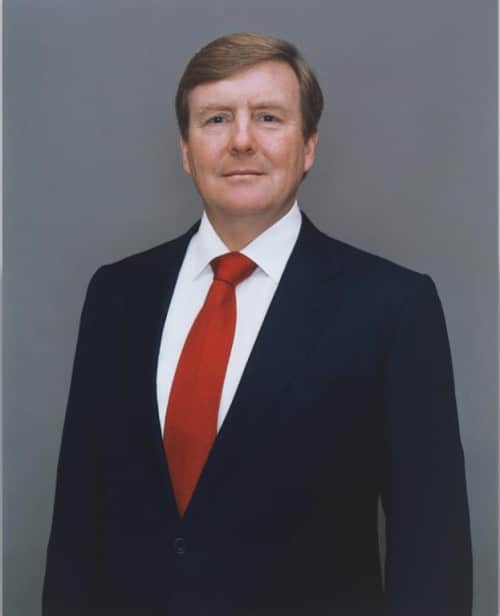 Rineke Dijkstra's portrait stands out simply because it's a photograph. The overall colours are quite modest, the king's tie draws most attention. Dijkstra is well-known for her portrait series and I really like this one as well. In the same way paintings can sometimes look like a photograph, this photograph looks like a painting. Conclusion: this is the portrait you'd choose if you're a serious, business-like person who likes a clean, straightforward interior.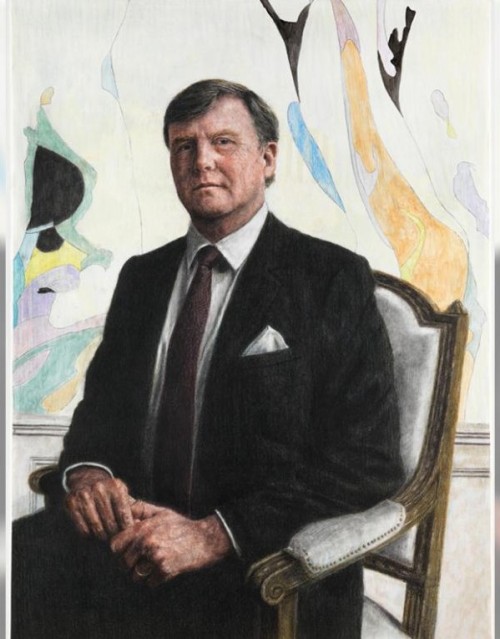 When I first saw Iris Van Dongen's portrait, I didn't like it that much. The background distracts me and seems a bit too '80s (and not in a good way). However, when looking at the painting again, the portrait keeps getting more interesting. Funny: in the documentary about the making of the portrait, Van Dongen was a bit worries her pastel painting wouldn't last as long as the other paintings. Pastel 'only' tends to last a few hundred years, whereas oil paint lasts much longer. Conclusion: choose this portrait if you're a hip person who likes to follow trends and is not easily satisfied.
I think all three portraits represent our king in a correct manner: as an authority who is still approachable, both confident and friendly. I realise in saying this, I sound like a royal family-fan first class. Although I don't have posters representing our royal family hanging on my bedroom wall, I guess you could call me a (moderate) fan. However, I think it is the romantic idea of kings & queens & princes & princesses that appeals to me most. Therefor, however beautiful and contemporary the three portraits are, I would have loved one of the selected artist to paint a traditional portrait of the king. How great would it be that our king was represented while riding a white horse, holding a sword in his hand and wearing some kind of fancy uniform. I know I would buy a poster of that!