A couple of weeks ago, DutchReview was telling you all about the upcoming free food truck festival Rrrollend! Last weekend, I made it to Den Haag, ate all the food – well, as much as I humanly could – and I'm ready to share my thoughts with you.
Free food truck festival in a lovely park in Den Haag!
Rrolllend took place last weekend in Lange Voorhout, Den Haag, a lovely park that hosted foodies from Thursday to Sunday. The first thing you see when you come in?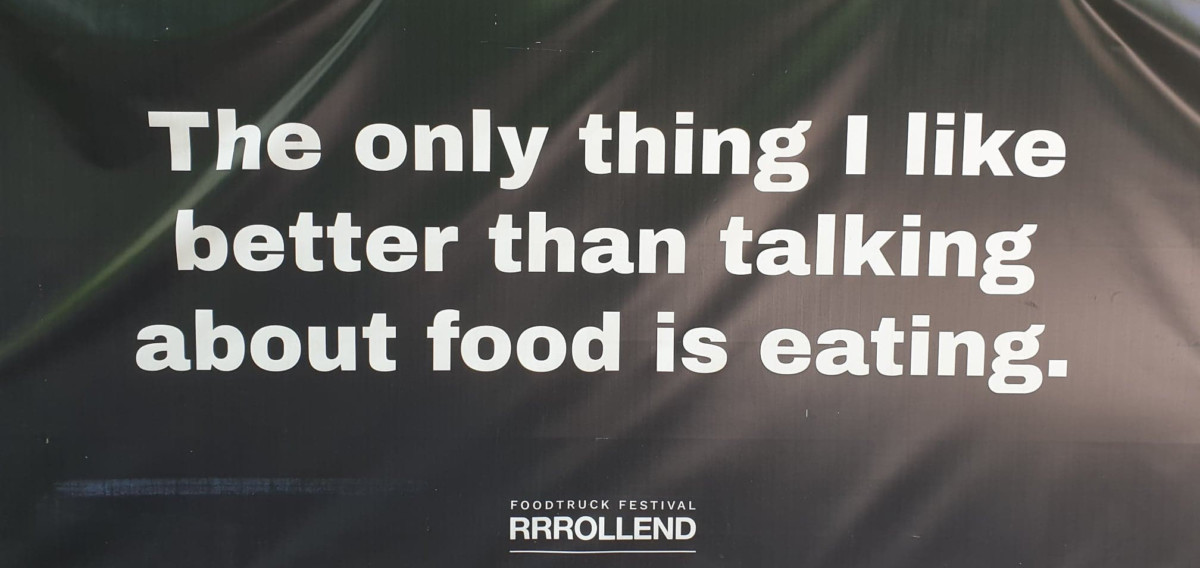 I knew they'd get me straight away.
The atmosphere was inviting and chill – a lovely way to spend a couple of hours in the sun. I got there before it officially opened (at 14:00), so I was able to scan all the trucks and make my choices early.
What was there to eat?
Simply put, you'd have to be one hell of a picky eater to not find something you love at Rrrollend. I've seen considerable lines for the Jamaican Jerk Chicken and the Thai Bangkok Streetfood. Steak broodjes, poffertjes were also popular choices, and so were the Colombian emapanadas or the Mexican quesadillas.
Read below a brief review of what I tried!
Jamaican Chicken
I was advised early on that the Jamaican food truck will be busy, so I decided to make the jerk chicken my breakfast. I understand the line, as the chicken was absolutely delicious – however, I would have liked it spicier. After all, jerk chicken should give your taste buds a bit of a kick. They probably adapted to the Western spice standards, which are… you all know. They had meals available (added rice and other sides), but I stuck with the basics since I had a long food journey ahead.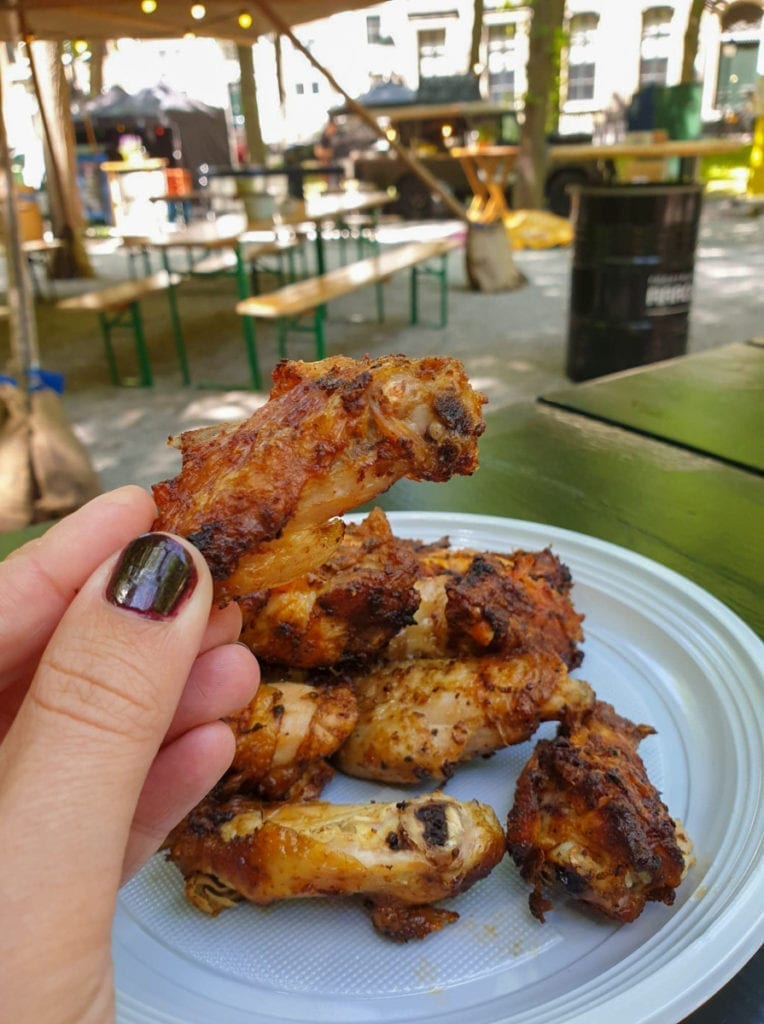 Bangkok Streetfood
I've been back from Thailand for about 2 months now, but I still dream about some of the best dishes I've ever had. I also dream about how each of them cost me about 3 EUR. While I was not expecting to pay anything close to that at Rrrollend, I was hoping the flavors will be somewhere close.
I knew it was a good sign when I've realized everyone serving food was Thai, and those huge woks were reminding me of Bangkok's street food. I waited to see what other (Thai) people in line were ordering and went with that. Below you can see my glorious Massaman curry.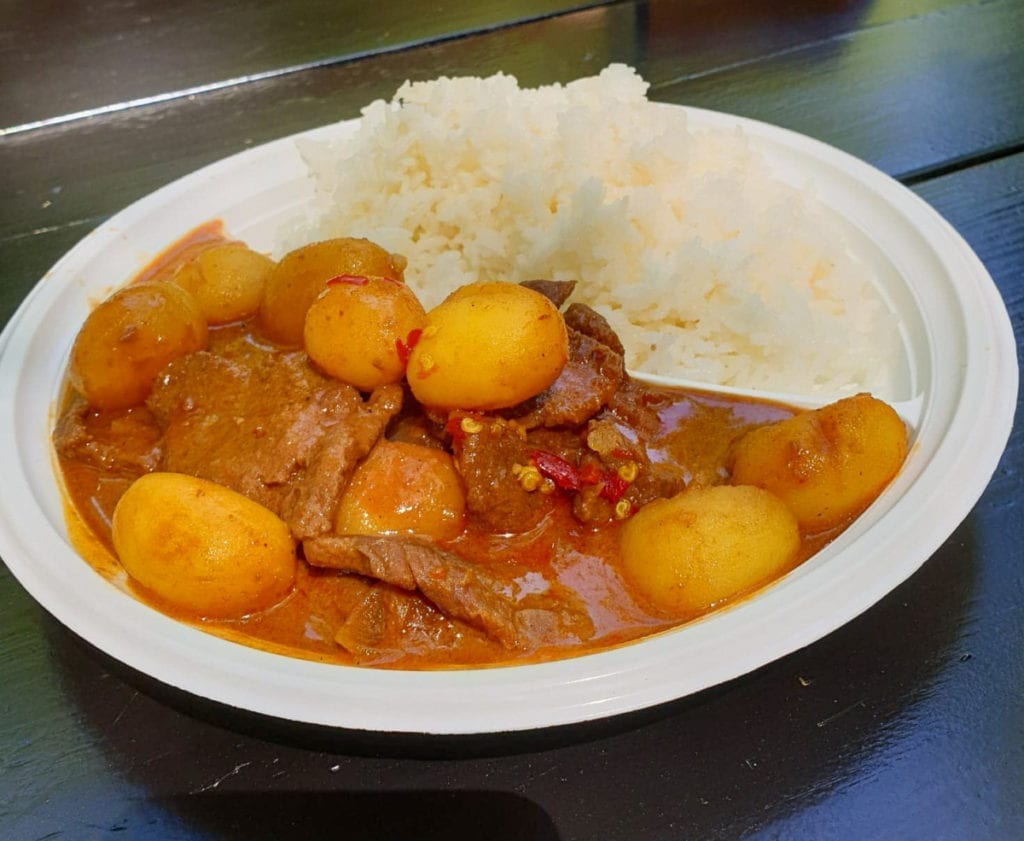 I'm happy to report that it tasted great and the dish was devoured in a couple of minutes. Was it just like in Bangkok? No, not really. I paid 10 EUR for this and my belly was full. Less than you'd pay in restaurants (here), and most probably, better.
Duck & More
A walk and a couple of beers later, I ended up at a gourmet foodtruck, where the main ingredient was… you guessed it, duck. While they had a lot of interesting choices on the menu, as spring rolls filled with Peking duck, I really wanted to try the bitterballen. I always like to see other takes on classics and compare them. I can confirm that if you ever see this truck and have the duck bitterballen, they'll be much better than your average bar ones. Consider me a fan.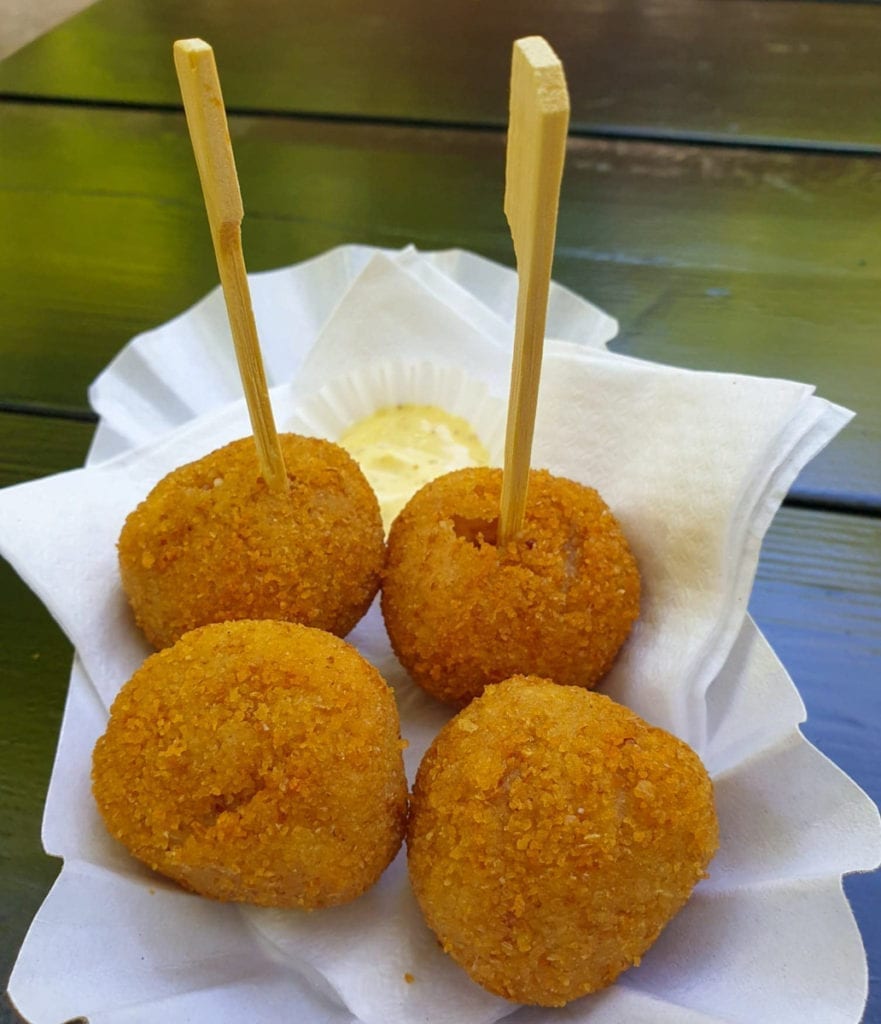 De Burger Bus
I didn't necessarily have my heart fixed on a burger, but then I've seen "truffle", and I couldn't help myself. I have serious truffle issues…(not like that, no).
The Burger Bus' burgers were of pretty good quality, but I cannot say they stood out for me much. The truffle mayo was nice, but I would have loved some real truffles instead (or added). Would probably go for something else next time.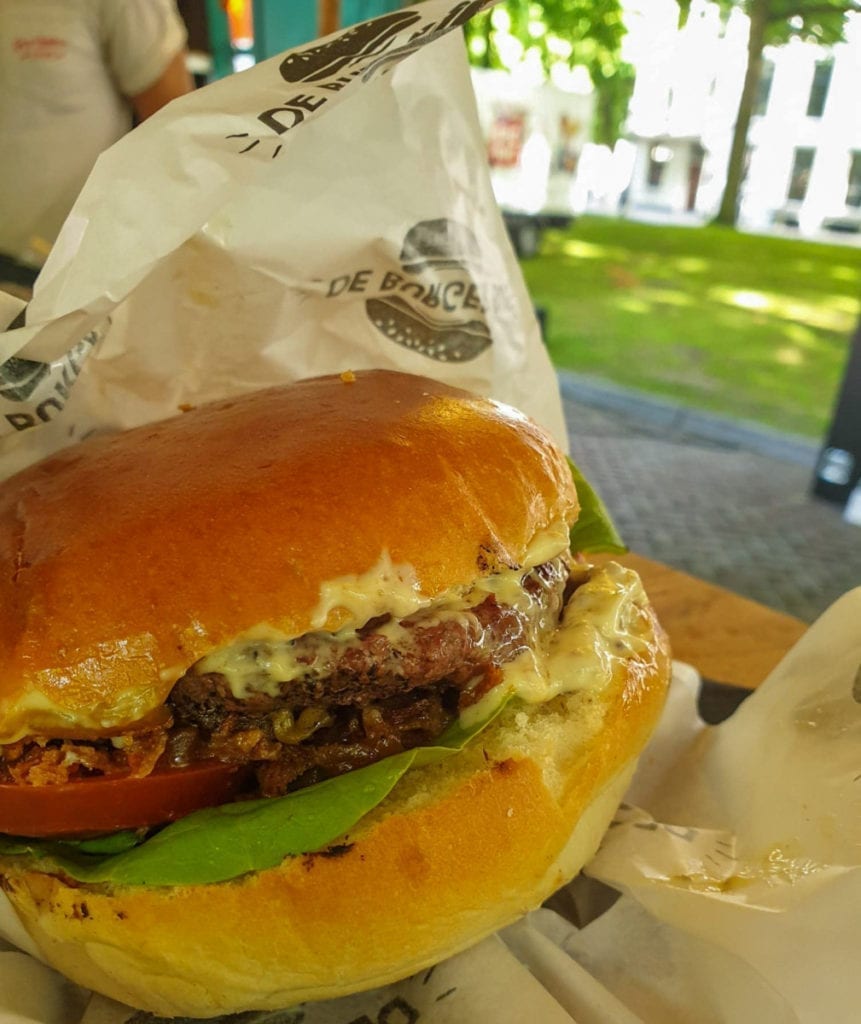 The Oysterman
If I ever leave a festival without having oysters, one out of the following happened: they didn't have any and now I'm upset, or I am seriously sick (which isn't great at a food festival, eh?). Thankfully, this wasn't the case, and my last foodie stop of the day was at The Oysterman truck.
I overheard them explaining to a newbie that an oyster needs to be chewed for as long as possible in order to take in all the flavors (which are changing). Does the raw one scare the hell out of you? Try the grilled version, easy to eat even for those who don't like seafood. However, I was in love with the raw, true oysters, which were very fresh here. I came back two more times for extras.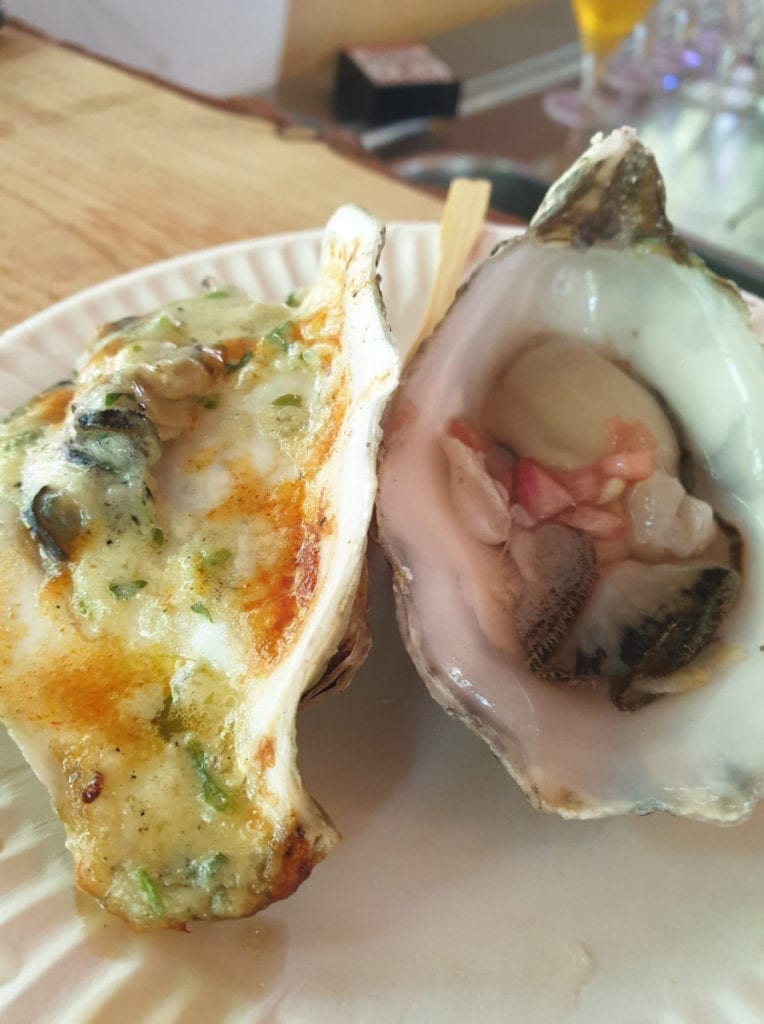 Lagunitas Bar
Now, it's not a day well spent with all this delicious food if you don't add some drinks to the mix. The Lagunitas Bar is what kept me hydrated (let's just call it that) throughout the day. They don't sell your regular lagers, but IPAs, Pale Ales and Wheat beers. Give them a try – we all need a break from the basics.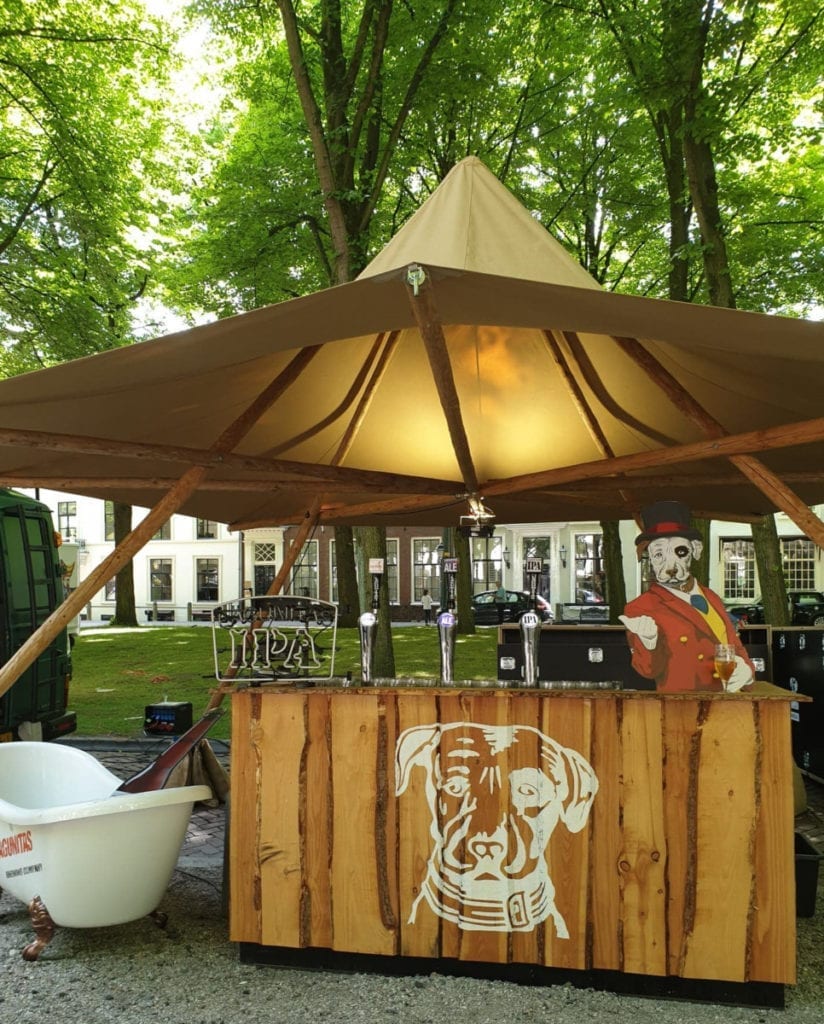 Alternatively, of course, there are more beer/wine bars and even cocktails on tap!
What's the catch?
While thankfully the weather was on my side, so I have no complaints about that, there are still a couple of things that I didn't love. To begin with, you have to buy a plastic glass for 2.5 EUR that you can use for the whole day (or more days, if you plan to return to Rrrollend). There's no return policy on this one, so you have to keep it. A bit odd. Second, I was not impressed with the live music. While the singers and bands were good and the songs quite well known, there were way too many silent breaks.
Conclusion
Overall, I had a great time at Rrolllend and would recommend you to give it a shot if it comes to your city (or around)! Next stop: Rotterdam, this weekend!
There are plenty of choices for you and your friends to enjoy, and prices are not outrageous for a food festival. Choose a sunny day and enjoy Rrrollend!