The provinces of North/Noord Holland and South/Zuid Holland would not exist today if it were not for the village De Rijp. 
History of De Rijp:
Before 1600 AD, De Rijp was a hamlet on an island, 't Schermereylandt, surrounded by numerous lakes, rivers, marshland, including seawater. It became a seaport from which merchant ships sailed the open seas following trade routes. The town had a medium-sized herring fleet and around 20 whaling shipowners. My ancestor, Willem Pieterzoon Lakeman, was one of those shipowners from 1648 to 1663.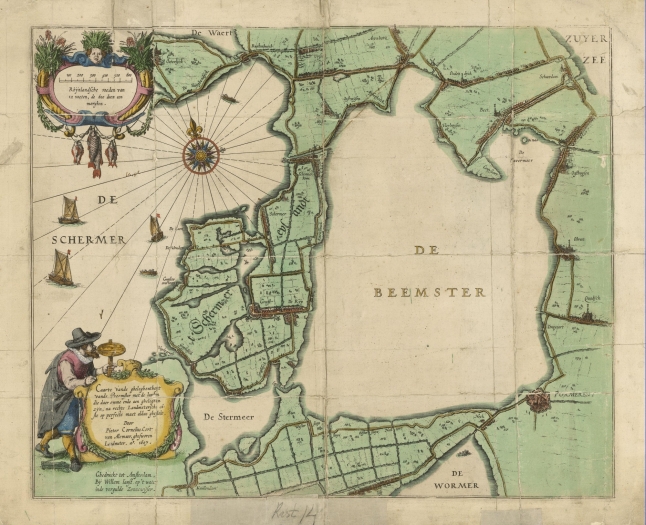 Whaling in De Rijp:
Sorry whales, but it was long ago. I'm passionately opposed to whaling today!
Whaling started in De Rijp as a result of the declining income from the herring fishery. The last whaling expedition from De Rijp was in 1798, thank goodness!
Whalers from de Rijp sailed regularly to Spitsbergen, an island north of Norway, nearly 3,000 kilometers (1,800 miles) due north at the Arctic Ocean. But mankind cannot live on herring, whale oil and seafood alone. Land was needed to grow crops and raise animals to add variety to the fishermen's dinner tables. Food was also needed for the long sea voyages. The waterlogged area around de Rijp was not meant for farming.
Jan Adriaanszoon Leeghwater 

(1575 -1650)



Enter Jan Adriaanszoon Leeghwater (1575 -1650), who was an architect, windmill builder, and hydraulic engineer. Leeghwater, merchants, and shipowners wanted to protect "their" island and de Rijp from frequent floods. By building dikes and draining the lakes, they would bring new prosperity to their community.
Leeghwater became the main force behind the reclamation of the Beemster polder, the first polder in the world created from a lake. Funded by a few investors, the reclamation of the Beemster started in 1607, beginning with the building of dikes. Using 26 windmills to drain the lake, the reclamation was finished in 1612 and farmland was created. Leeghwater supervised the entire massive project. Because of his efforts, in 1999 the entire Beemster polder was added to the UNESCO world heritage list. 
Between 1612 and 1635, three other polders were created under Jan's supervision. Hence, Noord Holland, and later Zuid Holland, was built by the Dutch. That's right, by the Dutch and not by some mythical being! 
Jan Janszn.Weltevree (1595- unknown): 
Besides my ancestor and Jan Leeghwater, de Rijp had another famous citizen, Jan Janszn.Weltevree. Born in De Rijp around 1595, he became the first European in Korea and ended up being an advisor to the Korean king of the Joseon Dynasty, Hyojong van Joseon. He signed on the ship 'Hollandia' and sailed on March 17, 1626, to Dutch East Indies. He ended up in Jakarta where he captained the ship "Ouwerkerck."  On July 16, 1627, Jan and his crew captured a sizeable Chinese junk with its team of 150 sailors. The first known reference to junks was around 2800 BCE in China. It was not a piece of junk.
From its humble beginnings, the Chinese junk became among the most powerful and easily maneuverable ships in the ancient world, because the boat featured a rudder mounted on its stern for steering. In the 13th century, Marco Polo wrote that one of these ships had 50 to 60 cabins onboard. By the 15th century, these well-built junks were said to be 400 feet long and 160 feet wide. This was a mega cruise ship for its time, without an indoor pool, fitness center, jacuzzi, theater, and casino. 
I digress, Jan and a few of his men went aboard the junk and set sail for Formosa, along with 70 captured Chinese sailors. Jan's ship, the "Ouwerkerck," reached safe harbor without Jan. After a fierce storm, Jan's junk ended up on the shores of an island off Korea's west coast during the reign of the Joseon Dynasty. At that time, the Joseon Dynasty enforced an isolation policy, so the captured privateers could not leave the country. What to do?  Eventually, Jan took the Korean name of Pak Yǒn, married a Korean woman, with whom he had two children, and became a prominent government official. No one knows what happened to his fellow Dutchmen and when Jan died. The last person to see Jan alive was Hendrick Hamel, a bookkeeper born in Gorinchem, the Netherlands.
In 1653, while sailing to Japan on the ship "De Sperwer" (The Sparrowhawk), Hamel and thirty-five other crewmates survived a deadly shipwreck on another island off the coast of South Korea. After spending thirteen years in captivity in Seoul, Hamel and seven other crew members escaped to Japan. Later, Hamel became the first Westerner to provide a first-hand account of the Korean Joseon Dynasty. His was a best-seller and Korea became known to the Europeans. The Koreans were so grateful for the exposure that centuries later the city of Yeosu, South-Korea, named a museum after him. During Hamel's isolation, his Korean interpreter was Jan Janszn. Weltevree. 
De Rijp Today:
It's worth spending a few hours in de Rijp. It's a small town located between Alkmaar and Purmerend and has a population of around 4,000. On the national register of protected villages, it has 120 restored structures and 27 monuments. The center, covering a few blocks, is like stepping back into the 16th century. The Town Hall is a former weigh station and community center that is still used today for weddings and other official proceedings. The building was designed and built by the architect-engineer by our one and only Jan Leeghwater in 1630, during the time he dried out most of Noord Holland. It must have been during his off-hours. 
The Dutch Reformed Church, built in 1655, is famous for its 23 stained glass windows and for its bronze statue of Jan Janszn. Weltevree. Across from the church is Restaurant Oudejans, formerly called Het Stadhuis van Amsterdam, which dates to 1660 and soaked with history. De Rijp is ripe for a visit (pun intended), the birthplace of Noord Holland and the birth of two of its most famous historical figures, Jan Adriaanszoon Leeghwater and Jan Janszn. Weltevree. 
Side note: 
Some years ago, I attended a fundraising event for the Netherland-America Foundation in Los Angeles. Here, I happened to meet a man whose ancestor was Jan Adriaanszoon Leeghwater!!! 
My ancestor, the whaler, and his ancestor, the reclaimer, lived in the same village, de Rijp, at the same time. Today, one street in de Rijp named for Leeghwater and one for Lakeman and they intersect each other. They had to have crossed in the past too. What a small world!!! 
Have you ever been? Let us know in the comments below!