A trip to Van Gogh's birthplace in Noord-Brabant
Like millions of art lovers around the globe, my wife and I are big fans of Vincent van Gogh. But very few have ever visited van Gogh's birthplace, Zundert, in Noord Brabant. It is worth a day trip to his ancestral home and the surrounding area. The Vincent van Gogh Huis (Vincent van Gogh House) is a living art centered around Vincent's life. The art center also includes a restaurant, with an outdoor terrace, a museum shop and several other sites of interest for van Gogh fanatics.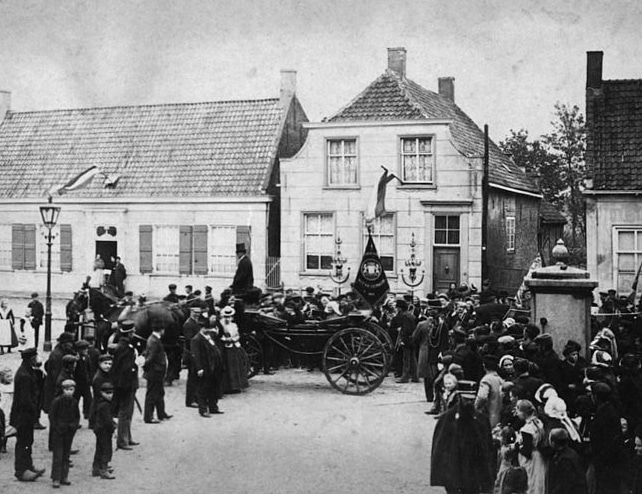 Van Gogh's birthplace and youth
Vincent Willem van Gogh was born on March 30, 1853 to Reverend Theodorus van Gogh and Anna Cornelia Carbentus. Vincent lived in Zundert until he was about 16 years old. His father was a minister of the Dutch Reformed Church and both parents were religious, rigid and very strict. Although Theodorus's salary was small, the Church parishioners provided the family with a house, a maid, two cooks, a gardener, and a carriage plus a horse. Anna dabbled in painting. She wasn't much of artist, but she did encourage Vincent to draw. That's how he got hooked on art.
Young Vincent was serious, silent, thoughtful and loved nature. His sister Elisabeth recalls in her memoir that Vincent was a serious, sensitive boy who preferred solitude to the companionship of family and friends and loved flowers, birds, and insects. He was a good student but a little bit of an outsider. He was also a good kid according to some neighbors who were interviewed in the 1920s. He shared not only a room but a bed with his younger brother Theo with whom he had a close relationship until Vincent's death in 1890 at the age of 37.
The original house of Vincent's birth was torn down. It was replaced by the current building in 1903, and since 2008 it has been the Vincent van GoghHuis art center. The center's permanent exhibition 'Vincent van Gogh – The master's roots' is an audiovisual tour of his life and his family, many of whom were mentally unstable. The presentation takes place in a re-creation of the Van Gogh family's living room. The recorded tour is about Vincent's journey of discovery that includes places from his youth and his relationship with his brother Theo, his mother and father and Uncle 'Cent,' the art dealer.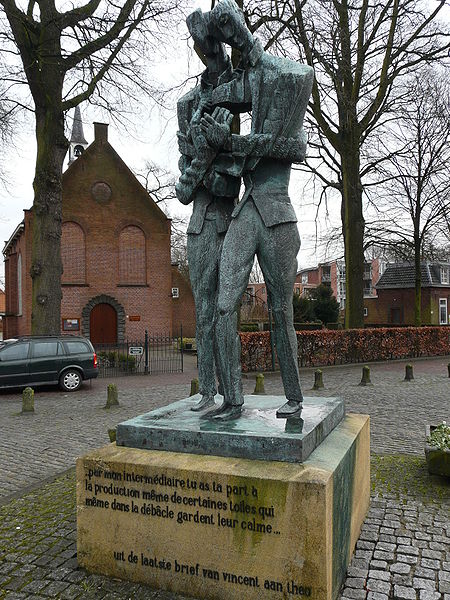 Around the corner from the Vincent Van Gogh Huis, on Vincent van Gogh plein, there is a contemporary statue of Vincent and his brother Theo. Erected in 1964, the statue was designed by sculptor Ossip Zadkine and it exemplifies the strong bond between the two brothers. It was unveiled on May 28, 1964 by Queen Juliana of the Netherlands. The inscription on the pedestal reads: 'through my deeds you have witnessed the creation of several paintings which will breathe tranquility even in times of upheaval.' The base contains earth from the garden of the hospital where Vincent was nursed while he was under psychiatric care. The garden's soil is a gift from the authorities of the French town of Saint-Rémy-de-Provence, where Vincent painted many of his most famous works.
Just across the square is a small Dutch Reformed Church. Built in 1805, it's where Vincent's father Theodorus started his career as a Protestant minister, and where Vincent was baptized. Adjacent to the church is a new guest house and studio for the Van Gogh 'Artist in Residence' program. Artists from the Netherlands and around the world are invited to work here for a period of time to create. Their artworks are then displayed in the gallery annex.
Enjoying this article about Van Gogh's birthplace? We got one about the Van Gogh Museum as well
Van Gogh's birthplace; Scenic Zundert
The best and most scenic way to Zundert is to take a leisurely drive south on the N263 from Breda on a tree-lined road, passing family farms and rural vistas. Along the way there is the village of Rijsbergen. After seeing the Vincent van Gogh Huis, stop for lunch or an early dinner at t' Smidshuis cafeteria, lunchroom and restaurant. Their new menu offering is Kip van 't Spit. This family owned eatery is now managed by the family's third generation. It serves up homemade meals in a cozy, storybook restaurant setting replete with a wood burning fireplace.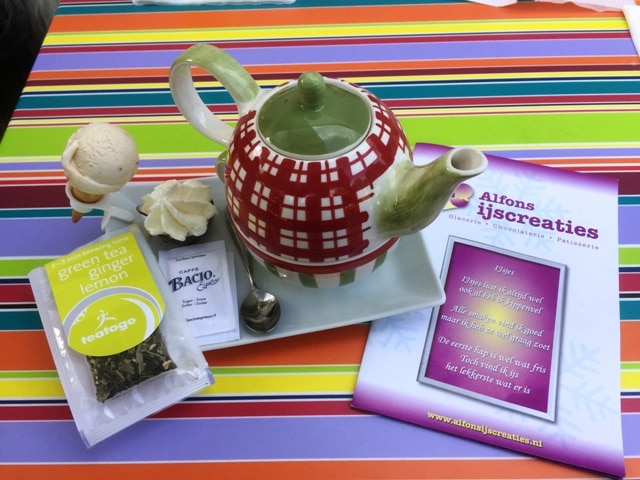 After lunch or dinner go a little outside of Rijsbergen to Alfons IJscreaties (Ice Cream Creations). It is worth going there even if you did not have lunch or dinner. Alfons is one of the best ice cream parlors in the Netherlands. Their ice cream was voted number three in the country and number one in Noord Brabant by the Netherlands' top national catering organization, Stichting Vakbekwaamheid Horeca. Alfons Graumans was a former pastry-chef and as a hobby he starting dabbling in ice cream. Ten years ago he and Kim Kokx opened their IJscreations salon. Patrons drive, bicycle and walk to flock to the ice cream counter.
Or, if you are in a hurry, take the A16 south, turn off at exit Zundert/Meer and drive straight to Zundert. You can also take the number 115 bus from the Breda central station or from downtown Breda to Zundert.