Double, double, toil and trouble, Halloween in the Netherlands is just a nubble. Luckily for our American friends, Halloween celebrations have started to trend. In the cauldron, boil and bake, Dutch Halloween is in the make.
Here's a harrowing thought for our American readers: Halloween in the Netherlands is virtually non-existent. We say virtually because we can't deny it's been creeping up in popularity over recent years. We're going to attribute this to more expats, and that Dutch people really like wearing costumes. That, and free candy.
Are you searching for a way to get your freaky Frankenstein on? Or a chance to get some treats and play some tricks? Read on for the frightful, the gruesome, and the ghoulish celebrations for Halloween in the Netherlands – and some ghastly cackles along the way.
Is there a history of Halloween in the Netherlands?
Halloween in the Netherlands is little more than a creeping Americanisation – the Dutch have never traditionally celebrated Halloween, and likely never will. Let's face it: the Dutch are potato-eaters, not pumpkin-carvers. However, that hasn't stopped Halloween parties popping up, Dutch stores stocking ghastly orange products around October, and even trick-or-treaters hitting the streets.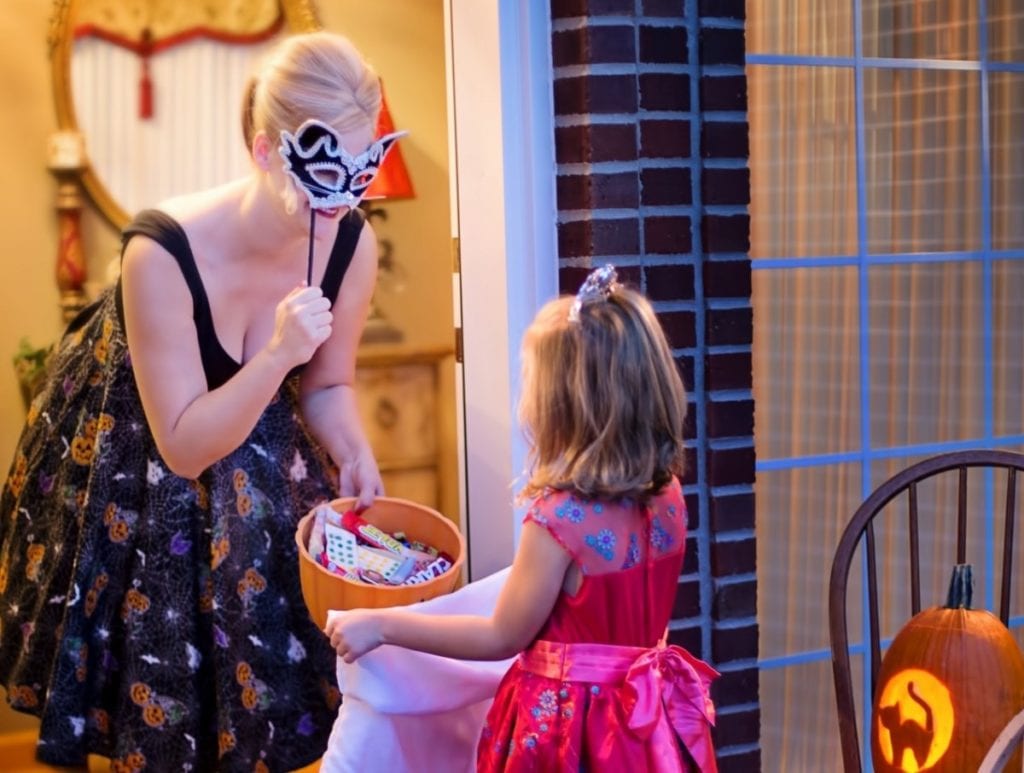 But, what the Dutch traditionally do have is Sint-Maarten. It's almost two weeks later than American Halloween and, like its American sibling, features kids knocking on doors and getting candy (or money!). Unlike Halloween, the children switch full-costumes for masks, and sing delightful songs instead of chanting "trick-or-treat!"
For a Sint-Maarten celebration, you'll have to hold your horses until November 11th for the closest thing the Netherlands has to their own Halloween – and this is still only in some regions. Or, if you're looking to indulge in some fancy dress perhaps Carnaval is more your style.
But, if you just can't wait for the hair-raising hocus-pocus and want to celebrate Halloween the way we've all grown up seeing on American movies, read on for all the spellbinding events for Halloween in the Netherlands in 2019.
Can we go trick-or-treating during Halloween in the Netherlands?
Can you go knock on people's doors dressed in spooky costumes and ask for candy? Well, technically you can do that any day of the week but the Dutch aren't likely to give you any – and they might even call the politie. But, on October 31st? The real answer is it depends.
Do Dutch people get into the spirit of trick-or-treating? Some residents in certain neighbourhoods agree to decorate their houses with Halloween decorations so children know where they can trick or treat.
For example, Fazantenkamp in Maarssen, Utrecht do a ghost tour through their village. And in Den Haag a Trick or Treat evening has been arranged in the past near B. Thoenplantsoen – children know where the candy is by flyers that hang in the window of participating houses.
Will there be candy?
Asking the real questions. Even data backs up that people stock up on sweet treats around Halloween. In 2017 sales of Haribo increased 65 percent in the weeks leading up to Halloween.
Even better, instead of chanting 'Trick or Treat!' the Dutch prefer to go for 'je snoep of je leven,' or directly translated 'your candy or your life' – so sweet, right?!
(FYI: I'm all for free sweets, but don't give me any of that drop, okay? I don't care what the Dutch think, that's not real candy).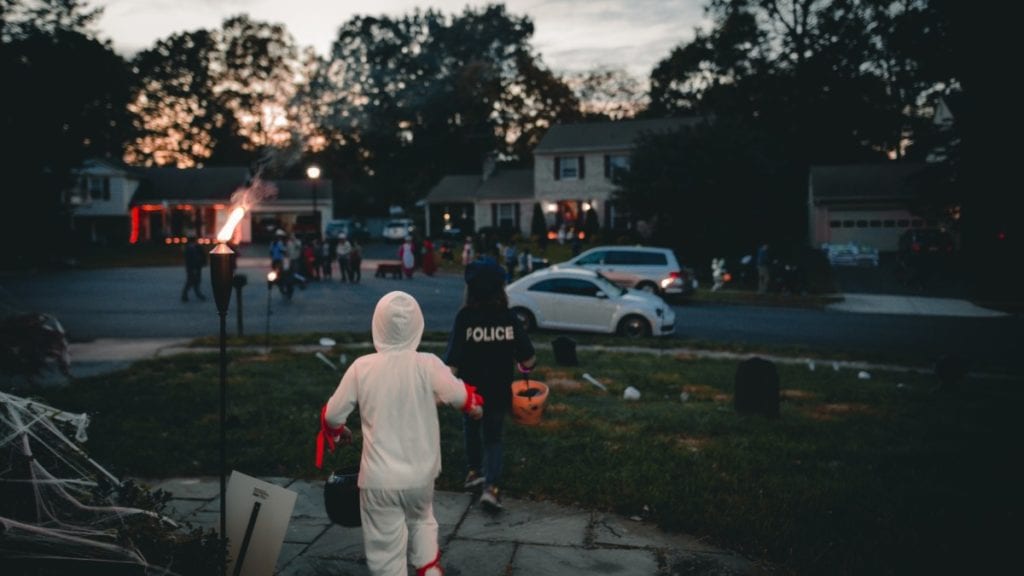 So will the Dutchies in your neighbourhood be donning costumes, slapping on face paint, and preparing bowls of free candy? Ultimately, it's more likely to be individual streets involved rather than whole neighbourhoods, but it's a chance you'll have to take on the evening.
In saying that, hopefully, most Dutch residents will be charmed regardless of cute bi-lingual kids knocking on their doors and threatening to kill them for candy.
Do you know of a street or neighbourhood joining in the fun? Let us know in the comments below!
But, never fear on the spookiest night of the year, DutchReviewers! Even if we can't confirm Trick or Treating locations, there are a plethora of spine-chilling events taking place all over the Netherlands! Read on for more details.
Halloween in the Netherlands: where to buy costumes
What's more terrifying than the spookiness of Halloween? Not having the best costume, of course! While some brick and mortar stores will stock a small selection of Halloween costumes, we prefer to make things easy and do it online. We recommend checking out Carnavalskleding.nl where they have everything from killer clown suits, to La Casa de Papel uniforms, to gigantic beer suits – who doesn't love a giant beer?
Halloween in the Netherlands is your chance to dress up as an 80s fitness instructor (hello legwarmers and fluoro!), a zombie nurse, or a super bodybuilder (full of air, unfortunately?). Or perhaps your style is more melting flesh, oozing scabs, or cascades of blood? Well, thank god for the internet making those (fake) things just a few clicks away.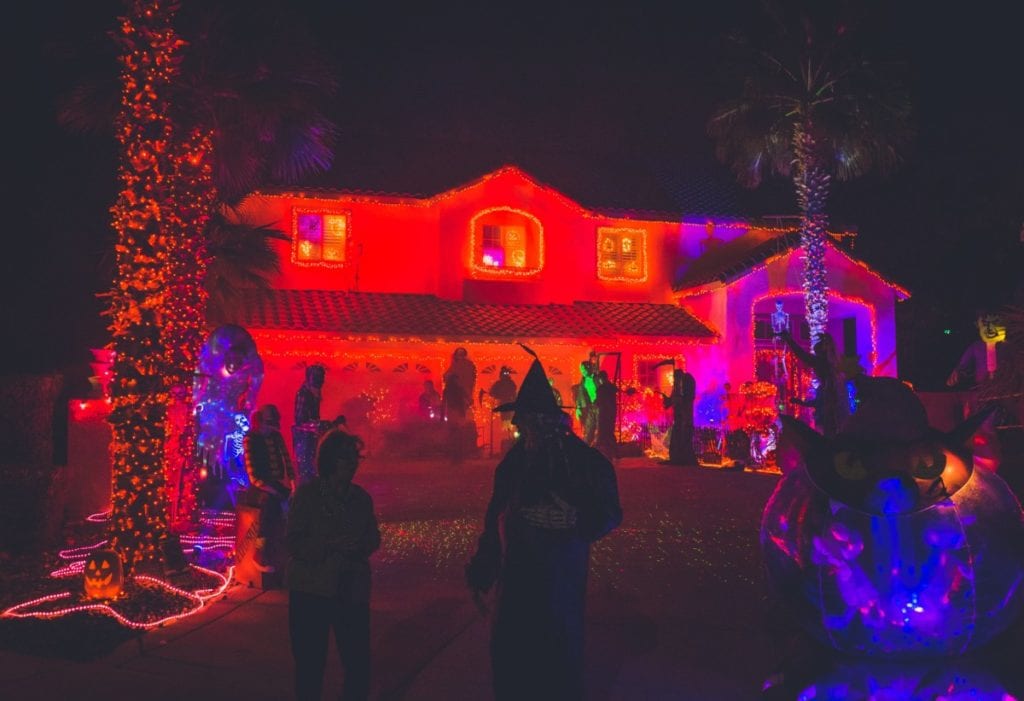 Even better, if you've procrastinated before your party and forgot to get your costume, you can order it up to 8 pm the night before at Carnavalskleding.nl and you'll receive it the following day – plus, shipping is free! Free? We love free!
Remember not to be the person that comes as 'laundry' to a Halloween party (you're better than that – and it's not fooling anyone). Have some fun, throw on a wig, slip into a costume, and get into the Halloween spirit!
All dressed up and nowhere to go? Well, now that you've got your killer costume, let's find somewhere to wear it to.
What is there to do on Halloween in the Netherlands?
Maybe you're too old to trick or treat, or maybe you just really like gruesome costumes or fright nights. No matter your preference, if you want to celebrate Halloween in the Netherlands without trick or treating there's actually a bunch of options that might take your fancy.
Option #1 for Halloween in the Netherlands: Walibi World
?Biddinghuizen
?October 5 – 27
Walibi World is a traditional theme park by day, but through October it transforms into a spooky, creepy, crawly wonderland. If you're looking for hair-raising terror, Walibi World is the scare-your-socks off option.
Tickets are on sale for the parks' infamous Halloween Fright Nights now, and for the first time this year, the park is running Halloween Spooky Days, a slightly more tame version for the kids or the easily frightened.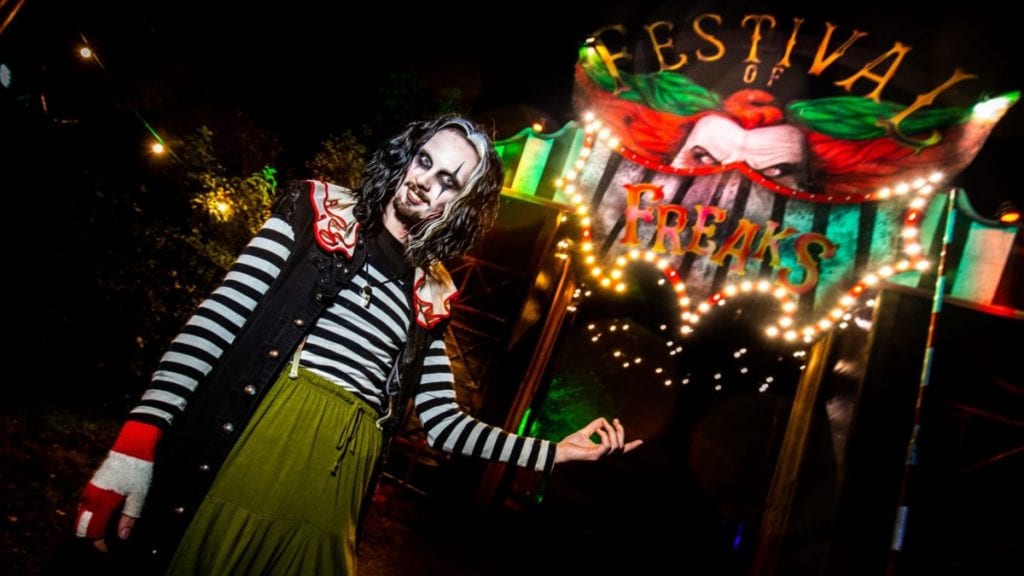 Spine-tingling fear can be found at the various 'Spooky Zones' throughout the park, and with names like Psychshock, Twisted Hellfire, and the Campsite of Carnage we're already getting an adrenaline rush.
The downside? The park is closed on actual Halloween. What a bummer. But, if you can celebrate Halloween early it looks like a real treat! (Or trick, we're not sure yet).
Option #2 for Halloween in the Netherlands: Join in a Zombiewalk
?Arnhem
?October 31, 2019 | 19:00-21:00
The best thing about this creepy zombiewalk is that it doesn't discriminate: ghosts, monsters and anything frightful can join in as well. Oozing blood, sores, and wounds will stagger the streets of Arnhem on the spookiest day of the year.
It's the ultimate event for the undead, with the one and only zombie beauty contest being held during the event. Do you have a beautiful decapitated head, half-rotten body, or a mouth full of glamorous top-of-the-range human flesh? You could just be in for the crown.
Option #3 for Halloween in the Netherlands: CrazySexyCool Festival
?Zuiderpark, Rotterdam
?October 26, 2019 | 14:00 – 21:00
You know an event is going to either be incredible or really lame when it's named Crazy, Sexy Cool Festival. Fortunately, in this case, it's the former. This is a place where every Halloween costume goes, from the raciest to the most terrifying.
Hosting a sweet line-up of electronic and urban acts, CSC promises a completely immersive and freaky experience. You can grab your tickets for CSC online.
Option #4 for Halloween in the Netherlands: Get trapped in an escape room
?Beverwijk
?November 1, 2 and 3, 2019
Halloween may be on a Thursday this year, but that doesn't stop the spooky festivities continuing into the weekend. This is an escape room turned fright factory put in a mixing bowl with laser tag (whaaaat?), where you have to crack the code or risk never making it out alive. Well, it's probably not that serious, but ya know.
There are three whole areas, stacked with mysterious, crawling with lifelike zombies and fear-inducing monsters, and dodge the laser snipers waiting in the wings. Will you escape? Grab a ticket to find out.
Option #5 for Halloween in the Netherlands: head to a monstrous festival
?Tivoli Vredenburg, Utrecht
?October 26, 2019 | 21:00 – 04:00
The folks at Tivoli Vredenburg are promising a Halloween spectacular spread over three different clubs! Boogie down in a giant silent disco, sing karaoke alongside the best local DJ's, or if you want 'screaming, gasping and yelling' a haunted house will scare the living daylights out of your skeleton.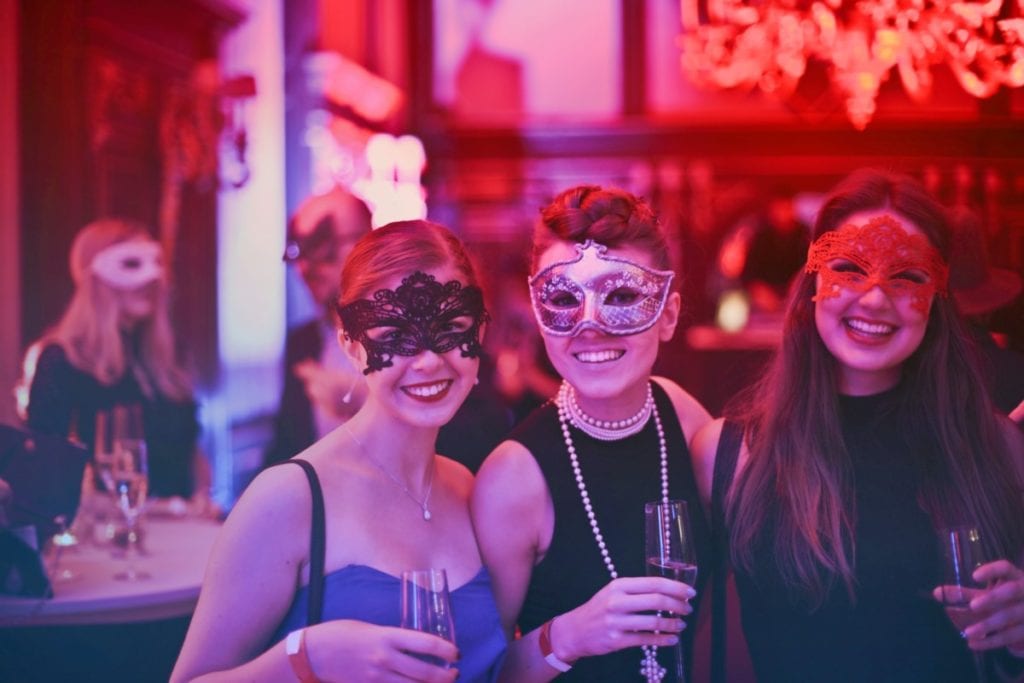 They're promising more shock moments and sensation that a Temptation Island episode, so you know that's going to be a lot. Grab your tickets online.
Option #6 for Halloween in the Netherlands: horror movie marathon
?Various locations throughout the Netherlands
?October 26 and 27th, 2019
If vampires and zombies attacking you in person isn't your thing, why not head to see them on the big screen? Mr Horror's Halloween Horror Show is showing at cinemas throughout the Netherlands and has a huge line-up of psychotic, freaky, horror movies that are guaranteed to have you scared of the dark for months to come!
A stack of cinemas will be showing the bone-chilling program over two days, so grab your nearest cuddle-buddy and pray they're braver than you!
Option #7 for Halloween in the Netherlands: Halloween party
?Various locations throughout the Netherlands
?Various dates
Let's face it: Halloween, despite all it's blood, gore, and eyeballs, is pretty darn attractive. At least for bars and clubs wanting to throw parties that is. In fact, it's downright irresistible. To find a party near you, head to DJ Guide for your Halloween fix, grab a costume, and head through the dungeon doors.
Option #8 for Halloween in the Netherlands: Amsterdam Halloween's Japanese Horror Story
?WesterUnie, Amsterdam
?October 26th, 2019 – 22:00 – 05:00
There's an ancient Japanese legend about Kuchisake-onna. This malevolent figure wanders the streets of Japan with her face partially covered, and asks potential victims if they think she is attractive. Harmless, right? Not quite.
If they say no, she kills them. If they say yes, she removes her mask, revealing the corners of her mouth are slit from ear to ear and repeats her question. Say no? Killed. Say yes? You end up disfigured in the same way.
Luckily for you, Kuchisake-onna, or the Slit-Mouthed Woman, is invited to Westerfunie, Amsterdam for their 2019 Halloween Party. Want to party at this Amsterdam institution on the spookiest night of the year, but need to escape her wrath? Describe her appearance as a 'average' – or distract her with candy. Then dance the night away.
Regardless, the Amsterdam Halloween Party is guaranteed to be a night of terror, fright, and freaky fun.
Are you ready for a frightening evening?
While Halloween in the Netherlands isn't part of Dutch history, the night is really coming into its own. Scope out your trick or treat destinations, decorate your house, and head to a truly spooktacular party!
Take full advantage of the evening and deck yourself out in a hilarious, sexy, or terrifying Halloween costume. Our friends at Carnavalskleding.nl will hook you up with your wildest costume dreams, and top it off with free, super-fast delivery.
Will you be celebrating Halloween in the Netherlands this year? Where are you headed? Let us know in the comments below!
Feature Image: Ehud Neuhaus/Unsplash