Sometimes you're so carried away with your smart phone that you forget everything around you, because you're this close to getting a nude… Yes, we said it – you know you do it too. And that's all fine and well, power to you! But please be aware there is such a thing as traffic. And though nudes are great, getting knocked over by a little Citroën filled with a mom, two kids and a bunch of groceries is not.
"New Message: Got Hit by Car – Send Help!"
Though traffic accidents had been dropping for a number of years in the Netherlands, the figures began to rise about two years ago. Needless to say this sparked the interest of various (government) institutions, including the police and the traffic safety organization. After doing some investigations they came to an unsettling conclusion – people weren't watching the road when crossing, they were glued to their smartphone screen. Unfortunately, however, the other traffic was not glued to the road and a number of tragic accidents took a bunch of people 'offline' permanently.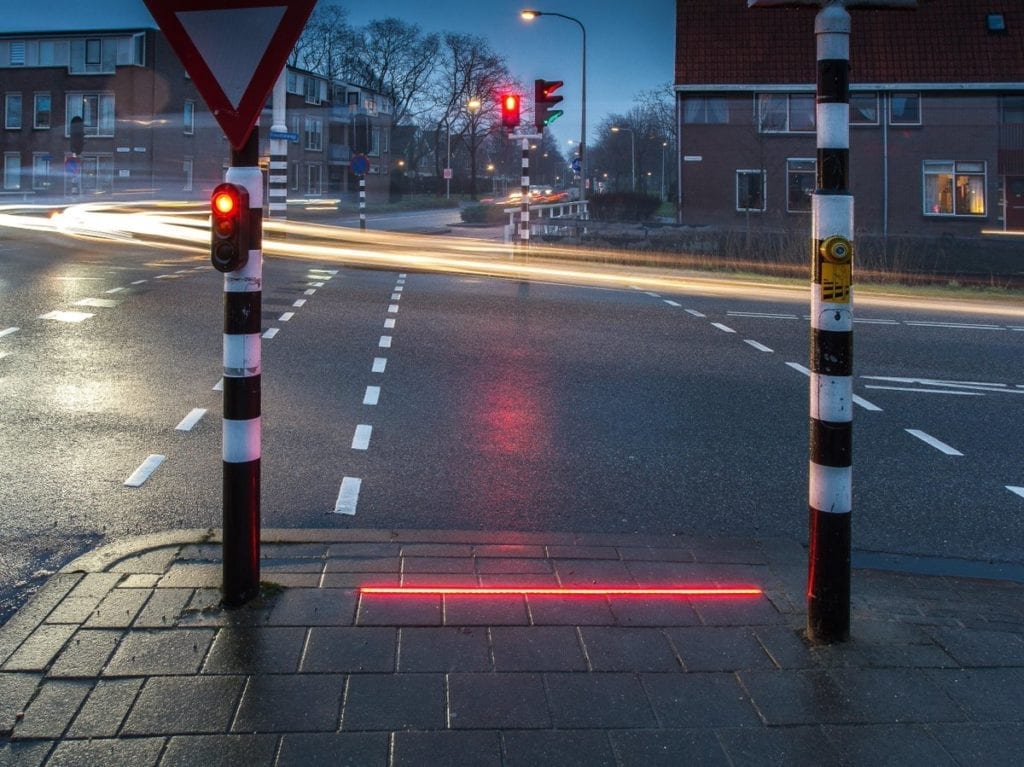 Meet +Lichtlijn – An LED Strip on the Pavement
After attempting to address the problem a number of times, police and other organizations found that most of these "smartphone zombies" would grunt and message a friend "Don't use your phone while crossing the r-" before being run over by a slow passing bus. Realizing that this wasn't going to work, one small municipality thought of something else – it's all about the angle. People are keeping their heads at an angle that stops them from seeing ahead, including the traffic lights that are signifying if they may cross, which was a big cause of accidents. And so a new idea was born – why not add a new "traffic light" on the pavement?
By adding a color changing LED strip on the pavement, which changes color in sync with the regular light, people would always be able to spot the right signal at some point before actually crossing the street.
It's #6 in this awesome new Dutch video on cycling innovation:

The town of Bodegraven-Reeuwijk has run its tests and is now implementing the lights in town, which is said to be an effective and economically friendly solution. Yet the Dutch Traffic Safety Organization (VVN) is a little less enthusiastic – according to their views this is a reward to people ignoring traffic rules, everyone should pay attention while crossing the road regardless of there being a stripe or not.
Frankly, we can't entirely disagree with that view – but if it saves lives, who are we to judge? As it stands there's even international attention for the "LED Strip Light" (aka +Lichtlijn), so there must be some merit to it?
Either way – we hope you all put your phones down, or even off, when participating in traffic in extremely traffic dense Holland. You don't want your last message to be one about a Snapchat Hot Dog-meme…