Our country has had a few quite eventful weeks, resulting in us having a new king and stuff like that. However, now it's time to get back to business and start talking about things that really matter, like Art (with a capital A)!
Why? Art gives hope in difficult times (maybe John Ewbank should once again focus on making art-worthy music after the King's song disaster of which we obviously will never speak again), Art is magical, Art reconciles, Art provokes and stimulates the mind. Art is both contemporary and timeless; a reaction to what happens in its surroundings as well as a stand-alone concept in our busy day to day lives. Moreover, Art indicates a society's level of sophistication.
And to prove once more that we Dutchies do have some sophistication in the aftermath of the 'abdication madness' and to give closure to the abdication madness, I have decided to discuss an artwork about the royal family. Not a dull portrait of any kind, but a portrait that focuses more on the fact that it is Art than the fact that is a portrait.
As it turns out, we Dutchies seem to be rather conservative when it concerns our beloved royals, so the search for a suitable artwork wasn't as easy as I thought it would be. There simply don't seem to be many interesting (meaning: controversial, provoking) artworks in that genre. Even an art enthusiast like me gets rather bored after looking for interesting artworks of our royal family for fifteen minutes. One of the more interesting pieces I could find, is this one by Miguel Segall, which features a bald-headed depiction of our ex-queen.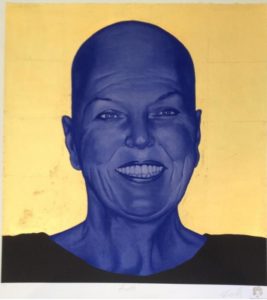 While on first sight this artwork attracts attention because of the way our former queen is depicted, there's another aspect about it that I would like to address.
Although orange might seem the ultimate Dutch colour, a different colour that deserves attention in the light of Dutchness and royal family: BLUE! Why blue? Because blue is a royal (there we go again) colour. It is the colour that means power, dignity and serenity. Moreover, it is one of the colours of the Dutch flag (as it is in many flags, but hey, we're talking about Dutchness here!).
When looking at Segall's painting of our  bald queen again, the use of the blue colour becomes more obvious, logical and 'deep', which makes the artwork more interesting. The depiction of the queen in a blue colour enhances her 'royalness' and dignity and enhances her powerful charisma.
However, this artwork only becomes as interesting as it is because of the contrast the artist shows: while on the one hand the ex-queen's royalness is enhanced by using blue (and gold), her bald head only degrades the sense of royalness and dignity. This tension between dignity & royal diligence and humour & degradation on the other hand makes this an interesting artwork to look at and to discuss.
And this is how you 'spice up' a seemingly dull subject such as a portrait of our former queen, while at the same time refocus on the more important things in life, like Art 🙂