Instagram is one of the most used Social Media platforms out there and we can understand why: Great for inspiration and pretty addictive too. Most of the time we are all a little bit too busy playing with our phones. If this sounds all too familiar to you then congratulations! You are one of us!
Whether you are on your way to school or work, sitting in the train; or simply just have some time to kill, then why not grab that phone (if you haven't been just doing that already) and find us on Instagram?
We have been pretty busy with our account for quite some time now and shared some pretty great photography along the way. Great photos taken by some very talented artists we'd say. So, in order to spread the word, we've decided to bring some of them along. Well, all 10 of them to be exact. Enjoy! Oh and don't forget to -if you're not already- follow us on Instagram for new photos brought to you everyday!
10 Most-Liked Photos on our Instagram Account
10- Snowy Amsterdam by @wilsonjim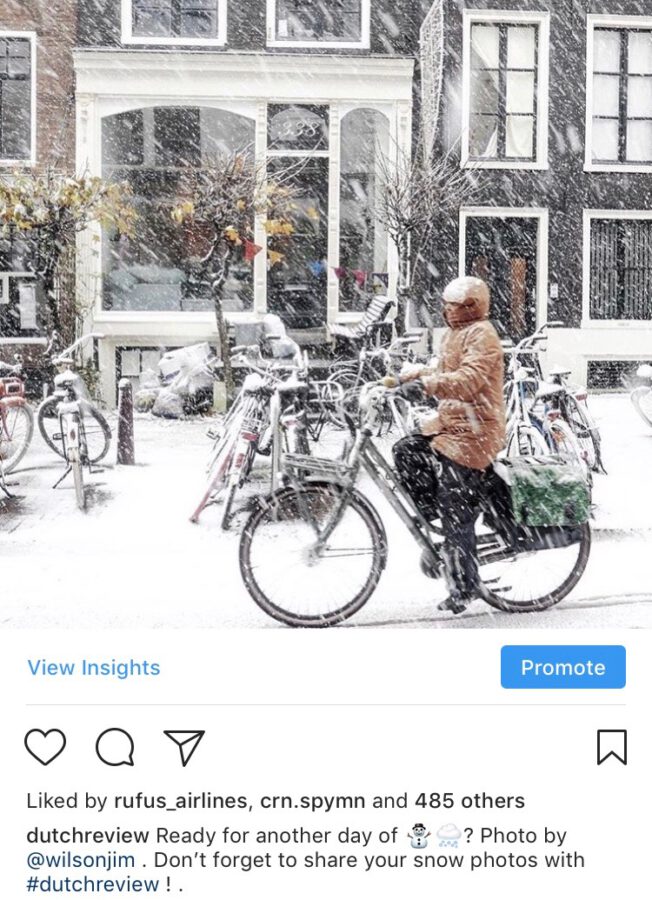 We start our countdown with a photo from the snowy days we've experienced in the Netherlands. For a magical couple of days, the whole country was covered with snow. As a result there were many great photos captured by many awesome photographers, so it is not surprising to see this photo in the Top 10!
Amsterdam is iconic as it is and this scene is one of the best to admire the crooked rows of houses. Many are captured on Instagram but only a few made it to here!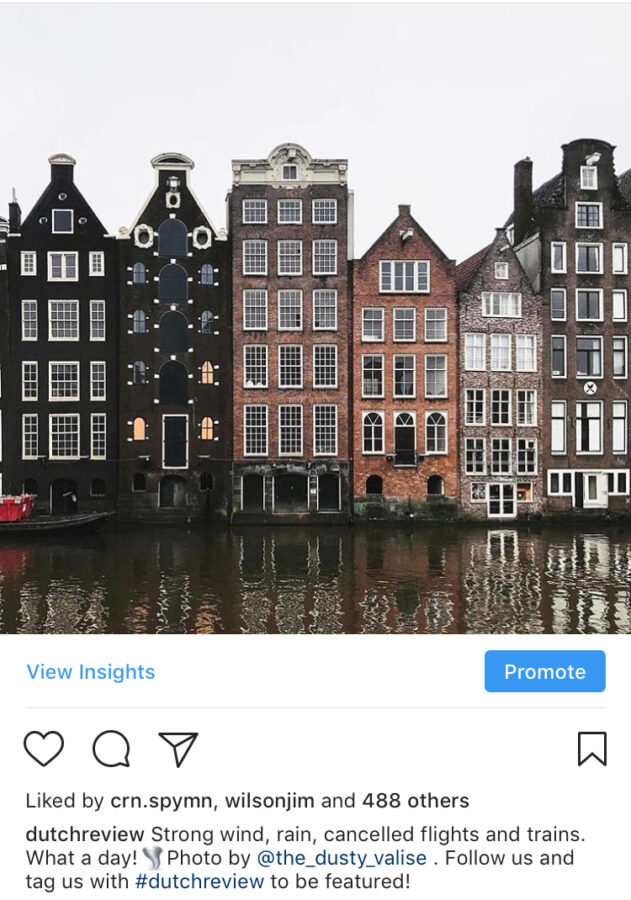 8- Row of houses by @nappyc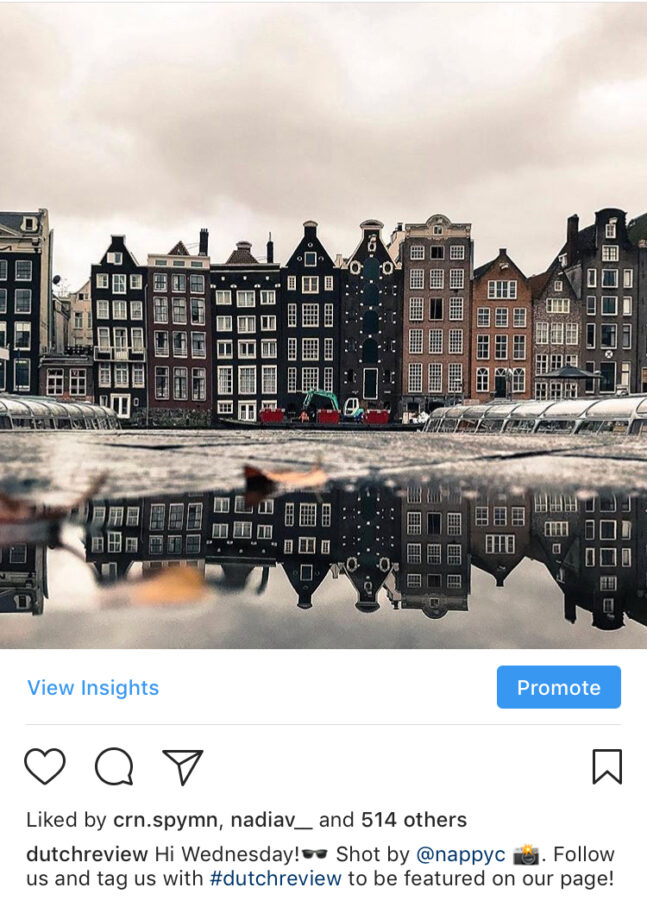 Same houses, different angle. This photo of Amsterdam has it all: Perfect grey sky, reflection (as a result of the typical dutch weather) and a leaf to give it the perfect autumn touch!
7- View over the canals by @maeandmany
Would like to see more of the pretty houses of Amsterdam? Wish no more! A canal, boat, houses by the water and a gloomy sky. It doesn't get more Dutch than this photo!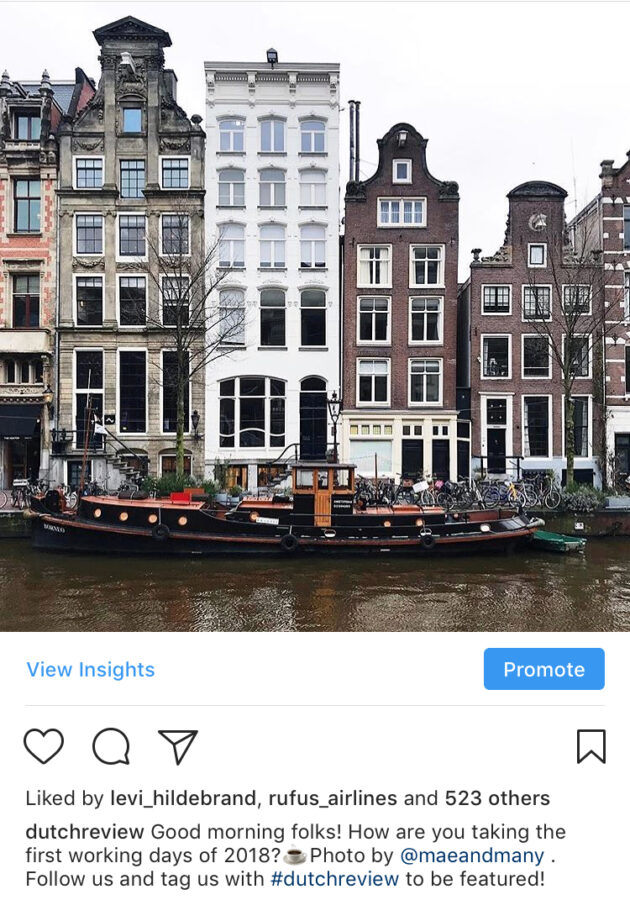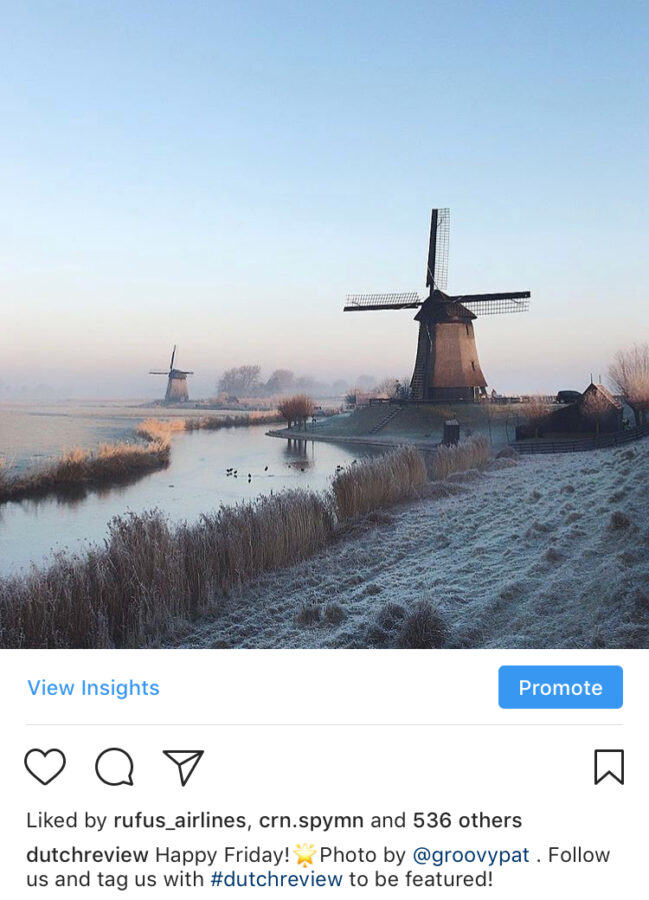 It's not all about Amsterdam! The Netherlands has many other scenic spots to capture and this photo proves exactly that (In a breath taking way).
5- Gloomy day by @_enk
For many, summer is a favourite season but for those who want to see the Netherlands in its usual state, I would recommend anyone to visit during autumn. Not only you might get to take a photo like this one, but you'll also end up falling in love with this city!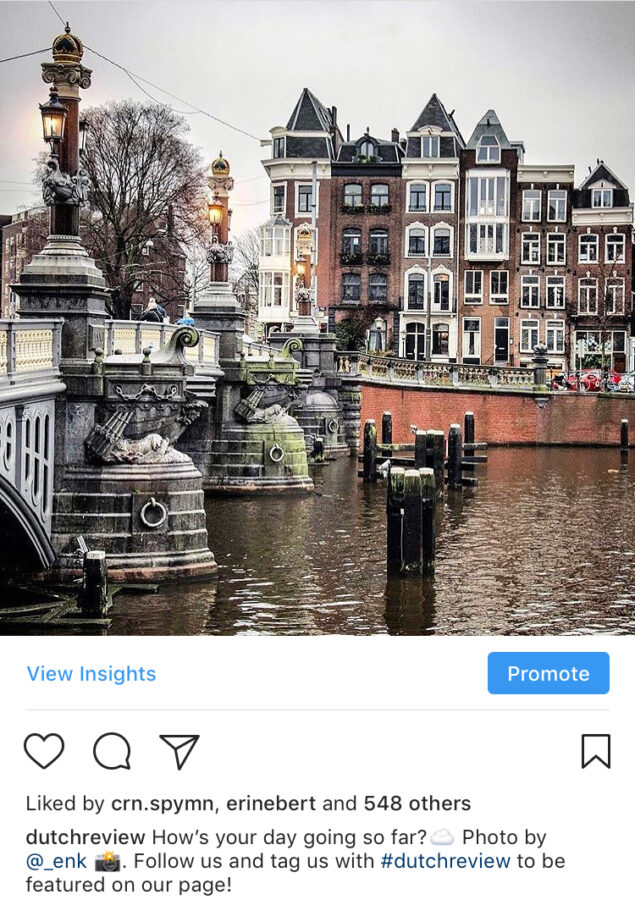 4- Den Haag under the snow by @fromcasey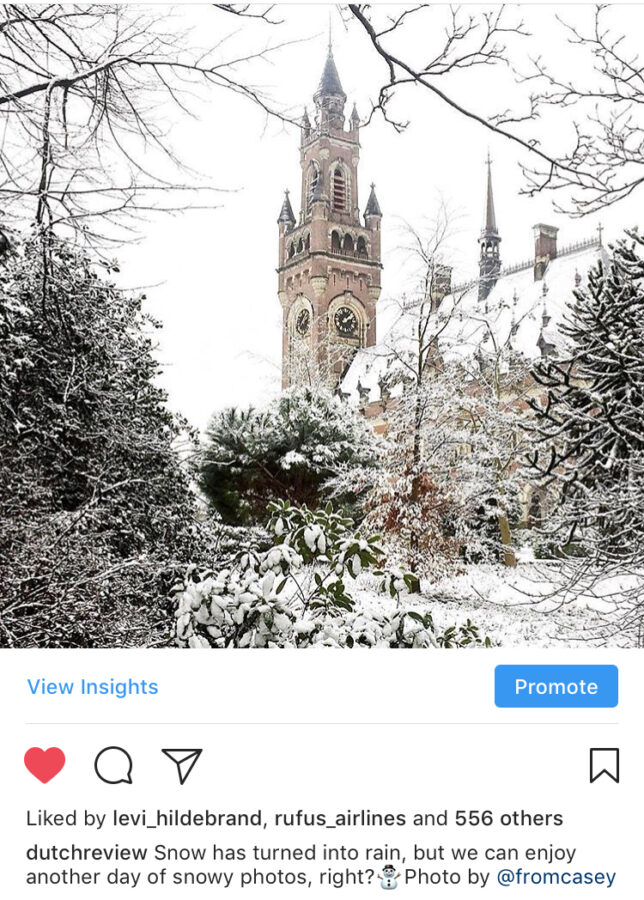 Another snowy photo comes from Den Haag this time! Good enough to make us wish for more snow. Even though it means no trains, possibly falling a couple of times and still have to go to work.
3- Amsterdam view by @gionata_s
What can we say? There is no way of getting tired of this view and you guys seem to agree with us!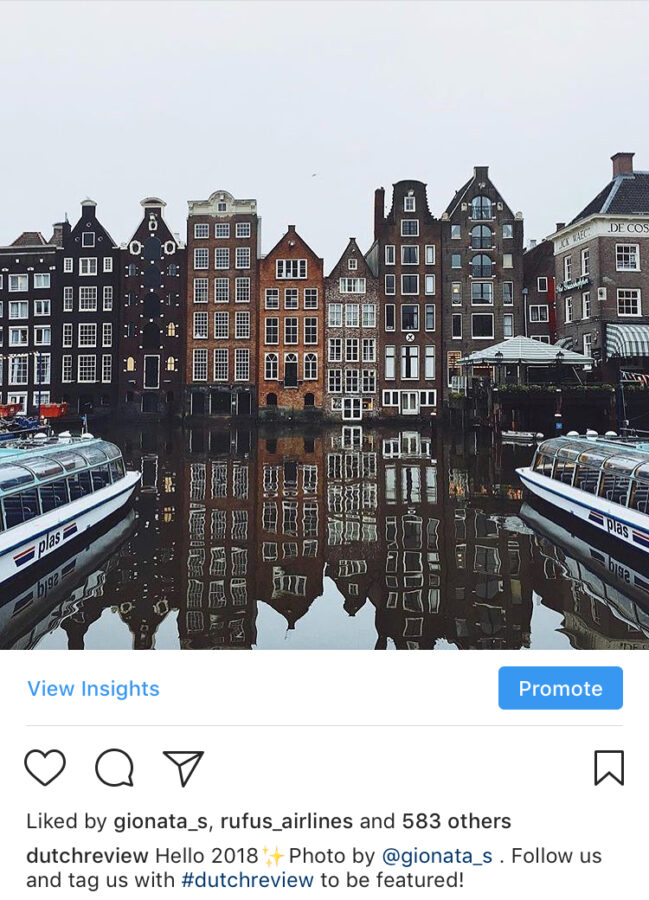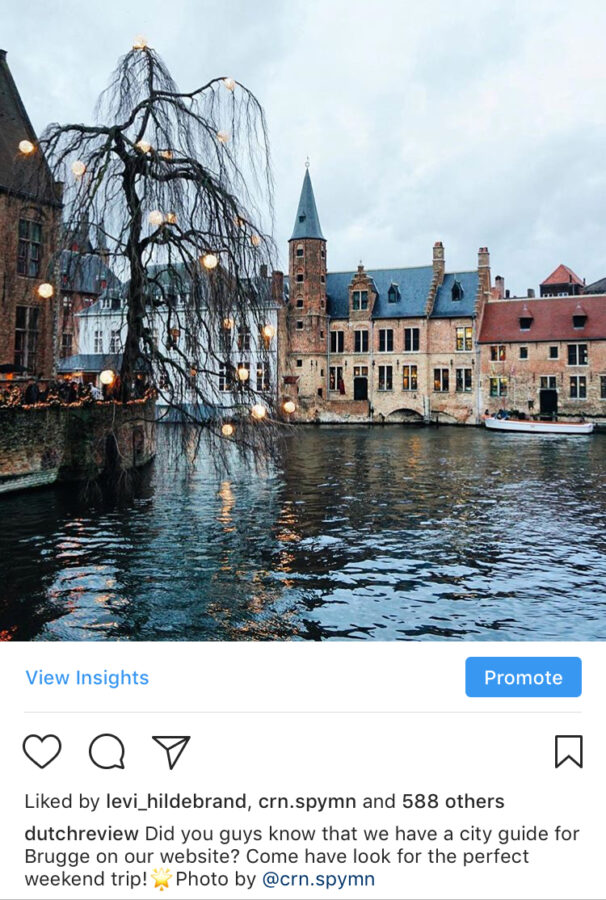 Brugge! Even though not a photo of the Netherlands, this photo almost made it to the top. If you wish, you can read more about these inspirational streets of Brugge over at our article. As we've said before, perfect weekend trip!
We've made it folks! Number 1 of our "10 Most-Liked Photos on our Instagram Account" comes from Amsterdam during the recent snow and we can see why!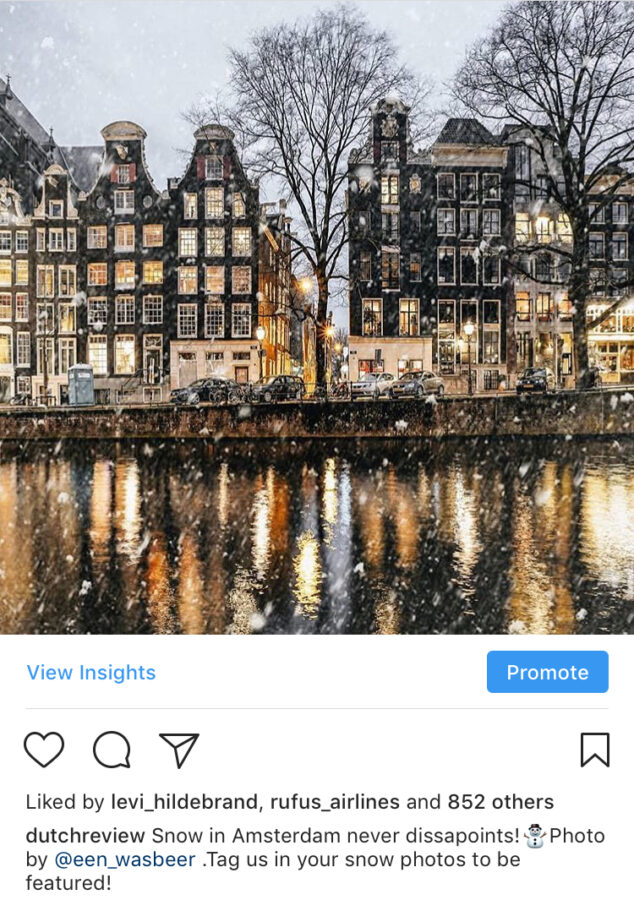 Hope you enjoyed seeing all the great photos shared at our account. Want to be a part of it? Follow our instagram account and tag us with #dutchreview be featured!
Oh and if you're a fan of flashbacks, you can see the previous Top 10 as well!