The Netherlands: heading for international isolation
It was an interesting, perhaps eye opening conclusion: one of the leading newspapers in the Netherlands (NRC Handelsblad) found that the Netherlands, traditionally proud of its tolerance and international allure, has slid into a country characterized by an introspective, confused and inward-looking mentality. The survey was held under the ambassadors of various countries (not just Russia) and was quite threatening in the perspective of PM Rutte's earlier statements in Birmingham: he proudly mentioned that 70% of the wealth in the Netherlands is earned from its exports, which in turn can be explained by the Dutch extremely open, internationally connected economy. It made me, an Indian expat who got married to a Dutch last year, wonder: how international and tolerant is this country?
The Netherlands: heading for international isolation, but not economically…
Partly, I have to agree with Mr. Rutte: indeed this country is exporting maniacally, selling its cheese, diary, tulips and Heineken beer all over the world. Moreover, knowledge migrants are stimulated in several ways to come to the Netherlands, for example as IT experts, PhD's or via other prestigious programs. And basically any Dutch will shout it from the roof: no country is more multicultural and tolerant than Holland! Yes, So far so good. But then, what happens if one takes a closer look and digs a bit deeper, to see what is actually going on? Can such person not end up wondering whether this country really is willing to embrace those expats, including the so badly wanted knowledge migrants?
Let's take the story of one of those migrants -completely at random, of course! – : me! My own beautiful story started four and half years ago when I was invited to work in the Netherlands via an Erasmus grant for making "Artificial Meat" for this meat loving country. Once I had accepted the offer it was amazing how smooth and efficient all went! I just had to pack my bag and take the right airplane, everything else was taken care off by Dutchies. All my documents were prepared, I got a nice place to stay, excellent working facilities, a great supervisor and mentor, basically even a set of friends had already been arranged for me. It was heaven! To top it off I even fell in love with a Dutchie (I admit, that was not part of the set of arrangements), and I decided to stay in this flat but lovely country: why would I think of leaving this hospitable paradise, this multicultural heaven on earth?
After I finished my PhD, it was time to become independent and find my professional road in this great global state. And that was when I fell out of paradise like Eva – but at least she had a bite of a nice and juicy apple for that. Suddenly, little was left of the open, tolerant and international oriented country so fiercely promoted by Rutte et al.; I got deeper than that layer and found the same side the NRC found too: an inner oriented, confused and inward looking mentality, a layer that desperately seemed trying to spit me out of this country.
Suddenly, language was a problem. The international renowned companies I started to apply, shining examples of Rutte's passionately advocated VOC-mentality, told me that they only wanted people who speak Dutch fluently. The Dutch Tax Department, who had no problem to address me in English when they needed my income tax, told me they had a policy of only answering questions in Dutch when I was inquiring on a considerable amount they had to return to me. The same goes for De Gemeente and most other official bodies: how does this support Rutte's vision, one cannot helping asking herself?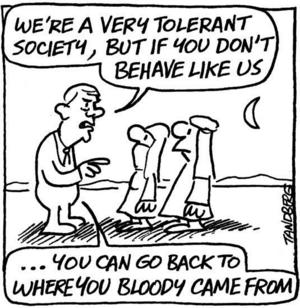 I also started to see other patterns. The library in Utrecht seemed to be a hub of people looking for a job; but why 80% of them were foreigners? Why the higher positions in Dutch universities are never being taken by people who do not have a Dutch background? Why there are no Moroccan or Turkish CEO's or CFO's in the Netherlands? Even though so many cleaners actually are Moroccan or Turkish? I talked with some NGO's fighting for the rights of the "outcasts" , the Dalits, in my country; but when you really go beyond the unspoken, are things that different in The Netherlands?
Any reader should not get me wrong: I do love this country, and its great social system. Things are nicely arranged here and hey, did I not even marry a Dutch?
But yet, is it not time that the Dutch are starting to realize that they are drifting further and further away from the shining example of tolerance and multiculturalism they once were? And that if they do not manage to change course soon, they risk to end up lagging hugely behind on this dynamic world that becomes more global every day?
Perhaps starting to realize that there is a problem, would be half of the solution already.