After two years in Holland (I told you that I am not going to call it The Netherlands anymore) I must say that I have given the good and bad qualities of the country, the Dutch and their habits, little thought. But then someone asked me a while ago what I thought and so in all fairness I made a list, and here it is. I started with the bad.
Disclaimer: the things listed in these lists are my thoughts and my thoughts only! I do not claim to think for anyone else then myself! Also the order has no significance.
 The bad things:
1. FIREWORKS. Although I love watching fireworks I can not say the same for those firing them. If they are amateurs that is. Now when December has started again I am dreading the first boom. Dutch are nuts about their fireworks, the law that forbids them until ( I think it is 9 or 10 in the morning of the New Years) is simply ignored from the start of December to somewhere mid January.  Even though it is usually kids that go premature the New Years itself is no picnic either. I have never been as scared as I was last year when we celebrated with friends in a small Dutch village. Instead of taking the fireworks to an open area, like a playground or the backyard, like I am used to, people took to the streets and if you were unlucky you had to run to avoid to get hit. From now on I have requested to celebrate New Years elsewhere.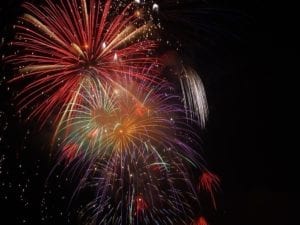 2. THE CHEESE. Yes I know I have complained about this before but I have yet to find a dutch cheese that tastes…anything. This does NOT mean that there is no good dutch cheeses, I just haven't found any. There is also the shape. Okay, I get that the cheese wheel is a tradition but they are HELL to cut from. So I prefer the square-shaped cheese from Sweden; not only does it taste good (see Wästgöta Kloster, the black one), it is totally easy to slice and dice! To me the cheese wheels makes little sense.
3. THE, SOMETIMES, WEIRD PLUMBING. We have a separate toilet in our appartement. In this toilet there is no warm water in the tap. I mean come on, it is not nice to wash your hands in ice-cold water!
4. FASHION. I've had to go to Sweden to shop clothes, enough said. (Except for pants, more on that later.)
5. RAW SHRIMP. The other thing I miss is the raw shrimp that I love to eat. It's a family tradition to get about 1kg of fresh shrimp and just peel and eat. Usually served with fresh bread and mayo with a taste of lemon.
Now to the Good stuff
1. THE MAIL I continuously get pleasantly surprised by the speed of packages. If you order something it is by 99% certainty at its destination the next day. In Sweden you have to wait weeks, literary. You also do not get mail on Saturdays there.
2. PANTS. Or Jeans in my case. I can finally find girl size Jeans that actually fits me lengthwise! All that I have been able to get before has been boy sized jeans or special jeans that were twice as expensive as normal ones. Not good for the economy.
3. THE LIGHT. I mean it gets dark between 4-5 at the earliest! Woot! In Stockholm the sun sets at 3, at my dads in the north of Sweden it barely makes it up past trees on horizon before it goes down again. o/
4. SNOW. The fact that Holland does not really get any that is, save for the couple of millimeters that seems to panic every car owner in the country. *chuckles* During my weekend in Sweden it snowed about 4 cm ( the north of Sweden can get up to two meters during a winter) and the drivers didn't even blink.
5. WARM, FRESH STROOPWAFELS. Warm, crispy with the warm filling fresh from the market stand. *nom*
6. THE WARMTH. A temperature of +7º Celsius is a whole lot better then say -10º or, as it was in the north of Sweden this weekend (6-8 December 2013), -40º. *shiver*
7. THE ORDER IN. Thuisbezorgd.nl has good variety of food that you can order. And when you do find a good restaurant the sheer quality of the food is awesome. In Sweden its 99% pizza and sometimes very bad pizza at that.
Hey look at that I actually found more good things then bad 🙂
But lists aside I have come to love my new home country. But like my new countrymen I do need to complain, even just for a little bit. 🙂