With the infamous Sinterklaas day looming ahead and Christmas not that far behind it, it's important you have some guidelines to surviving the Dutch holidays. I have found that after 5 years of living here, I have become an expert in some, and am still struggling with others. Here are my top 5 things you need to know to survive the Dutch holiday season and while we're at it we're also going to teach you some Dutch to make it through the Dutch holiday season.
(Do you need some extra help to make it through this Dutch Holiday Season? It can be tough, we hear ya. Check out Flowently for some 1 on 1 sessions to teach you all about eating oliebollen and making a surprise)
Dutch holiday season: Gourmetten!
We have adopted this Dutch holiday practice simply because it's a great way to gather with family and friends around the holidays. Essentially its tabletop cooking of miniature sized meats with veggies and dips. Packets of pre-cut meat can be bought in most supermarkets which makes it really easy to prepare for this holiday tradition. For a more indepth-look at this form of Dutch 'cuisine' I can wholeheartedly recommend you check out this DutchReview article on Gourmetten.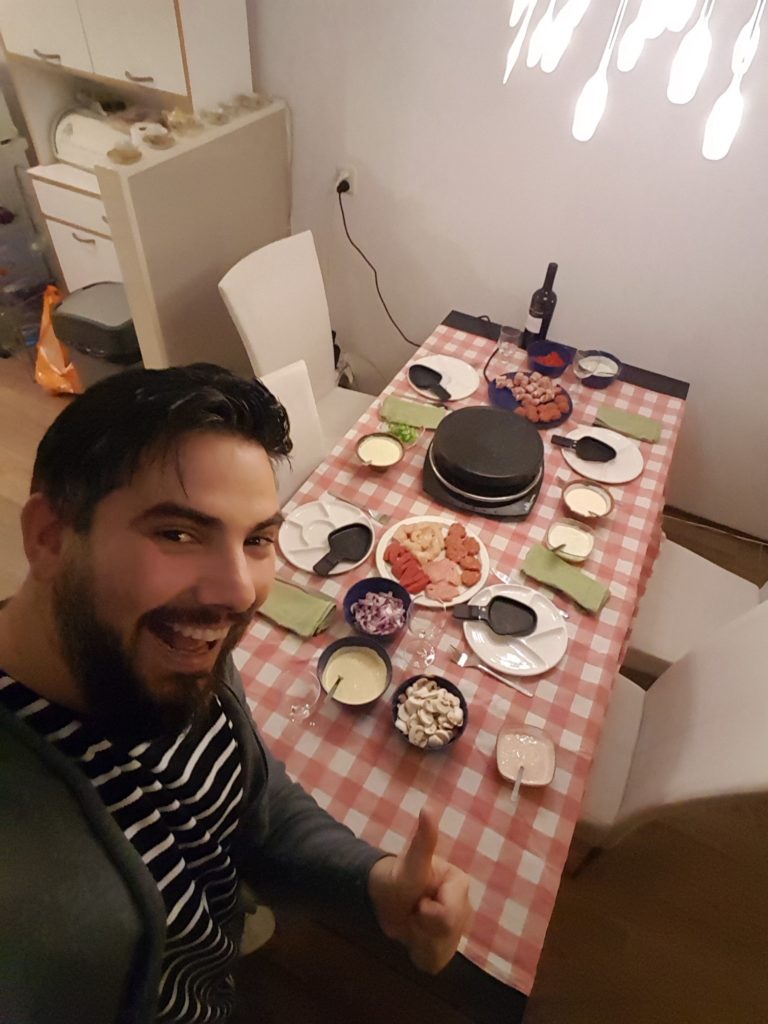 Some tips for Gourmetten:
For younger children, it helps to have a stone top gourmet, as this does not require oil, thus less spatter of hot oil into the eyes on tiny diners.
Pancakes and eggs are great to cook up in the smaller pans, as well as veggies.
While cooking, have a pan of half water/half fabric softener on the stove, with the flame turned down low. This will help get rid of the oily/fried smell in the air while you're cooking table side.
Dutch language you need at gourmetten:
'Mag ik nog dat sausje/stukje brood'– frying that little piece of meat in a small pan can take ages, you'll end up devouring all that bread and sauce.
'Wat is dat voor vlees?' – the first rule of gourmetten is that you don't ask what that little piece of meat actually is
Gourmetstel – it's the centerpiece where it all happens, usually by now a family heir loom
Suprises (pronounced "sorprieeze)
This holiday ritual usually involves children and requires you to reach down into your soul and bring out your "crea bea". Usually children draw secret "Sint" in class. Each child writes their name and a few inexpensive gift ideas for their secret Sint. Your child then has to use their knowledge of the child's name they picked/or the gift they will buy and come up with a creative packaging for this gift. Think paper-mâché, arts and crafts, glue, tape and glitter. Once the surprise is made the gift is put inside. The wrapping is actually more important than the gift at this point.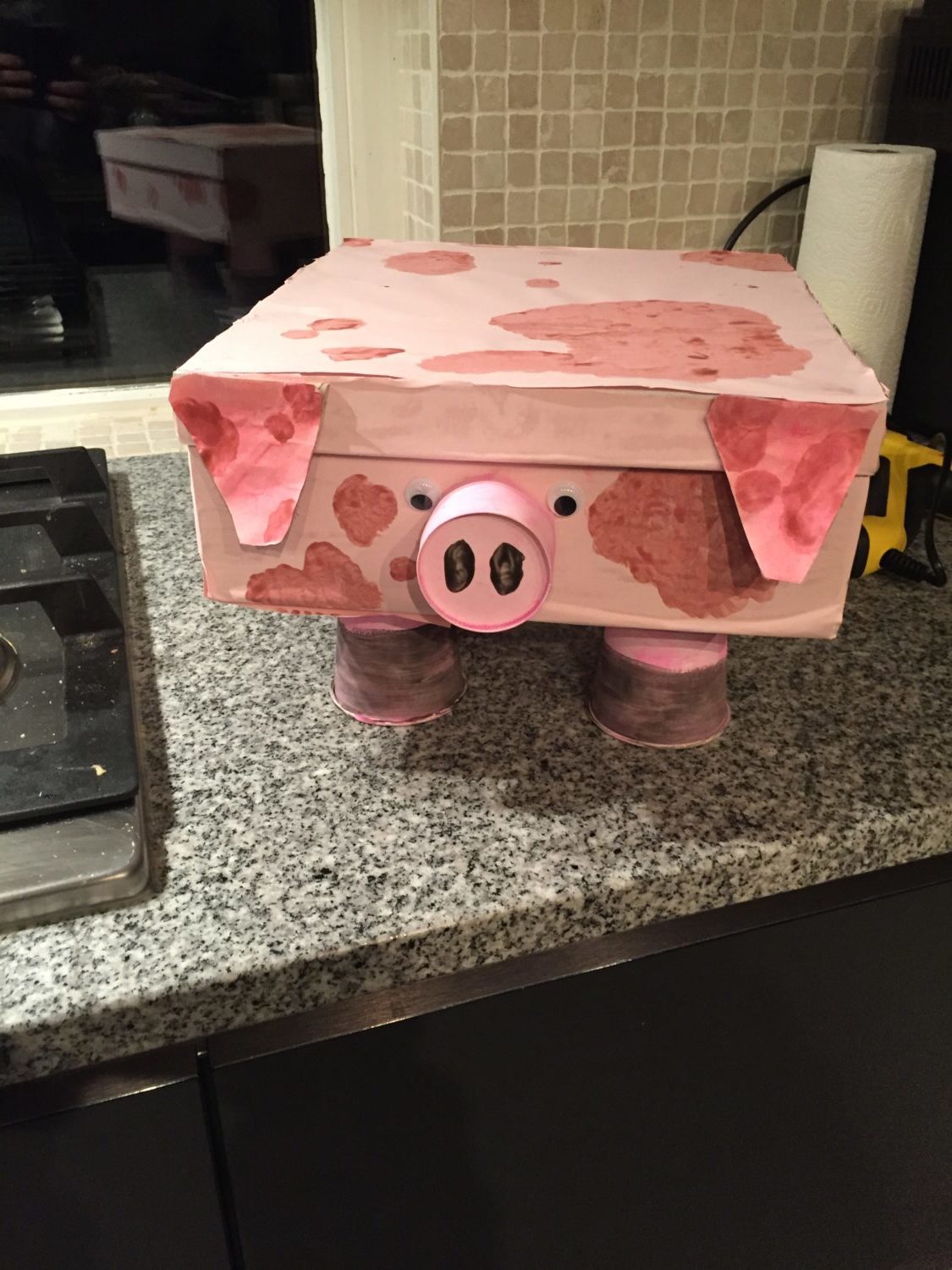 Some tips:
For example, if the chosen one is a soccer player you would create a soccer ball, or perhaps a goal. In our instance our gift receiver had a pet pig, thus the pig below. Inside were the requested chocolates. One year we had a piano player and made a great holiday piano out of a shoebox.
It is taken very seriously so don't skimp out on the effort.
There are plenty of ideas on Pinterest, just search "Sinterklaas Surpise"
Dutch language you need with a surprise:
'lootje' – the ticket with someone's name you've gotten to prepare a surpise for
'verlanglijstje' – the wish-list for presents
'pakjesavond' – all of this is done when the Sint skips town again, traditionally on the 5th of December


Sinterklaas Gedichtjes
Hand in hand with the above-mentioned surprise is what the Dutch call a "gedichtje" This is a personalized poem written to the recipient of the surprise. It can also be something that is done for friends or family during the Christmas celebrations and I have also seen it done at work for "Secret Santa" activities.  Essentially you write a poem or rhyme about the person and refer to things they like and do. For example you can reference making goals if it's a gedichtje to the soccer player, or talk about swimming if someone swims for a hobby. Usually it's funny and cute and not too long, but if you and you're friends are a bunch of nasty people it might well be turned into a proper roast.
Some tips:
There are several websites that you can use if you lack the create juices to write your own rhyme. You just plug in the recipient's name or choose a theme and it will spit out several poems that you can use for this fun holiday tradition. Try this site or this one.  or
The Dutch appreciate originality though, and would of course much prefer a self-written poem in place of a "cheat" download.
Dutch you need for a poem:
There is only one sentence you absolutely need to start with and after that you might as well do the whole thing in English. It goes as follows:
"De Sint zat eens te denken, wat hij nu eens aan Hans/Heather zou schenken"
(The Sint was just thinking, what would he be gifting to Hans/Heather)
Christmas Markets
Not in the Christmas spirit? Missing family and friends?  No worries, the Dutch have figured out a way to make you feel more Jingle Belly. Just attend one of the hundreds of Christmas markets scattered across the country and you will be sure to be bitten by the Christmas bug. Check out this write up by fellow DutchReviewer Abuzer
Some tips:
Get there early as they can tend to get crowded really quickly, especially if it's cold.
Bring small change for all the yummy holiday treats and small currency as many of the vendors have great holiday gifts and decorations for sale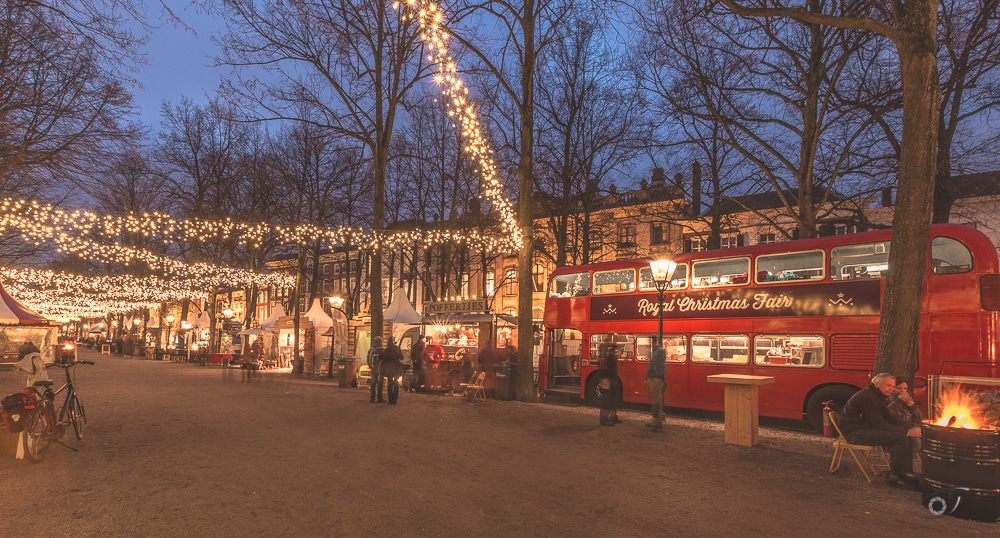 Dutch you need for visiting a Christmas market:
'Lekker chocolademelk/Glühwein' – the beverage of choice is some hot cocoa, and if you're a boozy person you go for Glühwein – which is a hot sweet wine from Germany
'Lekker Schaatsen' – There are a bunch of iceskating rings at these Christmas Markets, which makes the nostalgia complete for the Dutch
'Lekker gezellig' – Well, you should know this one by now
Oliebollen
My personal favorite treat of the Holidays here in the Netherlands. Fried balls of dough covered in powdered sugar, what's not to like? Similar to Beignets, these yummy treats are often found at fairs or in parking lots corners, and come with a variety of fillings such as apples or raisins. Luckily, they are not generally a year-round treat or we would all be having trouble peddling our derrieres to work. Many make them with New Year's Eve as a treat or perhaps a hangover cure for New Year's Day.
Oliebollen gezelligheid seen here at 0.07:
Some tips:
Eat them warm, they are way better that way.
If you choose to bring home a bag…or two…don't judge me…you can heat them up by wrapping them in a paper towel and microwaving them for a few seconds. Not too long or they become a bit chewy.
Dutch you need to properly eat oliebollen:
'Poedersuiker' – powdered sugar comes almost mandatory with the oilbolls
'Appelflappen' – these apple beignets things are the 'healthy' substitutes at the 'oliebollenkraam'
AD Oliebollentest – The AD newspaper in the Netherlands is doing a test each year on the best oliebol in the country, it's a thing during the Dutch holiday season.
Want to learn more Dutch to get through the Dutch Holiday Season?
We can't blame ya! The Dutch Holiday Season can get pretty intense, especially if you're doing it the first time with your Dutch in-laws. If you're also not a fan of paying hefty fees for a classroom-learn-a-language approach you might want to get in on Flowently and their personal style of teaching Dutch.
Consider for example booking their Welcome Session, where you'll get a private tour of a Dutch city and learn some Dutch along the way. They'll also show you your new neighborhood, work environment and other locations you're interested in – so it's a great way to get started with life and the language! I'm sure they can also take you to the Christmas markets and teach you how to fall like a Dutchie while ice-skating.