So, you're (considering) moving to Amsterdam! Fab news. Now you're trying not to panic about all the faffing it will take to get you there. Well, take a deep breath and unclench those butt-cheeks, my lovely readers – whether you're debating the big move to Amsterdam for the first time or you've finally decided – we're here to help you. This is all you need to know about relocating to Amsterdam.
If you need to know more about living in Amsterdam, we've got a whole kick-ass guide for that surviving in the Netherlands too.
Imagine this: you touch down in Amsterdam. It's night-time. The bikes that pass are mere specs of light, blinking as the cyclists weave in and out of trees. There are stars in the canal water and the sky is tinged with blue…then you realise: you live here!
Content – jump right to the question you have about life in Amsterdam
You've probably heard about Amsterdam more than you've heard about the Netherlands as a whole (heck, some people even think they're two separate places), but it's no lie that there are definite reasons why the city is so popular. Let's start with the most pressing question…
Why should I move to Amsterdam?
With around 180 different nationalities, the city is hugely diverse, and as an international you can bet you'll be welcomed with open arms. Whether its recognising LGBT rights or the emancipation of women, being open about sex education and sex care, or providing shelter for refugees, Amsterdam is one of the most liberal and accepting places to live in the world. This is probably a huge reason why the city is so rich in culture. Plus, have you ever felt like you've lived half your life in a car? Well, this city is a cyclist's haven, so if you like bikes, it'll soon be yours too.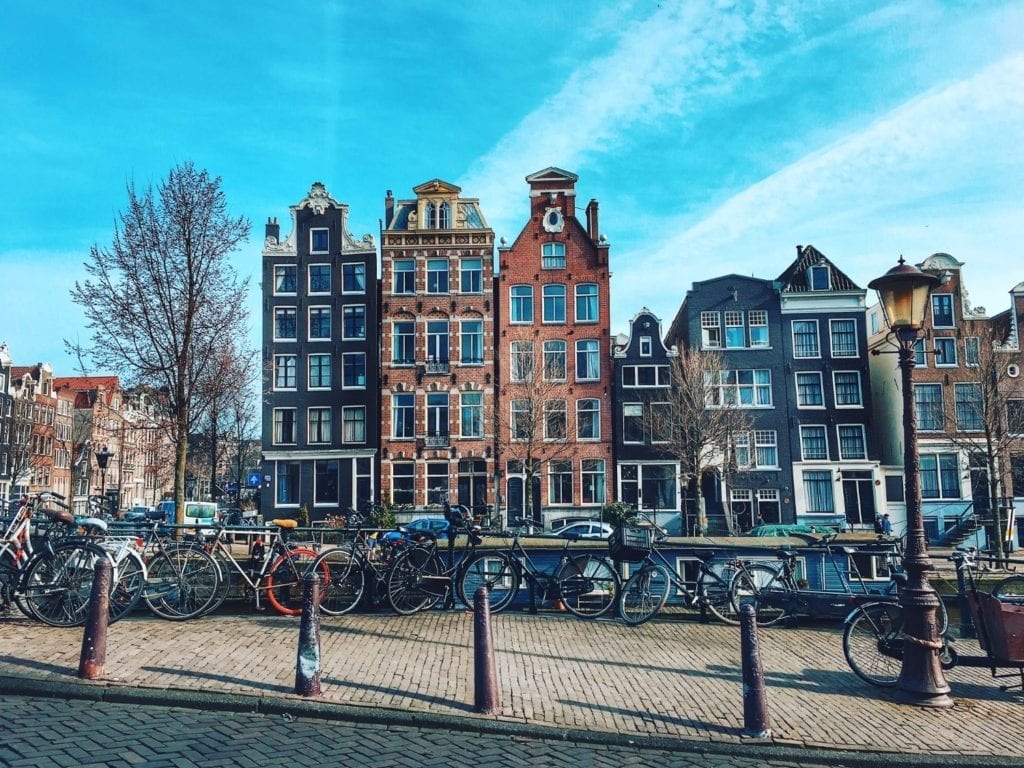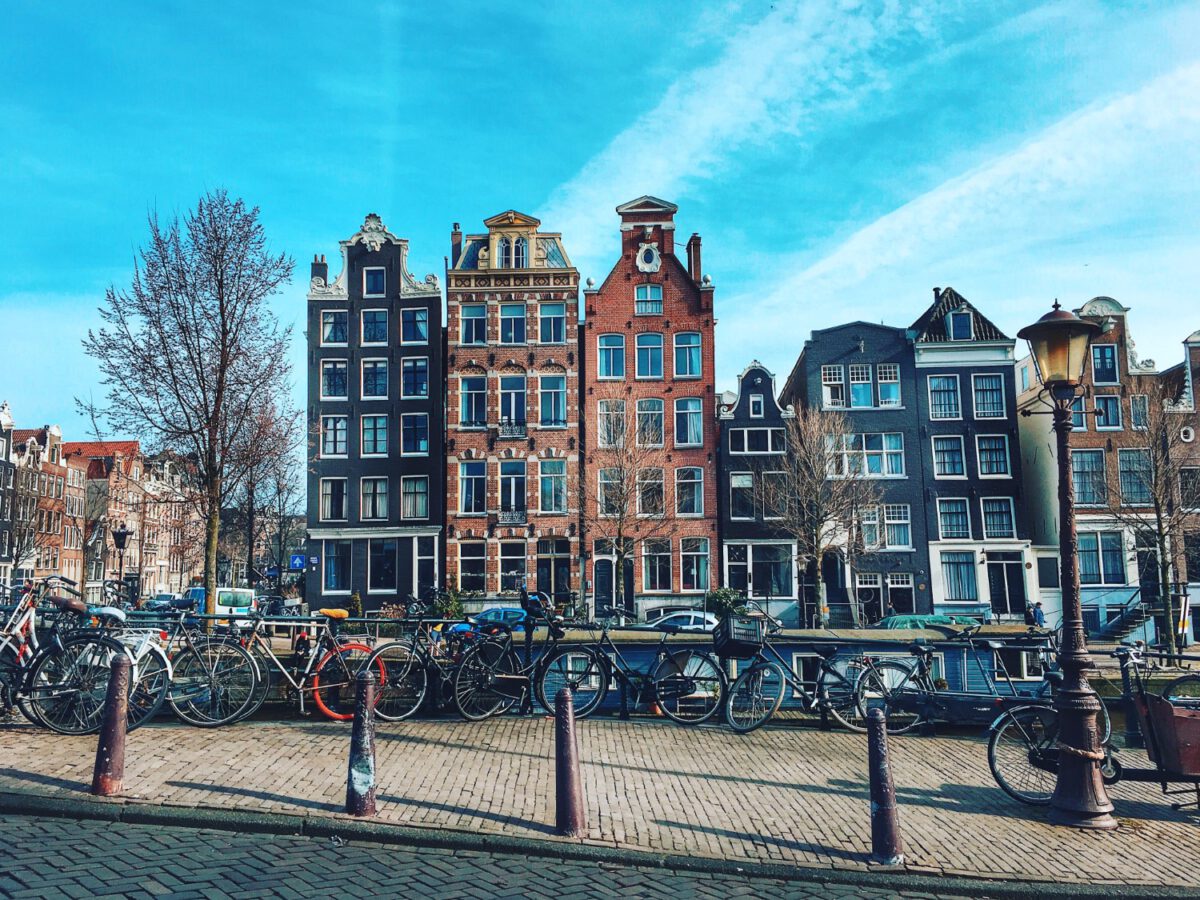 Amsterdam is crazy beautiful during all seasons (just check out our Instagram if you don't believe me). Spring-time and summers are the perfect time for boat trips, the festivals continue into the autumn and the winter cold is bearable because it's so damn pretty.
Don't even get me started on Christmas time, when the city becomes a snowy fairytale: the canals turn into ice rinks, the Amsterdam light festival ensures each corner of the city glows with warmth and the market stalls start selling deep fried pastry (AKA oliebollen: my personal fave Dutch snack).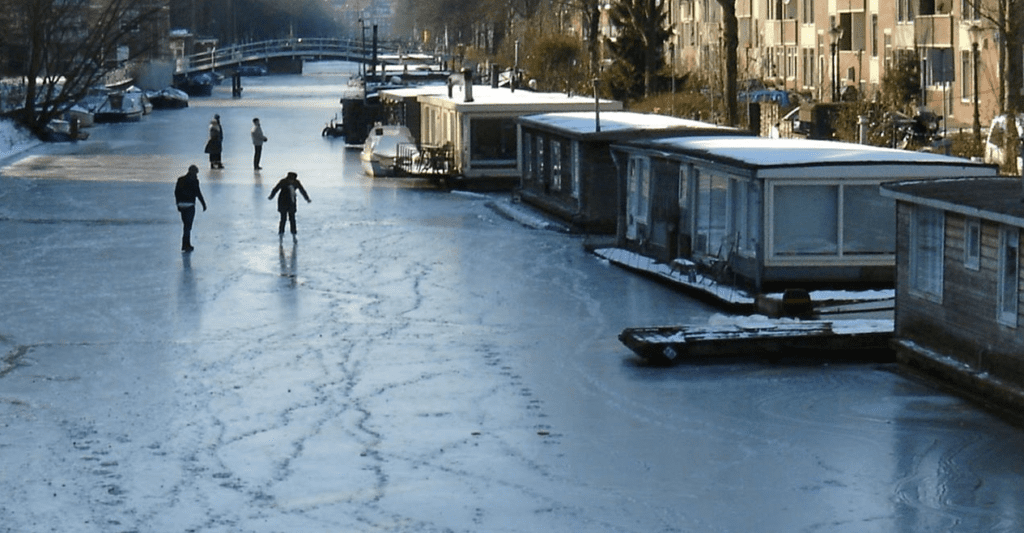 Is Amsterdam a safe city?
A lot of people ask this question, and rightly so. For the most part, Amsterdam is safe. In 2017, Amsterdam was the 6th safest city in a ranking of 60 popular cities in Safe City Index. The fact that marijuana is legal and you can buy drugs in smart stores doesn't make Amsterdam more dangerous than other cities. If anything, this actually makes it a safer place for those who want to try them out (and let's be real, lots of people do).
What precautions should I take?
Keep an eye on your valuables, especially if you're foreign because you'll be mistaken for a tourist (an easy-target, in other words). If you're a woman travelling alone, you should take the same caution as you would elsewhere. Like in any major city, there's going to be drunk hooligans, so be prepared if you're going out at night.
It's not secret that organised crime occurs in Amsterdam, and mostly in the Red Light District, but if you stay clear of that world then the most you'll probably have to worry about is pick-pocketing and bike-thieves. Apart from that, there aren't many road accidents and there's not as much pollution because everyone travels by bike. Overall, the Dutch value safety (except for their outright refusal to wear bike helmets!?)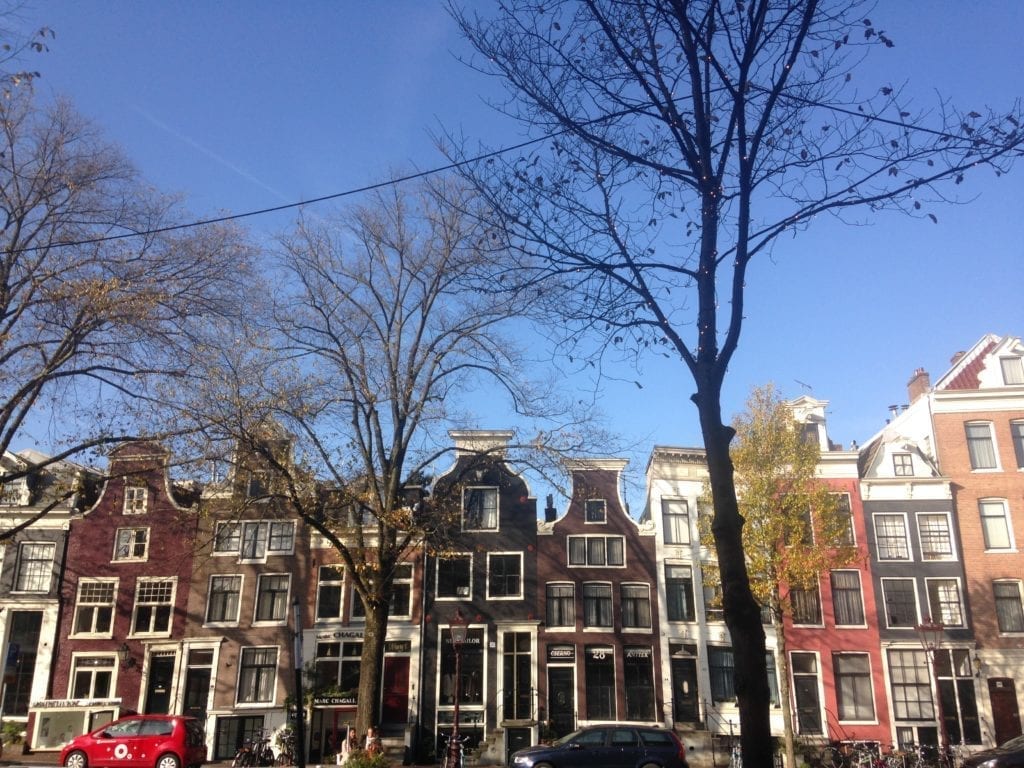 Moving to Amsterdam: What documents do I need?
First of all, here is a list of documents you need to bring with you when you move to the Netherlands. We want to make this transition as smooth as possible for you, so we'll try to answer those immediate burning questions before you eventually have to read the more detailed (but probably more boring) official websites 😉
Do I need a visa to live in Amsterdam?
If you are from the EU, EEA or Switzerland, you do not need a visa. Some nationalities outside of the EU are exempt – but better to check the Ministry of Foreign Affairs for all the deets on that one.
If you're a national outside of the EU, EEA and Switzerland…
…It depends on how long you're planning to stay for. There's a Schengen visa, for instance, that allows you to live and travel in the Schengen area (this includes Amsterdam) for up to 3 months within a 6 month period.
How do I apply for a Schengen visa?
If you're eligible, you can apply for a good ol' Schengen visa at the Dutch embassy or at the consulate in your own country. Sorry to break the news to ya: there's a non-refundable fee and you will have to round up a load of documents, including one which demonstrates why you're moving to Amsterdam (a job contract, for instance). If you're going to be staying with family or friends, you'll need to fill in a form called 'proof of sponsorship and/or private accommodation' and a copy of the sponsor's ID. A sponsor can basically be your host or your guarantor.
Usually, the processing time is up to 15 days, but sometimes it can take up to 60 if they still have questions. If you need to get there urgently, you can apply for an emergency visa. Once you're super-serious about moving to Amsterdam, visit the government website for the down-low on all things visa related. Cue happy airport giph!
What if I'm staying in Amsterdam for longer than 3 months?
Chances are, you'll be staying here longer than 3 months. We hope so! If you are not an EU/EEA national, you must apply for your residence permits: a provisional one and then a permanent residence permit. If you are an EU/EEA national, you don't need to do this.
You're then gonna need to register with your local municipality (gemeente). They want to make a note of who is staying in the city. It will help in the long-run too because they need to send you all sorts of official thingies (voting slips, tax forms, etc). Important: MAKE SURE to have your relevant documents (such as your birth certificate) authenticated BEFORE you leave!
Also, if you're planning to live in Amsterdam for a longer time, you might want to check out a company that specializes in removals to Amsterdam.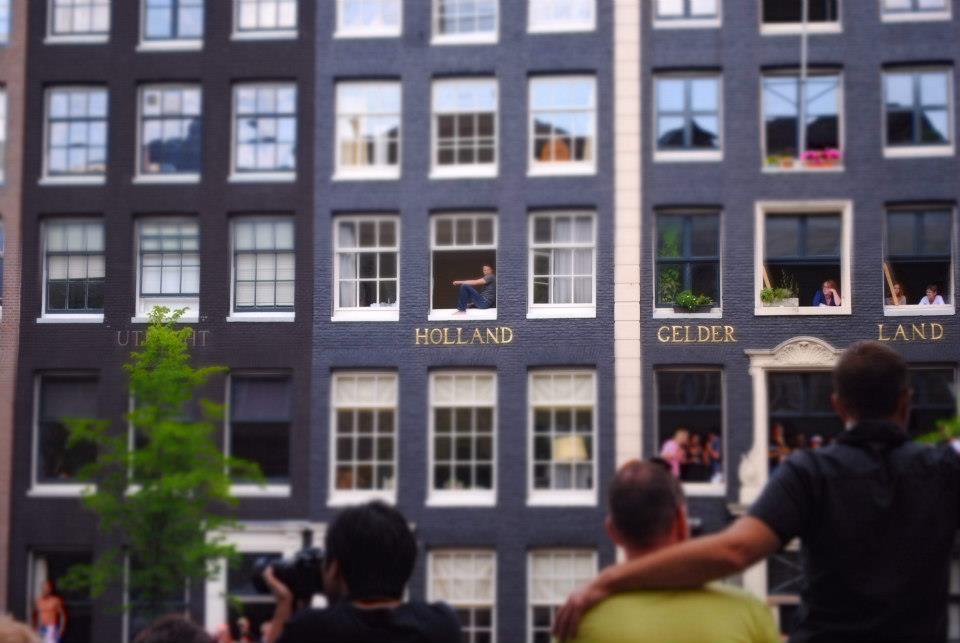 What happens after I register with the municipality?
You'll then be given a citizen service number, AKA a BSN (burgerservicenummer), which will be sent to your home address. Look after this – you'll need it to get a job, open a bank account, get healthcare and benefits and allowances. If you are coming to work in Amsterdam, then you will need a BSN no matter how short your stay.
It's also worth getting a DigiD (Digital Identification) code. This comes in the form of a username and password; it's basically an online ID to use government services and websites, and it's linked to your BSN. Plus, your place of work or study might ask for it, so better to come prepared!
Moving to Amsterdam: What's the best way to travel?
There are tonnes of options when you live in the city. There's trams, buses (including night buses and night trains), bikes, cars, ferries and the snazzy new metro. If you prefer public transport, check out our complete guide to public transport in the Netherlands.
If you want to buy a car, of course, that's completely doable, but it's no lie that Amsterdam is a city made for bicycles. You are moving to bicycle paradise! At DutchReview, we have all the information you need, from buying your first bike when you arrive, buying a bike off the internet, to what to do when your bike's stolen.
Moving to Amsterdam: How do I look for accommodation?
If you've just made it to Amsterdam and you don't have a place to call home yet, that's okay! Whilst you're looking for houses and rooms, you can stay at a hotel, a short-stay apartment – or even a houseboat! Otherwise, you can always use Couch-surfing or Airbnb.
Once you've found the right house or apartment in the neighbourhood that suits you best, you can well and truly start making it your own. This is also a great way to start making new friends. Then you need to sort your utilities (PartnerPete is good for this!)
Once you've found the perfect location, you can start decorating your new home. Check out this window in Amsterdam featuring the cutest miniature Dutch houses!
PS. If you're not into cleaning yourself, you might want to check out our article about Helpling, the online marketplace to help you find a cleaner!
Moving to Amsterdam: Do I need to learn Dutch?
If this is a huge concern for you, you should know that learning Dutch is not an absolute necessity here because the city is soo international and almost everyone can speak English. There are plenty of companies that hire people simply because they are native in a different language.
However, it's important to at least try because it's a great bonus and will help you in the long-run; it boosts your social life, the locals will appreciate it and it'll make it much easier to find a job. There is a language institute in Amsterdam's Vrije Universiteit that offers daytime and evening Dutch classes (this will prepare you for the NT2 exam: the State Examination of Dutch as a Second Language).
Do your research on the best books, online videos, audio guides, free mobile apps (Duolingo all the way!), language-learning packages, private tutoring and classes to take in the city. We'd recommend Learn Dutch, run by the fantastic Bart de Pau, who we team up occasionally to bring you (hopefully) entertaining 'Learn Dutch' videos.
Some fun articles to get you started:
Moving to Amsterdam: Can I find a job?
Finding work anywhere, even in your home country, is a challenge, but – whether you speak Dutch or not – finding a job in Amsterdam shouldn't be a huge problem. It is the capital city, after all. The Netherlands is supposedly one of the best countries for finding employment, and yet (mostly young) people are struggling to find jobs. This is a hard-hitting truth for people without much experience who also don't speak Dutch (here's our guide on finding a job in Amsterdam if you're finding it unbearable – you're not the only one).
Look online before you leave. Research the top tips and tricks for adapting your CV. If you're lucky you can set up interviews for when you arrive or even a skype-call or phone interview beforehand. Here's a list of 9 websites for internationals looking for a job in Amsterdam: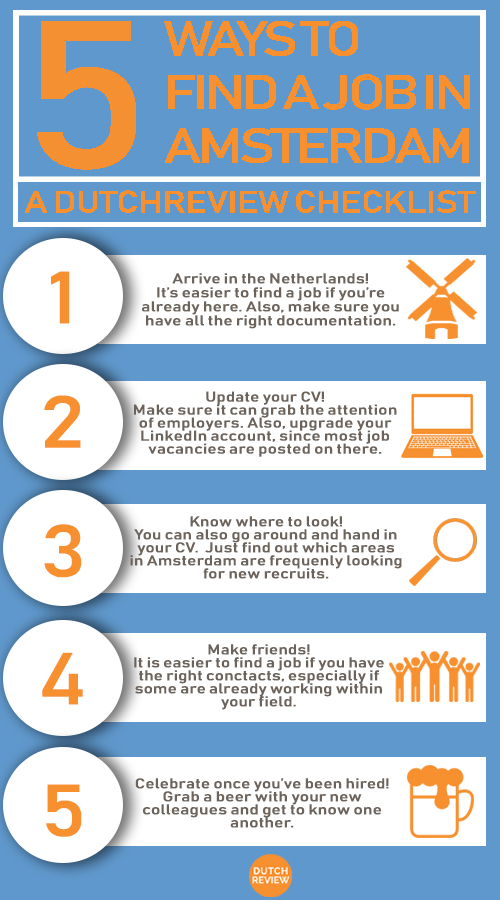 Looking to start up your own company? Make sure you have the necessary permits. Don't forget to read up on your rights to work in this country!
Moving to Amsterdam: How does healthcare work?
If you live and work in the Netherlands, you are required to get health insurance. Don't worry though! You can get a healthcare allowance from the government. Depending on how much you earn, you'll be paying waaaay less per month if you sign up for this. No one will remind you about the allowance, though, so make sure you search for it yourself and claim that moolah! You can choose which insurance you want, based on your personal needs. Say you wear contact lenses, for example, there are add-ons you can get to help you pay for these. Or if you want to look into receiving extra mental healthcare (more than the treatment that's covered by the insurance), you can do this too. Finally, if you want to know about Dental care and dental insurance, we've got you covered.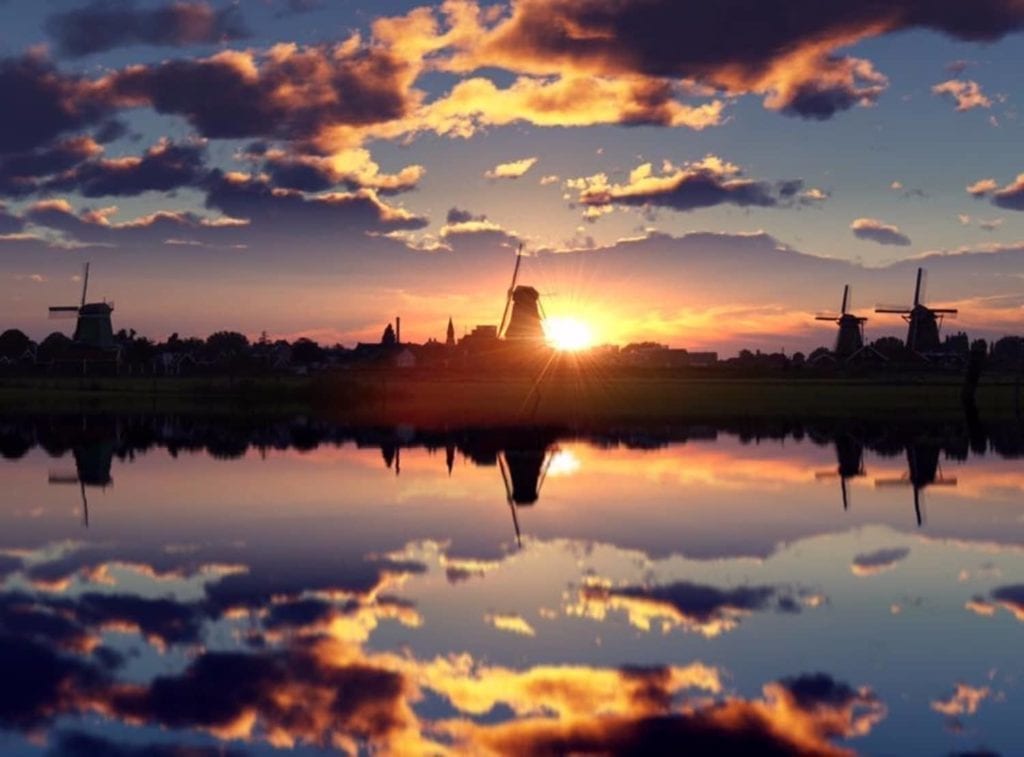 Moving to Amsterdam: What about childcare?
There's different types of child benefits you can get here, as well as daycare. We've got all you need to know about maternity and paternity leave, as well as general articles about giving birth or having a child in the Netherlands.
If you're bringing your kids with you, there are tonnes of au pairs who are searching for work in Amsterdam. You can join Facebook pages, nanny websites, or look up any of these:
Those are just a few of the childcare facilities available. If your kids are older, have a read up on Dutch schools, international schools and the different university options. Research these with your child before moving. Here's a lil video to explain why the Netherlands is a wonderful place to raise your kiddies.
Moving to Amsterdam: Can I bring my pet?
This might seem silly to some, but to others it's a serious cause for concern! (I can already hear you whimpering as you cling to your beloved ball of fur). We already have an article on all you need to know about having a pet in the Netherlands, but you probably want to know if it's possible to bring your pet here.
The short answer is: yes. It is possible to bring your pet from another country into the Netherlands, but you've gotta meet government conditions and buy your animals the right vaccinations (the most important one is the rabies jab). This preparation, plus arranging the necessary pet passport and transport, can take 6-12 months preparation, so do your research well in advance!
Moving to Amsterdam: How can I meet new people?
Some people's worst nightmare about moving abroad is suddenly becoming friendless. Amsterdam's just not like that. Not only is it super international (did I mention that already???) so everyone is in the same boat anyway – not to mention you're bound to find someone who speaks the same language(s) as you – but it's full of exciting social events and local clubs. Are you into art or music? Food? Sport? Amsterdam caters to all ages and (almost) all interests.
From the NEMO Science Museum to the Van Gogh museum, from the Rijksmuseum to the Tropenmuseum…there are so many to choose from! If you're stuck for something to do with your new friend, there are regular markets in and around the city. If you both appreciate a good art gallery, then get on down to the Amsterdam Art Fair or the Affordable Art fair.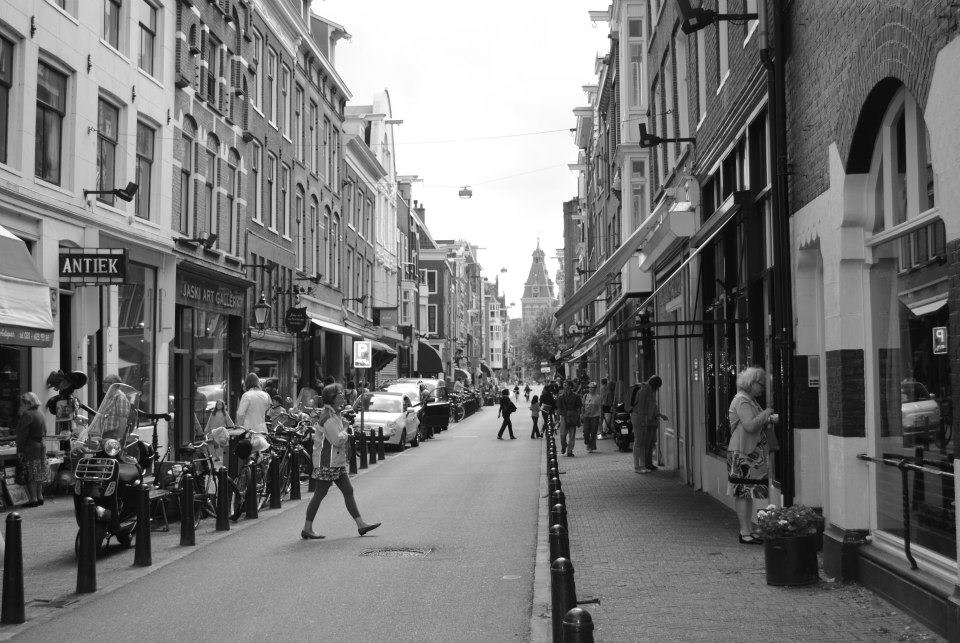 There are some really trendy places to eat in Amsterdam, especially around De Pijp. We're always reviewing the latest restaurants, hot-spots and food festivals in Amsterdam (the city is really knows what's hot – there's a new vegan 'food wall' and a whole restaurant dedicated to the righteous avocado).
Like any city, there are loads of clubs and bars, whether you wanna go dancing or catch up with a mate over casual drinks. If you wanna go hard, popular clubs lie both in and around Amsterdam, but Rembrandtplein and Leidseplein are the main squares of the city. They're better for cosy bars, Irish pubs and live music. You'll find most of the gay and lesbian bars near Regulierssdwarstraat and Warmoestraat.
Even though Amsterdam might not be known as a raging club city, it has a wicked range of gig venues:
Paradiso

(rock, pop, basically everything)

Melkweg

(known for rock, hip-hop, reggae)

OCCII

(alt, underground, radical)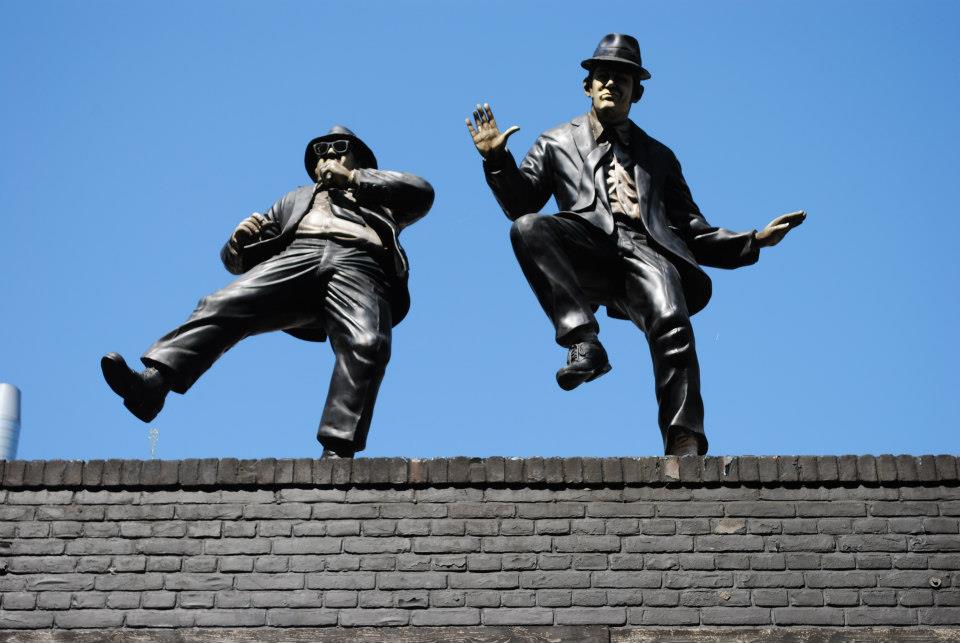 Amsterdam is so much more than it's weed and prostitutes, but we're not going to pretend it's not a perk for some foreigners! Before you arrive, why not read our Ultimate Guide to Smoking Weed in Amsterdam? Maybe it's one of the main reasons you're relocating!
"Happy accidents and good vibes"
Apart from all the events, people who live there love it because it's quite a bohemian 'vibe' city rather than an 'attraction' city. Once you've exhausted the tourist stuff, you don't need a to-do list anymore. You can just lose yourself walking around the canals and drinking coffee in the streets because Amsterdam is full of happy accidents. From the blues busker at the Albert Cuyp market to the guy rollerskating through Vondelpark in a leather thong, the city will always surprise you.
If we have (or haven't) tempted you enough, and you're more than ready to pack your bags and head on over, then why not check out our other articles about Amsterdam? From funny moments you'll experience living in Amsterdam to our guide on 5 short daytrips from Amsterdam (once you're bored of your home-city and you know it like the back o' yo hand 😉 ), our articles can hopefully help you out in making your decision.
How do you feel about moving to Amsterdam? Share your experience with us in the comments! As always, if we've made any mistakes or you've thought of something major we should add to this article – please let us know. And if you enjoyed reading this, why not like us on Facebook? Or follow us on Twitter and Instagram – we post lots of pretty photos that might get you excited about moving here!