Most people believe that surviving as a vegan anywhere is just a huge struggle. But being a vegan in the Netherlands takes the challenge a step further. How is a tree-hugging, animal-loving hippie to survive in a country where a gouda cheese wheel is the traditional souvenir? Follow me down the rabbit hole in this crazy journey to find out how we do it.
Wait a minute! What is a vegan anyway?
First of all not all of us are tree-hugging hippies! A vegan can be an awesome rebel, like Russel Brand, or a rock star like Anthony Kiedis, or a unique, uber-talented granny, like Betty White. What all of them have in common is the fact that they do not consume meat, eggs, dairy, honey, gelatin. They do not use products that contain animal ingredients or have been tested on animals. And they do not wear wool, leather or silk. To put it simply, if it involves animal exploitation, vegans want nothing to do with it.
Veganism is not a diet. It is a lifestyle that attempts to be as cruelty-free as possible. Nowadays it is much simpler than it used to be, as there are many vegan products available. Of course, the food industry does not miss an opportunity to make a profit, so now we vegans have our very own fancy packaging and advertisements! Isn't it cute how marketing finds a way to exploit the noblest of intentions in the end? I am always impressed.
Okay. So you have many vegan products. Why is it hard to be a vegan in the Netherlands then?
First of all, it is food availability. Yes, there are now places where you can get fancy vegan products, like Ecoplaza or De Groene Passage, but have you seen how much a tiny package of marinated tofu costs there? Those prices would make the Vegan Black Metal Chef kill himself with his fancy swords! Sure, it is great to go there every now and then and get a treat and it is nice that you can find things like nutritional yeast, that otherwise, you would have to order online. But if you belong to the lower salary ranks, as I do, those places cannot be your daily grocery store.
Additionally, the quality of fruits and vegetables found in Dutch supermarkets is not exactly the best. Yes, the Netherlands might be the second-largest exporter of agriculture goods after the USA, but I do suspect that they export the good stuff and feed themselves – and us, poor expats – the crappy stuff. I grew up in the Mediterranean, so I happen to know that tomatoes, cucumbers, aubergines and bell peppers do actually have a taste. And they even have different tastes from each other! Well, it took me a while to accept that the differences between the tastes are much more subtle in the products found in the produce aisle of a Dutch supermarket. Buying organic produce is the solution in this case. A costly one.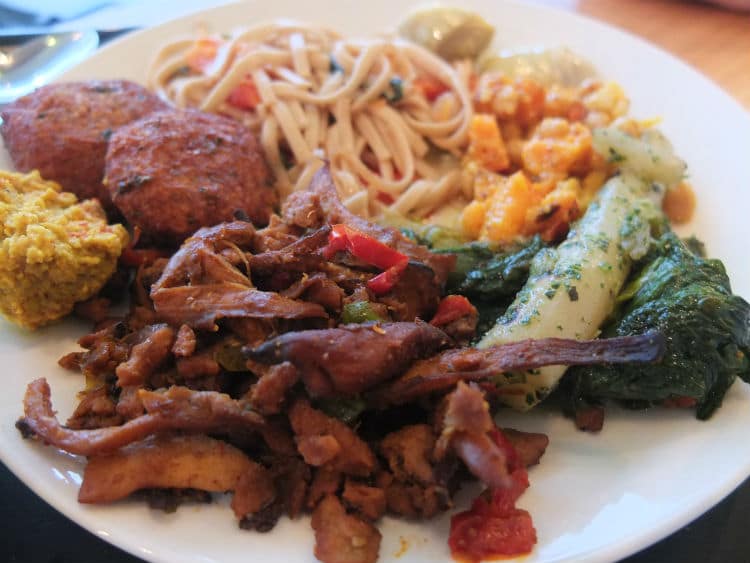 So how do you survive as a vegan in the Netherlands?
There are various tips and tricks that I am about to share with you. You will find them useful if you are a vegan that just moved here, or if you want to show your love to the vegans in your life.
Grocery Shopping
There are two key places that you need to spot: Asian markets, like the Oriental market in Delft, and Turkish grocery stores. In these places, you can find vegan staples in bulk, like rice and beans, and the vegetables are of a great quality and cost much less compared to the health food store prices. I haven't figured out why yet, but shiitake at the oriental market look exactly as great as the ones in Ecoplaza and are significantly cheaper. The same goes for bok choy, lemongrass and exotic fruit.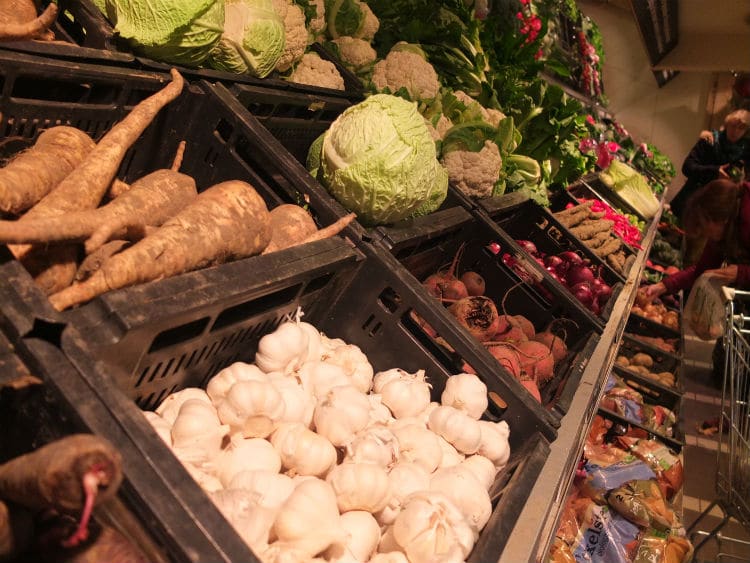 Eating at the office
Both my husband and I have spent a significant portion of our life in the Netherlands working at TU Delft. The catering company there is Sodexo. Let's just say that the quality of the food is bad enough that there is a Facebook group with more than 2000 members, called "Sodexo: we've had enough". I am sure all those people are not even vegan.
So what do you do if you are a vegan in the Netherlands and your company's cafeteria serves crappy food or the only vegan option is tomato soup? Simple.
You prepare an extra portion of dinner and take it with you at work. Trust me, this is the only way out. If you do not have time to cook every night, use a portion of your weekend to prepare food for the week. There is a limit to the amount of tomato soup and cheeps that you can have before you end up with a deficiency.
Eating out
Pasta. Or Asian. Oh, and fries! That's pretty much it. Every single restaurant will be able to prepare for you a simple Aglio e olio, even if it is not on the menu. And many Asian dishes are naturally vegan. If you feel that people are going to trick you by trying to serve you something that contains "just a bit" of butter or cream as vegan, then just play the "I am seriously lactose intolerant" card. No one likes to get sued! And if you just want some junk food, falafel without the garlic sauce is a great option.
And last but not least, you can always join the Nederlandse Vereniging voor Veganisme and connect with other vegans in the Netherlands, find tons of recipes, information on veganism, events and a quite active forum. It's all in Dutch, so a good motivation for us expats to practice!
Are you a vegan in the Netherlands? Do you have some tips to add? Let us know in the comments below!