For me, the idea of attending a party with 15,000 people would be about as pleasant as having a root canal. The Psy-Fi Festival, however, is another thing entirely. When I heard my favorite ambient music duo, Carbon Based Lifeforms (CBL), would be playing a rare gig there, I just had to go.
In late August, for four years in a row now, a sprawling campground in the normally quiet town of Leeuwarden transforms into a psychedelic music and dance utopia, attracting New Age and psy-trance lovers from 86 countries around the world.
[embedyt] http://www.youtube.com/watch?v=ZKtFB_2kaaI[/embedyt]
The event organizers still need to work on some of the logistics — in particular, finding easier ways for people to get their camping gear in and out of the festival. Once you're in, however, it's 5 days of being surrounded by a lot of very happy, peaceful people and enjoying some spectacular sounds.
The Holographic Universe
This year's festival theme was "The Holographic Universe." And although the description may sound a bit too "woo woo" for some, there are physicists who have theorized that the universe is a hologram that can be shaped by our consciousness. This year's lectures, films, and workshops focused on that theme and the understanding that everything is interconnected—people, plants, animals, and nature. Not a bad thing in a world that is feeling increasingly disconnected.
Music As a Journey Into Higher Consciousness
A total of 91 musical performers were scheduled to play during the festival, many of whom were top-notch. CBL, however, was a cut above the rest. Considering their music a synthesis of technology and nature, Johannes Hedberg and Daniel Segerstad have created music as close to the sound of expanded consciousness as ever I've heard.Their music reflects their concern for our fragile planet, and is frequently an exploration of our relationship with both it and the larger universe. Johannes was on his own this year, as Daniel was home in Sweden awaiting the imminent birth of his daughter.
Not only were we treated to what has probably become their signature tune, Photosynthesis ("What about the forests?"), and other perennial favorites like Interloper, we also had the rare opportunity to hear a few of the amazing new tracks destined for their upcoming album. During the first half of the set, many could be seen meditating to CBL's more chilled-out tracks like RCA(+), eyes closed as they sat or stood facing the setting sun. Then Johannes stepped up the beat, and it was hard to find an empty spot on the dance floor.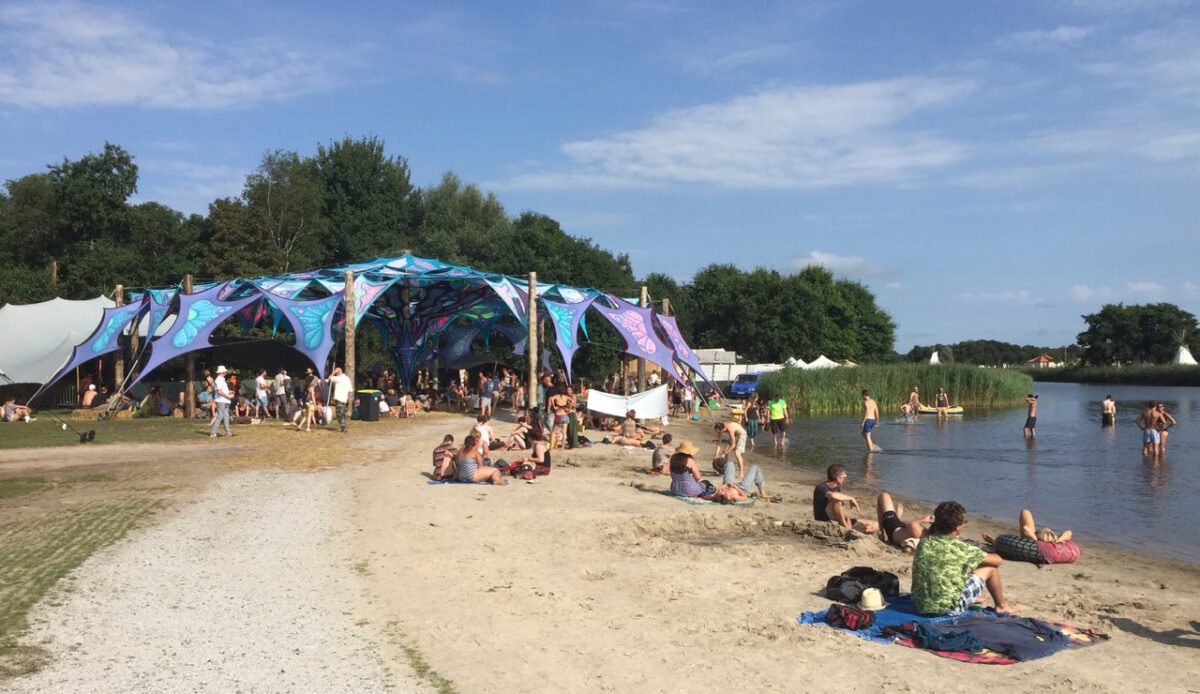 From Meditation to Mushrooms
There were plenty of non-music-related activities, too. Various teepees were set up on the "Sacred Island" where one could take a yoga class, meditate, participate in a hoop workshop, learn the didgeridoo, or have a massage while the echoes of music from the chillout stage wafted over the lake.
Given it was a psy-trance festival, after all, there were also plenty of opportunities to sample various psychedelic substances, most available at the Repelsteeltje Smartshop located in the market area. They sold everything from weed to magic truffles in multiple varieties to peyote cactuses. MDMA, LSD and mushrooms were "allowed" (meaning not legal but nobody was going to hassle you about it), but GHB and ketamine were expressly forbidden. They want your experience to be an expansion of consciousness, not a trip to the ER. One thing can be said about psychedelic drugs: they generally make for a lot of happy people.
The energy at Psy-Fi is remarkable for a crowd that large. People were smiling and laughing, helping each other out, were incredibly polite, and for the most part left the site amazingly clean. Any remaining trash was taken care of by the 70-strong volunteer cleanup crew. They even gave out portable ashtrays so the site was not littered with cigarette butts.
For an outdoor festival, the food was top-notch. There was a wide choice of world cuisines, most at very reasonable prices, and good quality. We wanted to try the insects one vendor was offering, but sadly never got around to it. There were choices for both carnivores and vegans alike.
What still needs considerable improvement, however, is how the camping is set up. No parking (or even stopping) was allowed anywhere around the campsite after the first couple of days. So if you were one of the unlucky ones arriving on Friday intending to camp for the weekend, you were instructed to park in town, where they had shuttle buses to ferry people to and from the festival. Not a problem if all you have is a large backpack, but for those with a car full of camping equipment, this is not a feasible option.
If it's the town of Leeuwarden that does not allow cars to even stop to drop off equipment, then perhaps the event needs to be moved elsewhere. There are plenty of scenic camping spots in the Netherlands. What I can advise is that if you decide to go, either arrive early in the week so you can park your car on your campsite, or bring only that which you can carry comfortably in a large backpack.
All in all, it was a delightful festival, and given the depressing news we seem to hear on a daily basis, we left feeling like the world was just a little bit better than it seems.