Once you step off a plane in the Netherlands, you realize three things about the people who live here: they don't wear wooden shoes, they do eat a lot of cheese, and they always have something fun to do.  They, of course, also know the best Netherlands events in 2016.
After realizing these facts of Dutch life, you start to panic that you won't be knowledgeable enough to be part of the cool crowd. But, thanks to this list of Netherlands events in 2016, those days are over! So whether you're a temporary tourist or a new transplant, it's time to drop your clogs, grab your bike, and make sure you take part in each one of these must-do Netherlands events in 2016!
January 27 – February 7, Rotterdam
January in the Netherlands is cold, dark, and wet, so it's the perfect time to sit inside and be swept away to distant lands. The IFFR is a 12-day festival that has 227 feature films, 253 short films, and represents 60 different countries. Film lover or not, that many options will give you the chance to find something you're interested in. Don't forget the popcorn!
February: Carnival with the Dutch
February 7 – February 9, All over the Netherlands
Carnival isn't a distinctly Dutch tradition, but they certainly know how to do it. The stage is set with the intense Catholic traditions, and the fact that Hollanders love to celebrate is just the icing on the cake. Most of the celebrations take place in the southern section of the country, and the main party is between the 7th and 9th of February. Just be careful, mayors often hand off the key to the city to the Carnival Prince, and this lively character runs the town for a three day period.
March 24 – May 16, Keukenhof
This is the month where you realize it doesn't matter if you missed your free tulips from Dam Square in January. This park is home to more than 7 million bulbs during the months of April and May, so it's not a surprise that everyone flocks here to take in the view. The whole display is different each year, and it's always organized around a central theme. Be ready to prepare for some crowds, though, because there are usually more than 800,000 visitors each year!
April: King's Day
April 27, All over the Netherlands
Ah yes, King's Day. When you daydream about being a powerful monarch, what do you imagine will take place on your birthday? My fictional day comes to life in the Netherlands, and the whole country throws a giant birthday party for the king. It all starts with a mix of drunken parties the night before (known as King's Night), and continues all day on April 27th. Not only will there be plenty of music, food, and drinking, but everyone is allowed to make sales without a license, so the Netherlands turns into a giant flea market. Just don't forget to wear something (or everything) orange!
May: National Mill Day
May 13 – May 14, All over the Netherlands
The Windmill is one of the most iconic symbols of the Netherlands, so of course there's a day (or two…) set aside for this national treasure. Despite being called National Mill Day, this event takes place during the second Saturday and Sunday of May (which happen to be May 13 and 14 this year). Basically, 950 mills open their doors to the public, so you can get an intimate glimpse of their insides. If you want the true Dutch experience, there are many bike routes that allow you to pedal your way around the countryside.
June: Cheese Market of Alkmaar
April 1 – September 2, Alkmaar
Now that you've checked windmills off of your bucket list, it's time to head to another Dutch classic: cheese. The small town of Alkmaar is a popular tourist destination because it has an epic cheese market every Friday between April and September. A cheese market has been held here since the 1300s, and it's one of only a handful of traditional markets left in the Netherlands today. A few thousand wheels of cheese are pulled out on little sleds, and there are multiple official guilds that make sure the proper traditions, such as weighing and throwing, are followed.
July 8 – July 10, Rotterdam
Jazz music isn't a stranger in the Netherlands, but the North Sea Jazz Festival is the main event. It was started in 1976 in The Hague, but the organizers eventually found it necessary to move to a bigger home in Rotterdam. The three-day festival will have more than 1,000 performers on 13 different stages, and they expect roughly 70,000 visitors to attend. Do you think you'll get a chance to see the next big jazz star on a small stage? It's been known to happen…
August: Amsterdam Gay Pride
August 5 – August 7, Amsterdam
As the first country in the world to legalize same-sex marriages, the Netherlands has had plenty of time to perfect its Gay Pride Festival. The party is spread out through the whole first weekend of August, but the biggest event is the parade. Around 500 people line the canals of Amsterdam, and it's one of the few parades in the world where the floats are literally floating. And true to the open-minded tolerance of the Dutch, everyone is welcome at this party!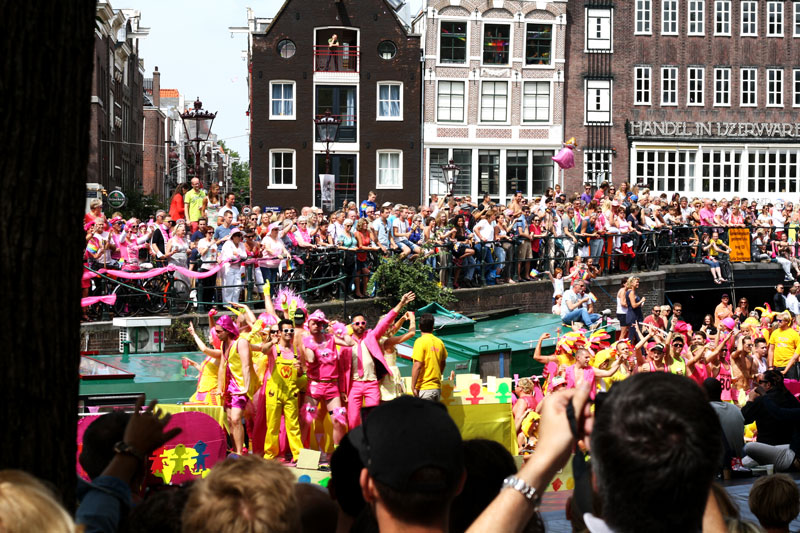 September 2 – September 4, Rotterdam
Rotterdam has the largest port in Europe, and it was the world's busiest for half a century. That's something to celebrate! Not only are there plenty of opportunities to see some performances while having a drink or two, but many areas that are normally restricted are open up to the public. In other words, this is one of the only chances to get access behind the scenes of a major shipping center!
September 21 – October 2, Utrecht
Rotterdam may host an international festival, but Utrecht gives a unique opportunity for Dutch film makers to show off their work. There are 15 venues with showings of around 400 films, and it's a great way to get inside the minds of the Dutch. Plus, there's even a celebratory night where the best films win the Gouden Kalveren awards!
November: Maastricht Christmas Market
November 26 – December 27, Maastricht
It may not yet be time for Sinterklaas to arrive, but that doesn't mean you can't get in the Christmas spirit. The market in Maasticht is one of the best in the Netherlands, and it has all the food, fun, and happiness to help your body adjust to the cold of winter.
December 2016 – January 2017, Amsterdam
In the cold, dark nights of the Dutch winter, Amsterdam has a festival which will brighten your life a little bit. Literally. A group of artists from around the world are commissioned to create glowing works that are assembled on and around the old canals, and they're arranged in both a walking and boating tour route. If wandering through the freezing air isn't for you, then hop on a nice warm boat and float through a magical winter's night.
The Best Netherlands Events in 2016, But Not All of Them
As you can see, there are plenty of happenings throughout the year to keep you busy, even on the rainiest of days! The biggest challenge of this list was cutting it down to only one event per month, so please leave a comment with any other suggestions you have for must-see Netherlands events in 2016.