Yes boys and girls, it's that time of the year again! Let's leave the grayness and cold of February behind us for a moment and let's focus on the one thing that truly matters: cheese love! Valentine's Day is fast approaching and odds are that you haven't planned anything yet, so let's help you out here. Here's everything you need for a romantic time in Scheveningen, our fav Dutch beachtown.
Take a ride on the Ferris wheel
The 'Pier' of Scheveningen was already an iconic landmark in the Netherlands, and it only got better when they put a Ferris wheel on it (Dutch word: reuzenrad).
The wheel offers spectacular views of the 11 kilometer long beach and the skyline of The Hague. The Ferris wheel is 40 meters high and has 36 closed cabins (so no freezing to death in the colder months of the year). It's opened from 10am till 10pm. So, romantic smooching in your private gondola during a sunset is totally possible.
After that sunset, you might want to book a room:
Sleep at the Pier
Really want to make it a special night and sleep at a place that you'll never forget? Right at the end of the Pier someone conceived the great idea of creating a couple of hotelrooms. Well, rooms is an understatement – luxurious suites is a better term.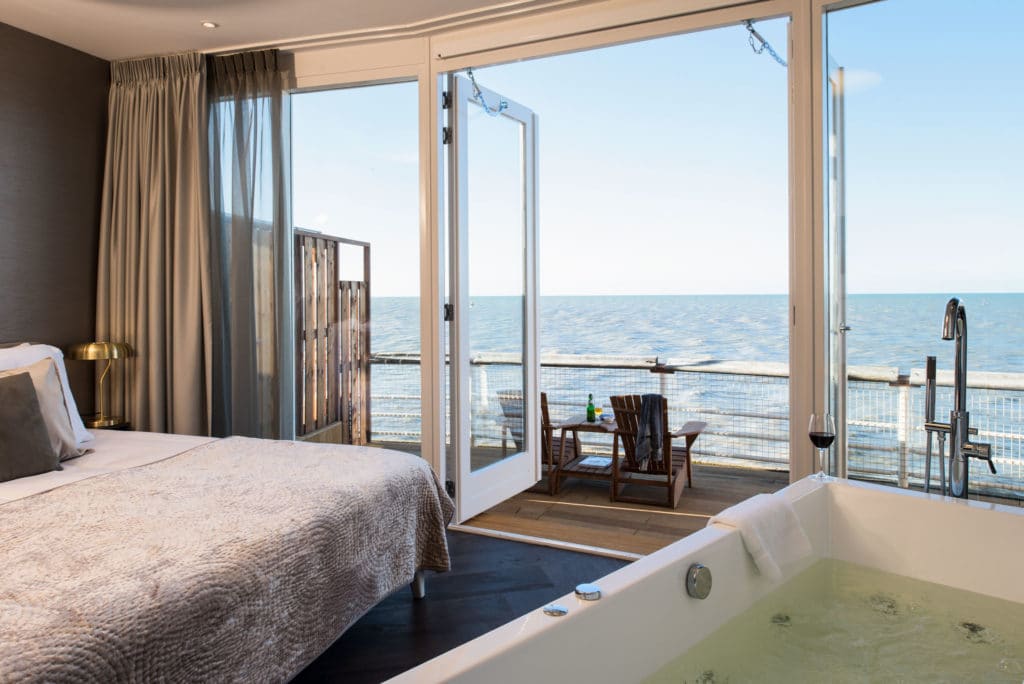 It has everything you could wish from such a stay: a jacuzzi, kingsize bed, beautiful outside terrace and a possible 'romance' package with flowers on the bed and all. Romance has it's price though, rates start at 250 euro per night.
Sea Life!
SEA LIFE Scheveningen is jam-packed with everything that has to do with underwater sea life. It's one of those things that is perfect to visit when it rains (which, as you might have known, happens sometimes in the Netherlands) or if you want to take your kids along and still enjoy that getaway yourself.
Watch animals being fed, see sharks and stingrays up close and visit one of the 45 aquariums. And of course don't forget to visit the iconic Sea Life underwater tunnel. It's something almost all Dutch people know. Sea Life is open every day, and is located right at the Scheveningen Boulevard. Here's how get some online tickets – cheaper and faster than at the door!
Romantic Restaurants
If there's one thing women love more than a well-prepared Valentines Day, it's chocolate velvet cakes. Lavinia cakes'n buttons is just the place to go, located in the lovely Piet Heinstraat just in between Scheveningen and The Hague.
There's Ron Y Sazon  at the Rusthoekstraat if you're in the mood for South American inspired food.
Or go to GoItalian if you're in the mood for some delicious, you guessed it, Italian food. And for something original, visit 'Zeevlam' in the Scheveningen Harbour (more on Zeevlam in this previous DutchReview entry)
There's also a special romantic menu to be enjoyed at the Carlton hotel, and of course the option to book a romantic room with sea-view.
Venture into The Hague
The best feature of Scheveningen is naturally the beach, but right after that it's the fact that it is located right next to The Hague. Thus, a romantic beach stroll in Scheveningen is right around the corner. And this proximity makes combining a visit to Scheveningen with a visit to an attraction in The Hague the way to go. Especially worth mentioning are some spots that are more or less both in Scheveningen and the Hague.
The Peace Palace is one place to go for example. This historic landmark was openend in 1913 and financed by US Steel Magnate Andrew Carnegie. I had the pleasure of taking a tour there once and besides being an impressive building it was also really interesting to learn about the modern day functions.
Miniature park Madurodam is located right in between Scheveningen and The Hague and always has that magical factor (oh hey, full review of Madurodam right here). Both Madurodam and the Peace Palace are both nice locations to visit with your loved one.
A real gem is the Panorama Mesdag. This Panoramic painting by Hendrik Willem Mesdag gives you a 360 degree vista of the sea, the dunes and the fishing village of Scheveningen as it was in 1881. Perfect for a few good moments of daydreaming.
That's it for now! Any other tips for a romantic time in Scheveningen? We would love to know!