That storm currently raging out there is only going to get worse (or more awesome) as the KNMI has issued a red code for the provinces of South and North Holland, Utrecht, Flevoland, Gelderland, Overijssel and the IJsselmeer region due to heavy gusts of wind.
Between 10.00 and 13.00 hours the wind can cause so much damage, injury and nuisance that it can be disruptive to society, the KNMI warns. The Netherlands is facing a severe Western storm, the peak of which is between 9 am and 2 pm. Up to 9.20, code orange was still valid throughout the Netherlands. Meanwhile, wind force 11 has already been measured on the Maasvlakte.
Can you still go out there with this Storm?
It's better that you don't, code RED means serious business so only when you have to. All forms of transportation are severely interrupted, even roads like the A13 in between Delft and Rotterdam are blocked.
De #A13 naar Rotterdam is helemaal afgesloten. Het verkeer moet er bij de afrit TU-Delft vanaf. #gekanteldevrachtwagen pic.twitter.com/Du2l8StjOa

— VID (@vid) 18 januari 2018
How is Schiphol doing?
The number of flights canceled at Schiphol because of this Western Storm has risen to 250. Travelers will probably encounter delays of twenty to thirty minutes. According to a spokesperson, the situation in the morning was reasonable, but most of the inconvenience is expected between 11.00 and 14.00. If you're at Schiphol share with us what the situation is and help your fellow DutchReview-readers out!
Vooralsnog veel vluchten tussen 11.00 uur en 12.30 uur geannuleerd op #Schiphol #storm pic.twitter.com/1SXK5OyFBt

— Randy Beaumont (@ran3bmnt) 18 januari 2018
Storm update: currently 260 flights have been cancelled. This mainly affects flights to and from European destinations. Please expect delays for departing flights of up to 30 minutes. Our flight schedule will be disrupted for the rest of the day. pic.twitter.com/5t8Vox3ot6

— Schiphol (@Schiphol) 18 januari 2018
KLM previously announced that 220 European flights to and from Schiphol had been canceled. Due to the storm, fewer runways are available.
Is my train still on schedule with this storm in the Netherlands?
This is a trick question of course, as any significant weather situation messes up the train schedule in the Netherlands. Trains throughout the country are delayed, some of them in advance by the NS as to keep the tracks open. Other train lines are disrupted by the storm of technical problems, amongst which the vital train line between Amsterdam and Leiden.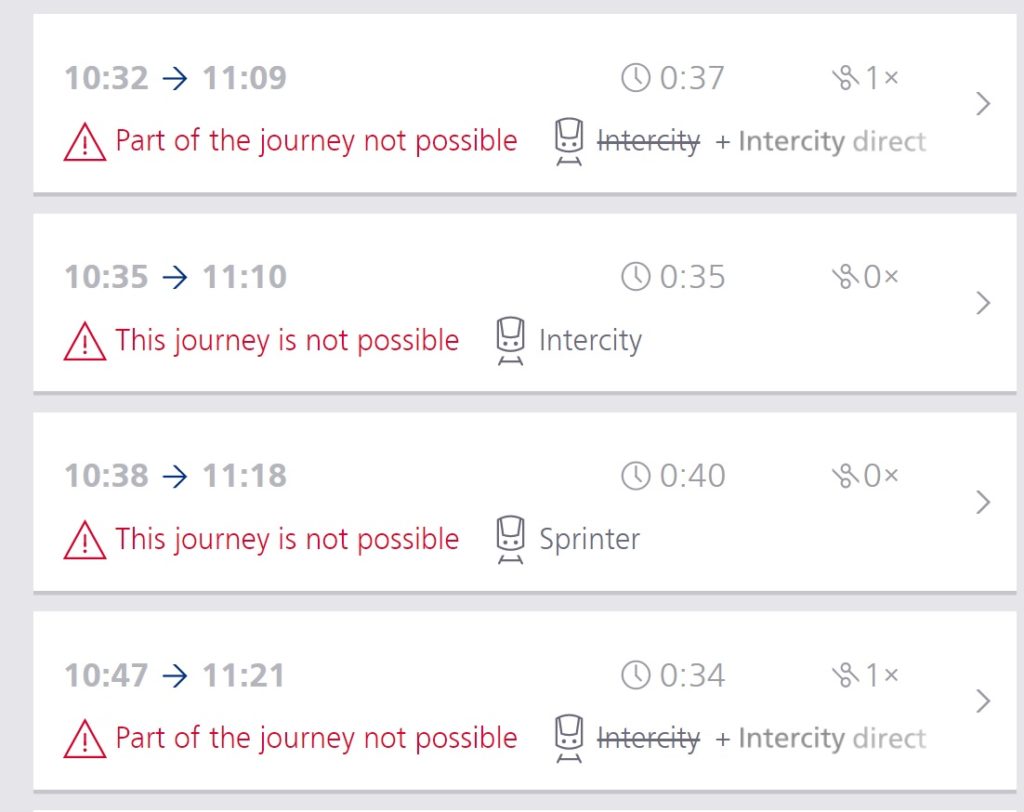 DutchReview needs 30 seconds of your time!
Facebook is changing their newsfeed, if you still want to see DutchReview in the future (and we want to keep seeing you!) be sure to select DutchReview as 'see first' in your newsfeed and to join our brand new and shiny Facebook group!
(oh, and hop on board of that newsletter, youtube-channel and Instagram while you're at it!)