An American Expat Analyzes her Favorite Franchise's Chances in the Low Countries
Since I moved here I have learned two things: 1. Dutch people love bread and 2. Dutch people love cafes. These two things complement each other in many ways: you can go into any café, order a tosti and receive half a loaf of bread with some cheese in the middle.  Supermarkets are full of things to put on bread: potato salad goes on bread, sprinkles go on bread, and a wide variety of unidentifiable meat spreads also go on bread (but that's a topic for another post).
So people happily sit in cafés with a set menu of coffee, tea and overly breaded sandwiches. When you're done with your meal, the wait staff won't give you the check unless you fall over backwards asking for it. You can just sit, and enjoy your bread. So many of my experiences here have been at cafes or at home, chatting over a cup of tea and eating a sandwich. The other day, I was passing through the outskirts of Utrecht, and I came across a sustainable garden and recycling area where people could bring their bottles and cans, etc. This place had a café with sandwiches, coffee and cake. It made me laugh because even at the dump, on the outskirts of town, in the middle of nowhere, Dutch people made a very Dutch café.
In the States, people hang out in cafés, but I don't think it's our defining characteristic. We like to run around, to seem important. That is why we invented drive-throughs! Why go inside when you can stay in your nice big car and have your coffee delivered through a little window? Dunkin' Donuts mainly provides coffee, bagels and doughnuts to busy commuters, who are ready to take on the world, but who don't have time to sit down and think about that world: we're on the go!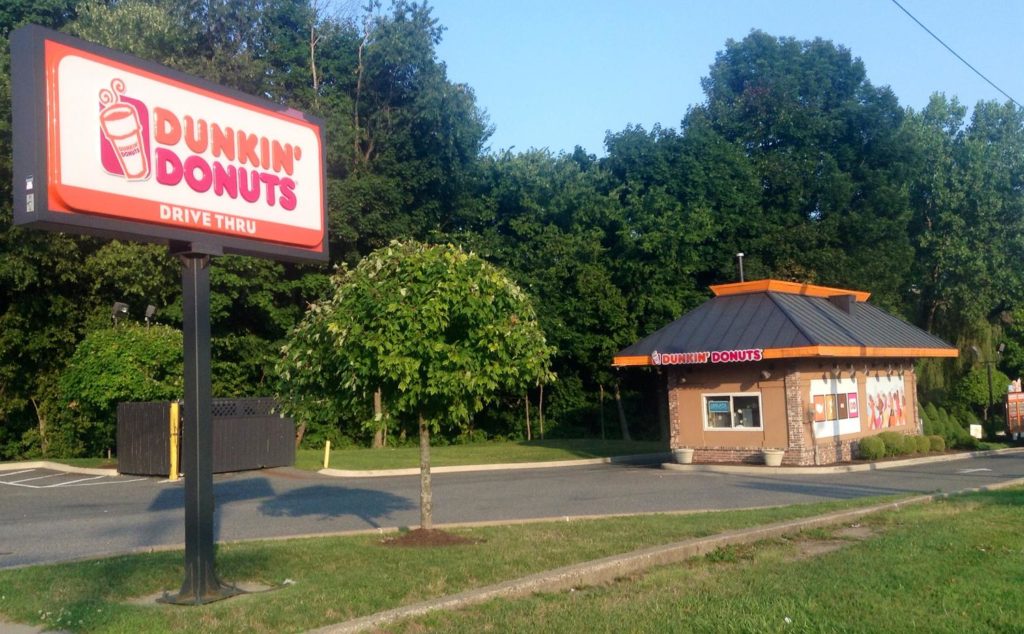 In the States (or at least in New England), Dunkin' Donuts has a cult following. People in Massachusetts, where Dunkin' Donuts was originally founded, define themselves by their love and obsession with the chain. You cannot drive more than 5 blocks without passing one. It is the McDonald's of the American East coast. But typing it like that feels like blasphemy. Who can get behind an overly processed greasy $0.99 cent hamburger from McDonald's that will likely make you sick after eating it? But a $4.99 Dunkin' Donuts egg sandwich, with fake egg and questionable meat that may or may not have the same effect? That's a fast food morning delicacy, God damn it.
With such a strong bread culture in this country, it seems like there is plenty of room for a decent bagel or doughnut here. Currently, Dutch donuts taste like bread with frosting on top. Close enough, right? Not so much. And bagels. Well, bagels don't even exist in supermarkets.  Since the Dutch love bread, I think there is a great market for these one-hole delights in Dutch cafes, or at least a niche for an ambitious company to fill by providing them.
Well, that day is on the horizon, my friends. Dunkin' Donuts is coming to a city near you in the year 2016. A few expat publications have already written about this important development, but the question I have remains: is this franchise going to be successful in The Netherlands?
I think it could be, but Dunkin' Donuts needs to do it right. They need to class it up. Provide some nice seating options. Add a chandelier. Maybe some mint tea. Offer some apple tart. Some speculaas flavored doughnuts. The first Dunkin' Donuts franchise in the Netherlands failed, opening in 1997 and closing only three years later, in 2000.  In order for an American chain to succeed in this country, they need to understand that Dutch café culture is paramount to how people here interact with each other. It is the fabric of social life.  I don't see many Dutch ladies flying through a drive-through (on their bikes?) to pick up a large iced coffee before work. But maybe they would drop by for a quick pick-me-up if the place looked more gezellig…
Is Dunkin' Donuts really what this country needs? A quick cup of coffee and a delicious chemically induced doughnut for your morning commute? Maybe not, but if done right, my heart says yes a thousand times.  Fast food breakfast forever…just with a little Dutch twist.