Maybe I have never noticed it so much before. Or maybe I am getting older and I have lost all patience for this kind of sh*t. But since I have emigrated to The Netherlands over a year ago, I feel like I am constantly surrounded by sexism in advertising.
Maybe a strange thing to notice in such a liberal country… and yet, I cannot help but noticing them everywhere I go. Don't get me wrong, I am fully aware of the fact that sexist billboards are polluting our visual space everywhere and not just in The Netherlands. We all remember the "Are you beach body ready?" ad, that was everywhere.
Still, I feel like they are omnipresent here.
It was Autumn 2015 when I arrived in The Netherlands. I spent a couple of years in England before where, although sexist ads are very much present everywhere, you wouldn't see a bit too much of a woman's body on a bus stop (at least not that I have ever seen, correct me if I am wrong). So, obviously, the first thing I noticed as soon as I stepped out of the train station in Utrecht was a billboard with a fully naked woman on it. Strange thing, it was an ad for a watch… As if the perfect way to wear the watch was to be a girl, and to be naked. Isn't advertising a wonderful world…
The Dutch don't check for sexism in advertisement
According to the Women's Rights Committee (WRC) of the United Nations, advertising is sexist "when it embodies a negative stereotype of a woman or when a woman's body is objectified".
So I did some digging. Turns out, The Netherlands is one of the very few countries where advertising is not checked for sexist stereotyping: the Advertising Code Authority (which lays down the rules by which advertisers need to obliged) is only for morality (understand nudity), not sexism.
Which leads us to this:
Sexist Dutch advertising #1: Hello, hello, kitty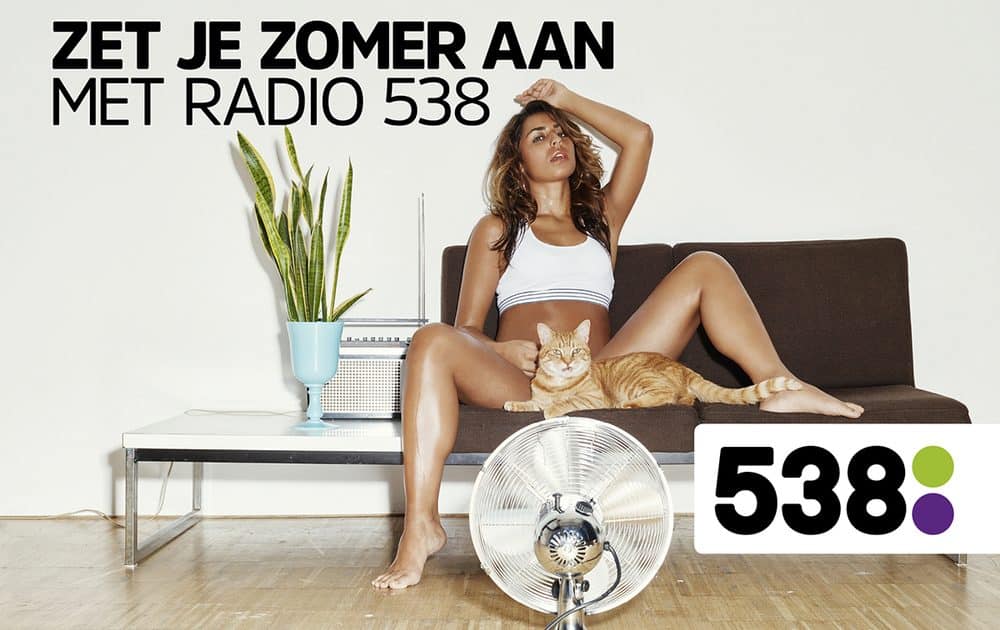 If you live in The Netherlands, you must have seen this advertisement last summer. It was EVERYWHERE.
But maybe you were too busy admiring the beautiful and oh so poetic metaphor used here to see this was an ad for a radio.
Fun fact, this was the "male version". Different atmosphere and message here…
I have no words. But that man has the pause:
Suit up!
Now even if you don't live in The Netherlands, you must have heard about this company and its advertising method.
This advertising campaign is from more than a year ago. And if you think it isn't that sexist, then know that you even disagree with the Dutch advertising authority. It has officially stated in a judgement made public recently that this campaign was sexist and stereotyping women. Which is an even bigger deal than it sounds like, because they rarely do that (as pointed out above, they don't check for sexism).
From the company's point of view though (a company run by women) this ad was sexist against men, not women… I'll let you judge.
Sometimes the message is a bit obscure
I pass this ad almost everyday. Can you guess what the ad is for? Come on, have a wild guess…
It's an ad for a wine shop, located in Amsterdam. Once again, let's take a moment to note the beautiful image connecting the strawberry mark and a wine stain that woman is trying to lick away.
Sexism in advertising: even healthcare insurance does it
Even this healthcare insurance company has received a lot of complaints after posting that tweet. It is asking you which one you'd rather go with: the nerdy doctor or the sexy one?
The sexy doctor is so old school, surely you can come up with better than that! A slutty nurse maybe?
I do feel like living in this country has reached a whole new level in seeing sexists advertising, whether it is on billboards, on TV, or even on Twitter. It's no news, sex sells. Especially to the Dutch?