It's time we look back on what was proved to be another great hype in social media, an event which lasted for quite a while and which…
Oh wait –
People are still doing the Ice Bucket Challenge?! (mandatory hashtaghashtag#ALS).
Being the cynical hipster that I am, I was sure not to participate in this idealistic hype. "Pish-posh!" I raved at myself, smoking a pipe and listening to Franz Liszt in my dressing gown. "Such plebeian nonsense!" I further added, to no one in particular.
However, I got nominated by a friend whom I met through training, and said friend happens to be a fourth degree black belt. Let me be clear on this: when a fourth degree black belt tells you to dump a bucket of ice water over your head, you have the options of dumping a bucket of ice water over your head and absolutely nothing else, damn it! So there I was. And here I am, my fingers still trembling from hypothermia and my mind overly concerned with the miracle that is peer pressure. Long question short: what is up with this weird challenge anyway?
By now, I am sure I don't even need to explain what the IBC is all about, but then again, I keep seeing more and more IBC videos that miraculously fail to mention the original purpose of it: raising money for research on amyotropic lateral sclerosis (ALS), or as we like to call it: Mother Nature's middle fucking finger to humanity. Being the horrible disease that it is, humans have declared war on it and in the latest battle, people have been throwing money at ALS research like crazy. After uploading a video of themselves on social media performing a comical act.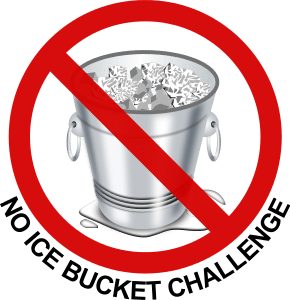 Yes, point the first in the often mentioned criticism of the IBC: this movement is mostly a mix of comedy and vanity. Little to no argument here: we can all see that a lot of people are in it for the kicks and to have something funny and like-worthy to place on their FaceBook timeline. Still, good things can come from less than pure intentions, and ALS fundings have been going to the roof lately. In the Netherlands alone, charity funds to ALS research went from a mere 200 a month to over 51,000 in just two weeks! This has of course, in itself, given rise to new criticism: namely that there is now an unfair amount of attention and money going to a single disease (because nobody ever said you could ever please people…). Other cynics are concerned over what amount of the donated money will actually go to research and which will go to the salary of the Stichting ASL executives.
Water wasting?
Some forms of criticism are simply beyond silly, especially the one where people complain about water being wasted. Unless you live in an area where a drought is a serious possibility, a bucket of water more or less doesn't even register in a person's usage. Just to put things in perspective: yielding a kilo of beef requires 15 cubic meters of water, mostly spend on growing food for the animal. All the IBC's in the world so far pale in comparison to the amount of water that households use in just an hour.
In the end, I for one am glad that the Ice Bucket Challenge is a thing. Yes, it's a hype and it's arbitrary that all the money is going to ALS instead of any other disease and we're all slowly getting tired of it… But if people are going to have fun, they might as well donate to charity while they are at it.
Kinda makes me wonder what the next challenge will be. Dumping searing hot water over yourself for lazy eye syndrome? Putting your hand in a scorpion's nest to find a cure for cystic fibrosis? Or how about we propose the Needle Challenge: become a blood donor today and donate a pint of your red juice for your fellow (wo)man and for great science: SanQuin wants your blood. Blooooooodddddd!!!!!!!!
Find more info on becoming a blood donor at www.sanquin.nl and become DutchReview latest Person of Awesomeness!