Are you an expat in the Netherlands and want to make sure you have all your essentials for King's Day? Here's a little checklist to make this day is a fun experience
King's Day (Koningsdag) is held on the 27th of April, the birthday of King Willem-Alexander. It is known to be one of the biggest and most colorful festivities across the country and especially so in Amsterdam. The population almost doubles during that day. CRAZY! What does this mean for you as an expat in the Netherlands? It's a public holiday (insert beer drinking emoji) Let the celebrations begin!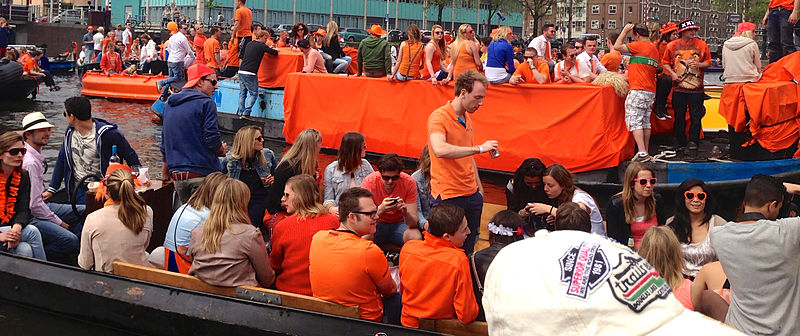 All right – How do I prepare for it?
A royal pre-party. King's Night (Koningsnacht), the night before King's Day. Don't wreck yourself completely but do have a little fun because as you know, you don't have to crawl out of bed before sunrise tomorrow. Just walk around a bit and take in the atmosphere. There are lots of parties organized all over the city in the various clubs, bars and pubs (King's Night parties and events). For some of the events you might have to buy a ticket in advance. Also, A few King's Night drinks will help you enter dreamland quickly. Definitely try to get some rest so you'll wake up fresh as a daisy on K-Day.
Have a substantial breakfast to prepare your body for what you're going to put it through the next couple of hours. Remember to take a bottle of water with you in your bag or backpack. And maybe even some snacks to keep your stomach satisfied while you're boozing. There are lots of street food stands all over the city so you won't go hungry and you'll always have something to soak up your liquor a.k.a. the basics of successful day drinking.

Source: Donald_Trung/wikimedia commons
Clothes: This will depend on the weather forecast but make sure you'll bring a jacket/rain jacket. Even if it's a hot day, the weather can change in the blink of an eye and before you know it, it's cloudy and quite fresh. Nothing can kill your party mood like a sudden drop in temperature or a cold rain shower while you're in your sexy spring outfit. Pack a jacket or an umbrella and you'll be fine. As soon as the sun comes through again, you can pack it away and keep partying. In general the layer look comes in handy. And don't forget comfortable shoes. To top it off, take a little orange party accessory like a hat, sunglasses or a feather boa and you are ready to hit the streets.
No hurry, no worry and just relax
This one's for the impatient souls among us: Take the masses in the streets and limited public transport into consideration. Amsterdam gets pretty crowded on King's Day. In fact, between 600,000 and a million people visit the city for those celebrations, doubling Amsterdam's population on King's Day compared to any other day. Don't expect to get anywhere in a hurry. But hey, it's a holiday, so there's no need to rush anywhere. Just take your time, smoke a joint, and go with the flow. If you're traveling from outside of Amsterdam, don't come by car but take the train instead and start the day in a relaxed way.
Alcohol consumption and the hunt for toilets. You probably read this before somewhere: You are allowed to carry one unit of regular alcoholic drink (under 15% alcohol) for your own consumption. Additional alcoholic drinks may be confiscated. That being said, I never heard of anyone being stopped from partying on King's Day. But hey, good to keep an eye on it.
For the girls (and guys on the shyer side) we all know this situation. You're having the best time but suddenly something creeps up on you, a sudden urge. It's your bladder sending you the following message – I'm full, please empty me! ANNOYING, but what can you do? Quite a few houses in the center let you do your business in their loo for 50 Cent or one Euro and most restaurants or bars too. Just give them your most desperate look. This might become quite a difficult endeavor if you're partying on a boat but apparently a so-called pee boat (plasboot) is somewhere out there helping you out in your most desperate moments.
Last but not least: Have fun!! From huge open-air dance events to small stages set up in neighborhood cafes, King's Day offers something for everyone. Stroll through the flea markets (vrijmarkt), which are spread all over the city and go on a treasure hunt. Watch artists perform, stop for a delicious snack and a drink and dance through the streets. And if you happen to be on a boat – be merry and have fun (but don't fall in the canals). All in the name of the oranje spirit celebrating the Dutch royal family. If you wish, you can even visit a museum on this day, e.g. the Van Gogh Museum, the Rijksmuseum, the Stedelijk Museum or the Anne Frank House will be open on King's Day.
Now that you have gone through your list of essentials here is another helpful guide – 7 Things You Need to Know About King's Day!