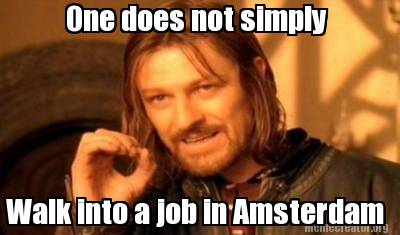 Finding work in the Netherlands
Even according to Dutch people, it is hard to find good work right now. Let alone if you are an expat. However, it is still possible. Since I arrived here months ago, I have tried everything to find work. In my opinion, some methods work and others bear no fruit. However; I would like to clarify this advice is based on my experiences. In terms of background to put it into perspective, I am 26 and studied economics and HR, worked for five years in various customer service roles, and worked for two years in property and projects. I am a native english speaker and I can speak intermediate french and basic dutch.
Handing out resumes;
When I first arrived, the most common advice I received was to walk around the city and hand out resumes. I was told that there are still jobs out there, you just need to walk to the right areas and go into every shop. I tried this and went to Dam Square, Central, Leidseplein, Kalverstraat. I  went into every shop where a guy might be able to work; like clothing, electronics, book, outdoors, coffee shops, cafes, pubs, and so on. I would walk into each place and be very friendly and say something along the lines of; Hi, my name is Henry, I just wanted to hand in a copy of my CV in case there were any positions available at the moment. I went into shops that had help wanted signs on the door and those that didn't have any signs up. 
In the interests of giving you the best information, I am going to be honest, and tell you what I think. If there is a Dutch person working in the shop and you don't speak Dutch on a conversational level, I wouldn't bother handing in your resume. Most Dutch people were really friendly to me, but they did say you need to speak Dutch. However, some people were really rude about it. I went into a certain English book shop, and the elderly woman behind the counter said that they get 1000 resumes a week, and that there was no way someone could possible work in the English book shop if they didn't speak fluent Dutch … which I thought was interesting. She further added that there was no point taking my CV if I don't speak Dutch because it would be "a waste of paper".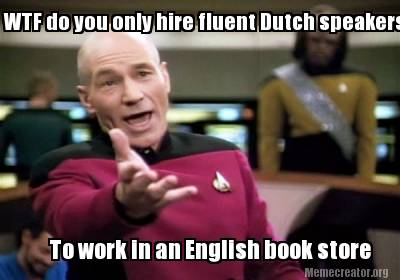 An Irish guy at a pub in the Red Light District started shaking his head and not saying anything when I started talking. He then waved his hands dismissively at me to get me out of the shop, he did not even say one word to me.
These are extreme examples and I realise that not everyone is this rude, but you get the point. Basically, it makes sense. We are in the Netherlands and if you want to work in customer service, you should be able to speak Dutch. It makes sense. I just thought that at some of the tourist places it wouldn't be an issue, but from what I can gather it is an issue there too. Also, it seems that there are a lot of other people doing this as well, and you run the risk of putting in time and effort to just become another CV in the pile. I did this for days and days and covered every shop I could find in Amsterdam that might take an English speaker. I started doing this two months ago. To date I have not received one call or email about any of the CVs I handed out.
In my opinion, I feel like this method does not work. There is definitely a sense of accomplishment by walking around and physically handing a CV to someone, but there are a lot of other people doing it and it is rare that there will be a vacancy. I would discourage walking into a shop that does not have a 'help wanted' sign up, as they will probably be irritated. I definitely found that people were a lot more willing to listen to you and give you a chance if there was a sign on the door. However, in the positions I found, they still required someone who spoke Dutch. I found a lot of tourist places as well, however they said that there had been a lot of CVs handed in already, and I did not hear from them.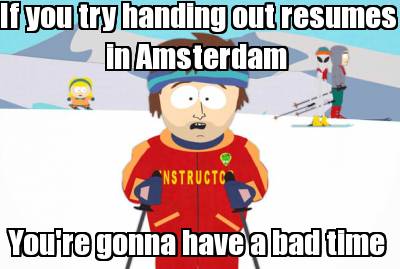 All in all, I don't think this is efficient in terms of how much time it requires, and that it is unlikely to find a place that needs to hire someone, and even more unlikely that they need someone who speaks no Dutch.
Many thanks for reading! I really appreciate it. In the next article, I will talk about finding work in the Netherlands with a focus on bars, hotels and hostels directly!