Guide to The Hague and The Netherlands
Long story short: A couple of my friends went to Holland for a week. They needed a no frills, short-and-sweet guide on what to do; the do's and don'ts if you will. Basically a guide to the Hague and what not. This is, more or less, what I told them. The alternative was to send them this picture:
Language
Everyone speaks English. The Dutch thankfully don't dub movies, so you can even go to the movie theaters (read on for that, though!). Don't try to pronounce Dutch words right lest you end up butchering the language and confusing the well-intentioned populace. (Big hello to the guy that keeps saying Ootrecht at an exponentially loud voice!)
Transport
Don't use taxi's unless for an emergency – they are pretty expensive (compared to some parts of the world like Serbia). Get an OV card as soon as possible (around 7EUR) and top it up with money. You use it to "stamp" in and out in every form of transport. You can switch transports within an hour (tram and bus) and it won't count as a new ticket. DON'T FAIL IN DOING THIS. This is considered High Treason in The Dutch Court of Tourist Exploitation. Your punishment if you should fail? Either a 5 euro fine off your OV card if you don't stamp out or a 4 euro, paper one way ticket to Go Fuck Yourself land.
Food
Oliebollen! Ok, but also: Turkish food is the best fast food. Friteur shops are like Dutch diners and are generally cool but will most likely upset your belly. My favorite food comes from former colonies – Indonesian and Surinamese food is available and bloody delicious. Harring? Raw fish that's not sushi? – ewww. Drop? Now that's a whole new ball game. Almost forgot: tiny pancakes called poffertjes. It's like pancakes for hamsters! Wonderful! Bonus level: Cheese. Oh the cheese.
DON'T BUY STUFF AT THE TRAIN STATION OR AIRPORT!
Identical supermarkets such as Albert Heijn will charge you more at these locations.
Night stores
If you come from a place that tends to have a lot of late night stores open (like me) don't count on it; if there are any its usually the Turkish deli's. Also remember – there are NO KIOSKS!
Red Light District
The hookers are 50 euros for whatever (if you're too much of a perv though you might have to negotiate): either 20 minutes of sex or until you ejaculate (important to note the OR). No, you can't take pictures of them and yes, they will occasionally leave their windows to hound you, in the smaller streets.
The Weed
Yes you can smoke in in the street, just don't carry too much; also it's considered quite rude.
Bikers
Like Cows in India, bikers are Holy Citizens of DutchLandia. It is said that a biker can beat your car up with his bike and then sue you…and win. Beware.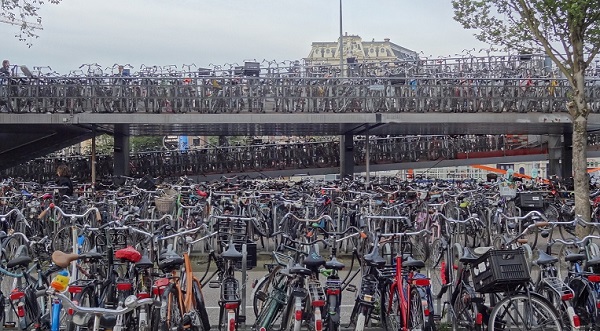 Don't even try the museums in Amsterdam
They are expensive and not worth the wait. The Torture museum in A'dam is cool, the Sex Museum is a resounding meh. The Escher museum in the Hague is pretty cool!
Partying
Depends on where in Holland you are. Most places that are not clubs are closed by midnight. If you're one for boozing remember that spirits and other stronger forms of alcohol CANNOT be bought in normal supermarkets; you probably need to go to a dedicated liquor store.
Conclusion on my guide to the Hague and the Netherlands
I've probably failed in giving you significant, life changing information – but that is the nature of "give me a guide for a week". Holland is a neat, clean country with a dirty mind, a liberal country with a Nazi flare, a peaceful, calm place with hookers and weed… Well, you get it. Enjoy the contrasts and tell me if you liked the kip saté!
Oh yeah and don't forget to share my guide to the Hague and NL with your friends. 😉