Thought the weather this week was already pretty bad with all those hailstorms? Well, you better prepare yourself because there's a proper storm coming to the Netherlands tomorrow!
With wind gusts of 100 to 120 kilometers per hour in the western coastal provinces, tomorrow the second storm of the year will cross the country. Inland as well there will be lots of wind with wind force 8. "That is a lot of wind for that part of the Netherlands," says Buienradar meteorologist Maurice Middendorp.
This night, a low-pressure area enters the country which is now still off the coast of Ireland. "That brings a lot of precipitation, rain, but also hail and snow, especially in the North, Groningen, Friesland, Drenthe and Overijssel, where it may turn white early in the morning." In the rest of the country it can rain a lot. " Mid-morning the wind will develop into a proper storm, wind force 9, on the coast. "It is possible that there will be a wind force of 10."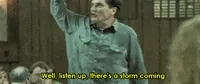 Storm coming to the Netherlands: bomb cyclone?
Whether the weather conditions develop tomorrow into a so-called bomb cyclone is still unclear, says Middendorp. This was warned for the last couple of days in the Belgian media. "A bomb cyclone is the phenomenon where the barometer drops 24 mbar in 24 hours, but that does not seem to happen, but it will be very turbulent anyway." The wind will be at the end of the afternoon. "In the afternoon the weather becomes a lot quieter." So you might want to sleep this storm off in bed, unless you have like a plane to catch.
KLM cancels flights because of the storm
KLM will cancel 110 return flights tomorrow. Due to the strong winds there is no handling of flights on the ground possible between 10.00 and 12.00 at Schiphol. The canceled flights are flights within Europe. Travelers are informed and their ticket is rebooked.
Goodluck all, we'll keep you informed about this storm coming to the Netherlands tomorrow.