Buying a new bike in the Netherlands? Getting a second-hand fiets in Amsterdam? Or thinking about renting a bicycle in the Netherlands?
Here you finally are, either an international student – some IT-expat or a regular tourist: it doesn't matter that much. You saw the movies, laughed at the memes and now you want in – you want to ride that 'omafiets' through those Dutch streets like a proper Dutchman. But how to get a bicycle in the Netherlands?
Renting a bike for a day is a bit expensive when you need one for half a year and when you're some Italian student in Amsterdam you want a cheap bigi pronto as well. So let me show you 4 ways (of the Dutch!) on how to obtain a bicycle in these low lands.
Buy a bicycle in a shop.

This one is a no-brainer. Throughout Dutch towns and villages, as common as freckles on a ginger kid, you'll find wholesome Dutch bike shops. They'll give you good advice on which bicycle to buy and will happily sell you a Batavus or Gazelle 'fiets'  for around the same price of a shitty car. Heck, if they sell you that hyped electric bicycle then you might as well have bought a decent electric car.

Advice: if you've got the money and want to bike around town for years to come, this is the way to go.

 Get a bicycle second hand (legally)

'Op een oude fiets moet je het leren'  is a famous Dutch saying which has nothing to do with second-hand bikes. Some bicycle repair shops sell second-hand bikes they 'found' and patched up for around 100 euros or more, which is a bit expensive for some.


And of course Marktplaats and numerous Facebook groups are also littered with second-hand bikes. But watch out, sometimes these bikes are stolen and the thieves sell em on at these online platforms.

Advice: great deals can be found sometimes, but be prepared for some serious haggling and shady figures

Second-hand bikes (illegally)

Ah, the way none of the official blogs or websites want to write about. For some of you wondering who the hell steals all those bikes, well the answer is: almost anybody. So you too can be a bike stealing person! Heck, that profession is non-discriminatory; everybody can join in. Bike theft is an even bigger thing in student cities. In cities like Leiden, Groningen or Delft lots of students replace their stolen iron horse instantly by boosting another bike. There's a certain code of honor — supposedly one only steals bikes that are shitty and old (but because a code of honor among criminals is often violated many times, it might be a wise idea to get bicycle insurance).

And then there's the slightly less criminal (but still pretty criminal) option of buying a bike on the streets from a junkie. In case you're still using foreign naiveté as a pretense — yes these bikes are always stolen.

'Yeah, that bike is legit man! Only 10 bucks!'

Advice: Don't do it man! It's not worth it to risk it. People ruin their careers because they're being caught stealing a bike while drunk on a Tuesday night. 
It's about time that these old ways of getting a bicycle in the Netherlands are supplemented by something better.
Renting a bicycle with Bimbim Bikes is a very easy way getting your hands on a bike in the Netherlands! Here are the steps:
You go to Bimbim Bikes' website
You choose your location and the type of bicycle you would like to cycle with
Their website then shows you a map of all the spots within your area where they offer Bimbim Bikes, as well as the prices for renting a fiets in a Dutch town


Tons of choices to rent a bike in Amsterdam

If you're looking for renting a bicycle within a specific price range, you can always adjust that. And if you're not sure what you're getting for the different prices, Bimbim Bikes offer you images of the bicycles and their price so that you can make the best choice possible.
Once you have chosen the bike you want to hire Bimbim Bikes asks you to pick the time and date of your bicycle reservation.
Bimbim Bikes also gives you the option of selecting a gender, as well as filling in your height details, to make sure that the bicycle you get will be just the right fit for you (short people like me can relate).
After that, you just have to fill in your details, complete your online payment, and voilà! Now you have a bicycle to ride around on in the Netherlands!
If you happen to change your mind and decide that you're in no mood to ride a bicycle around Holland, Bimbim Bikes gives you free cancellation up to 24 hours before pick-up.  So you don't need to worry about wasting your money, just because Dutch weather decided to be…well, Dutch.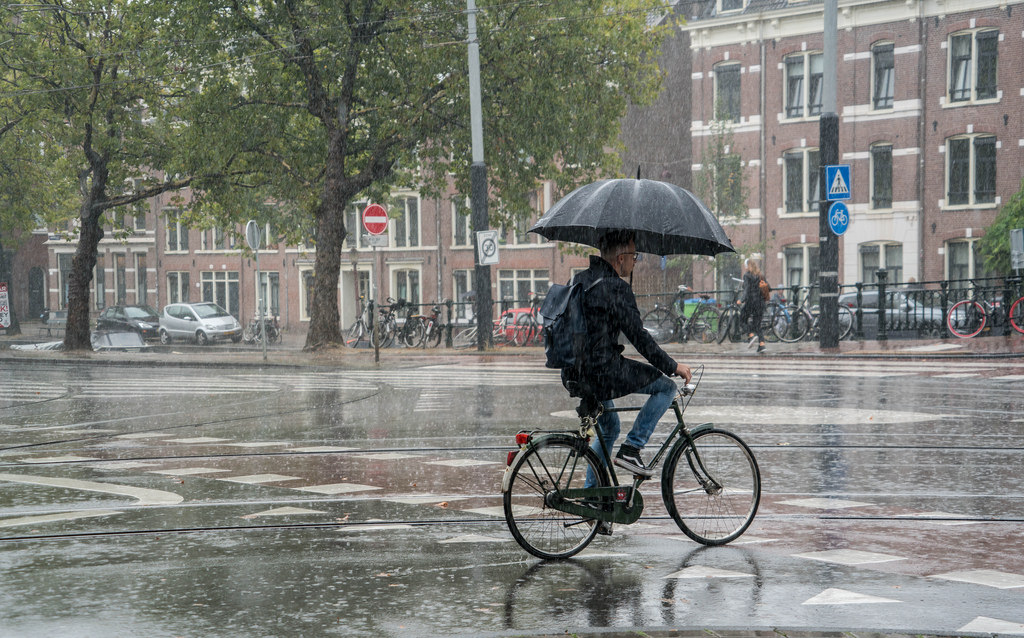 What makes Bimbim Bikes even more amazing, is that they are a platform that cooperates with more than 1650 bike rental partners all over the world. So if you enjoy cycling and staying healthy while visiting other countries, then renting a bicycle in the Netherlands with Bimbim Bikes is the perfect option for you!
So that's it! Hope my advice on how to get a bike in the Netherlands comes in handy! What are your preferred ways of getting a bicycle in the Netherlands? And how are your experiences with renting a bicycle in the Netherlands?