As we all know, Holland can be beautiful.
Why? Because we still didn't run away out of here!
What's the best proof to support the beauty of the lowlands? Keukenhof, simply speaking.
So here I am to give you my first hand impressions and photo report of my visit in the Keukenhof,  the so-called; Garden of Europe.
That was a long day for me and friend of mine who was visiting the lowlands for the first time. I knew I had to show him the real essence and beauty of Netherlands so I tried to become a tourist myself to ensure that he enjoyed his Dutch week to the fullest without listening to my never-ending stories about Maastricht University grinding my gears (by the way, that's a habit of all Maastricht students). After reading many posts related to Keukenhof and watching photos taken nearly from fairly-tales we caught a train to Leiden Centraal and from there travelled to Lisse by bus number 854. It took us only three and half hours (winks) to start the most colorful adventure of our lives.
Not only Keukenhof but also the fields we were passing by were vivid with colors themselves so if you have some free time you will surely have a great fun discovering them by jouw fiets (your bike). The rainbow fields, sun and over 20 degrees in the shade will give you true liberating feeling once you run out of your Wi-Fi connection! These are the moments worth living for if you are one of us, wandering souls.
But that's not the end! As previously mentioned by the DutchReview crew, Keukenhof consists of approximately seven million tulip bulbs which all together comprise over eight hundred species.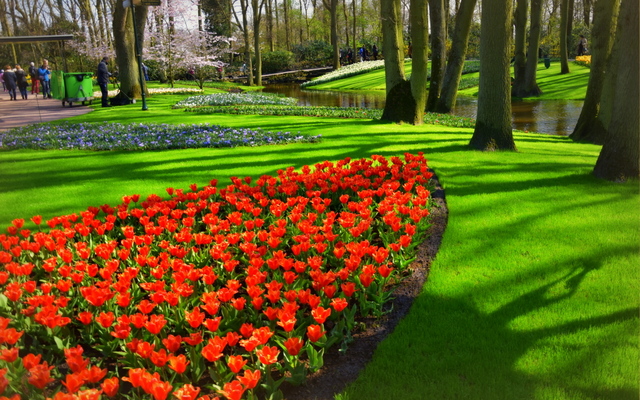 If you are a nature lover you will be in heaven especially that these 32 hectares of pure nature are filled not only with tulips but also with daffodils and hyacinths.
Narcissists and other Galactic Stars will also find their own way there!
I'm pretty sure that even if you decide to go there alone you'll have an amazing time surrounded by nature, birds, and selfie-takers (of course) and many other such as…
You can try, you can jump, you can even stand on your head seeing the world upside down but you won't be able to make your dream selfie..
To conclude, Keukenhof is the most colourful place I've ever been in. Air, flowers and trees smell so freshly but one thing you shouldn't forget about is that 'Good shoes take you good places!'