Part 3 of my efforts to attain Dutch citizenship. Read Part 2 here.
---
Although the Dutch possess many virtues, their facility for dealing with people who live their lives "outside the box" is not one of them—at least in any situation where Dutch bureaucracy is involved.
As the first European nation to have embraced same-sex marriage, the Dutch are to be praised. Despite their seemingly open approach to different lifestyles, however, there is still a significant part of the population that is more conservative than most think. Echoes of Calvinism can still be heard today. The sayings Doe maar gewoon, dan doe je al gek genoeg (Just act normal, that's already crazy enough) and Steek je kop niet boven het maaiveld uit (Don't stick your head above the mowing field [or it will be cut off]) sum up the Dutch view on being different pretty perfectly. Differences are allowed, as long as those differences don't affect anyone else, which I think is pretty reasonable.
When I first came to the Netherlands, it was to live with my Dutch boyfriend, (I'll call him Piet). We had met almost a year previously, and things were going brilliantly. He was kind, intelligent, and we shared the same all-important sense of humor. We spent whatever time we could together, either in Spain (where I was living at the time) or in the Netherlands, traveled together, and spent hours talking on Skype. But months of commuting between our two countries was starting to get old (and expensive).
The decision to move to the Netherlands
Like any two people in love, we wanted to be together, and it made more sense for me to move here. He had a good job in the Netherlands that he adored, and I could work anywhere there was an internet connection. Being from New York, which was originally settled by the Dutch, I felt a connection with the Dutch culture, and I didn't even mind the weather. Luckily, there is a provision that allows one to get a residence permit to live with a Dutch partner. I applied at the IND, and within a few months had my residency card and came to stay with Piet.
However, I also had a family in Spain. My family being my partner, Roland, our daughter, Maya, and Roland's wife, Juliette. Yes, we were not your typical family. Polyamory (having more than one loving relationship with the consent of all involved) is an idea people still struggle to get their heads around. I was delighted with my family, but I still wanted to have a life with Piet. Luckily, Piet and my family got along wonderfully.
[embedyt] http://www.youtube.com/watch?v=bvQjdt0D4PI[/embedyt]
After settling in, I took the required inburgeringscursus and passed the test on the first try (no mean feat, as many native Dutch who have tried it and failed can tell you). The rest of the family arrived almost a year later, bringing our fledgling translation and editing business here from Spain. Although it was tough going at first, we managed to make a success of it after a couple of years and were doing well; unfortunately, my relationship with Piet was starting to founder.
As can happen in any relationship, our differences eventually became too much for the both of us, so we decided to separate amicably and move on with our lives. (We have happily remained good friends). But I and the family still loved living here, and our daughter was doing well in school and had already become more fluent in Dutch than any of us. Moving back to Spain was never a consideration.
The third time is the charm, right?
Fast forward 3 years, and I am at the Leiden gemeente for the third time to apply for citizenship. All the required paperwork had been entered into the system, and the same medewerker I had met with before was entering the information from my verblijfsvergunning (residency permit) as the last step in the process. She enters a few items from the card and casually asks "…and you are still living with P. —"?
I paused for a moment, baffled. I had not recalled the residency permit mentioning my relationship status, but said "no, we unfortunately broke up a couple of years ago."
"You know, you are supposed to report any change in status to the IND," she said.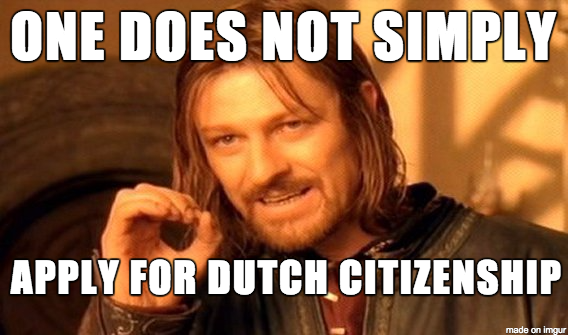 Yikes! I had no idea. It had never occurred to me I had do so when we parted, as I had my family to live with, I was paying my taxes and our business was doing well. In retrospect, this was no doubt mentioned in the paperwork I received when I got my residency, but it was certainly in Dutch, and in the excitement of getting my residency (and with my still fledgling knowledge of Dutch) I must have overlooked that part.
My medewerker was very helpful though, and suggested I make an appointment with the IND to straighten it out before making my citizenship application. She did not want me wasting €840 of my hard-earned cash for an application that would have a likelihood of being rejected due to a technicality.
So for the third time I left the gemeente without having filed for my citizenship; but I had dealt with the IND when I first moved here, so was not too concerned. Was I in for a big surprise!