The blue monopole in an Orange country
My dear supermarket, or should I say, AH, since now we've tamed each other.
I swear I can recall every single detail of our initial encounter. I even kept my first bonnetje (17,30 euros of something along those lines) as a precious relic from this ultimate pilgrimage.
I randomly entered the temple of consumption in an attempt to find a last minute quick and easy dinner. This was the start of an epic "erase and rewind" automatic, casual pattern. I mean, it always ends up like this, 6 o'clock, me, Albert, dinner.
Anyway, let's say you just happened to be around whenever I would embark on a groceries mission. Everything, from the display to brands, ingredient lists, smells of (not always so) fresh baked goods, literally everything felt like a whole new world of possibilities was opening up to me.
Just like most people, I learned the hard way that you didn't get along with my best friend Visa, because, sure, I get it, you're different from everyone else. I wish I didn't figure it out once I had a full caddy gone through the cash register, a humiliating moment shared with the lovely lady whose name tags said "Fleur" or something. The look on her face when I asked for a "tafeltje" instead of "tasje" was priceless (no pun intended). Man, you've got almost (pssst by the way your organic section is a bit scanty but I adored my AH christmas tree) everything one would desire (stamps, soap, cigarettes, flowers, gevoelde koekjes, cash machine, birthday cards, plastic cups, actual proper china cups, prepaid phone credit, barbecue kits, spicy thai soup, condoms…) so why not a table after all ?
Like most people, I tried to come over for a gallon of laundry product, but that turned out being a vain lost cause : I still would fail everytime and end up with a million random things I would painfully drag back home on my bike, except obviously for that particular laundry product. Murphy's law, big time. Same goes for resisting the sugary treats you would, you sneaky, put right at the entrance, as a ritual of evil temptation, with big signs telling me that, come on, it's so cheap ! You and your 2 euros muffin XXL pack clearly couldn't care less about my own muffin top, but that's OK, really, no harsh feelings here.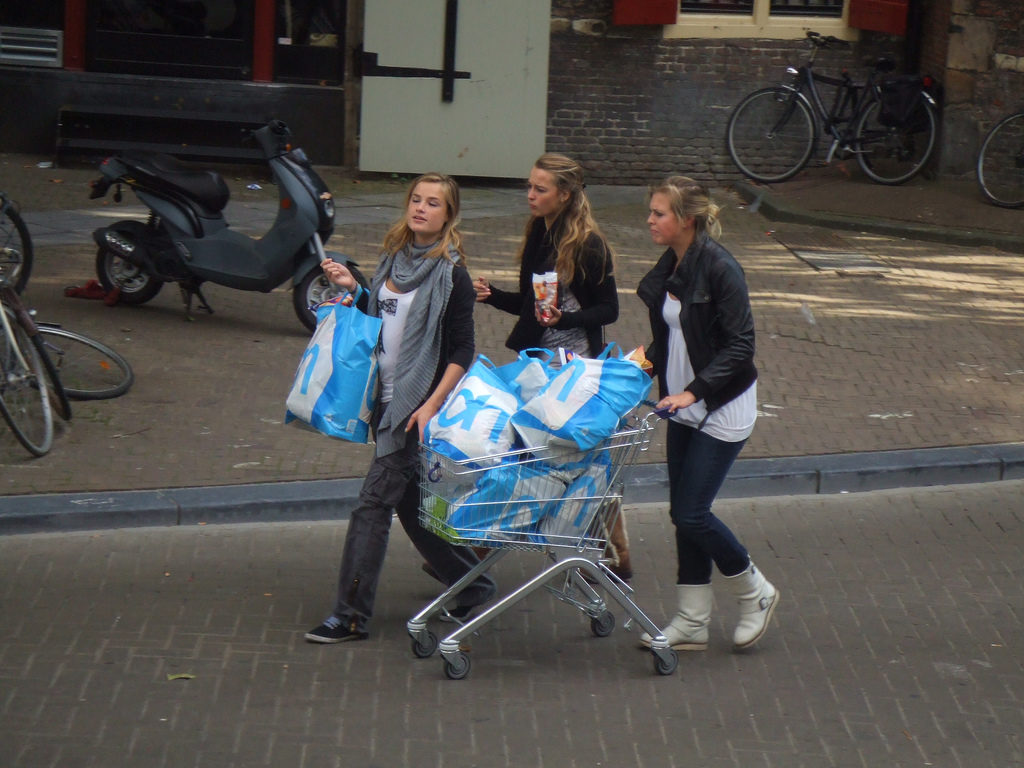 The day I finally owned a Bonus card was a pure epiphany, as I now belonged to your endless community of fans, a Dutch proven institution, and that from now on, things wouldn't be the same : I'm a member of the club. I heard many people criticizing the quality of your fruits or meat for instance, to be fair my dear, they're not the best but since you're everywhere and open all the time, well…Any publicity is good publicity, some people say. I love how when some people come over to enjoy dinner, they recognized the wine glasses I got thanks to you, a bit like owning a piece of Ikea furniture.
You're part of the everyday life of so many people here it's outrageous, though you've got some serious competition too : I'm thinking of a red guy with pants on, or a huge yellow guy. Somehow, against my own will, I'm blue da be di da be da.
Hey you know what, I'll even miss you when I'm gone, I guess our various necessary weekly meetings (hangover, pyjamas under the coat, in a hurry during lunch break, at the end of the month when I'm counting each cent) are engraved in my Netherlands life memories.
Take care, Albert.
PS : Could we seriously do something about the very few bottles of average French wine on your shelves ? Trust me you can do so much better and I'm not the only one complaining !
PS : I still have a massive crush for Marq(t)