What even is NDSM-Werf?
Across the river by ferry from Amsterdam's Centraal station is another world; one full of graffiti, ships, sculpture and other exciting sights in what used to be an old shipyard. Welcome to NDSM-Werf, a thriving arts community and one of the coolest creative places to visit in the city of Amsterdam. Originally the largest ship-building company in the world, NSM and later NDSM built tank ships and huge passenger ships from here between the 1930s and 1980s. After the shipyard was abandoned new creative types moved in, creating the exciting community that resides there today. Here are five reasons why you should definitely take the (free) ferry over to see it.
1) The Graffiti Art
Forget paying pricey entrance fees to see art in a gallery, here in NDSM-Werf you can stroll around and see stunning graffiti art for free! No longer just the realm of name-tags, with the rise in prominence of actual graffiti artists like Banksy spray-painting on walls (and shipping containers) can now be just as interesting and beautiful as something you might see in a gallery. The myriad of images to be found all around the NDSM area will make you gasp and want to get up close for a better look. Make sure to bring your camera as one of the exciting things about graffiti art is its impermanence – these pieces you are looking at might not even be there anymore!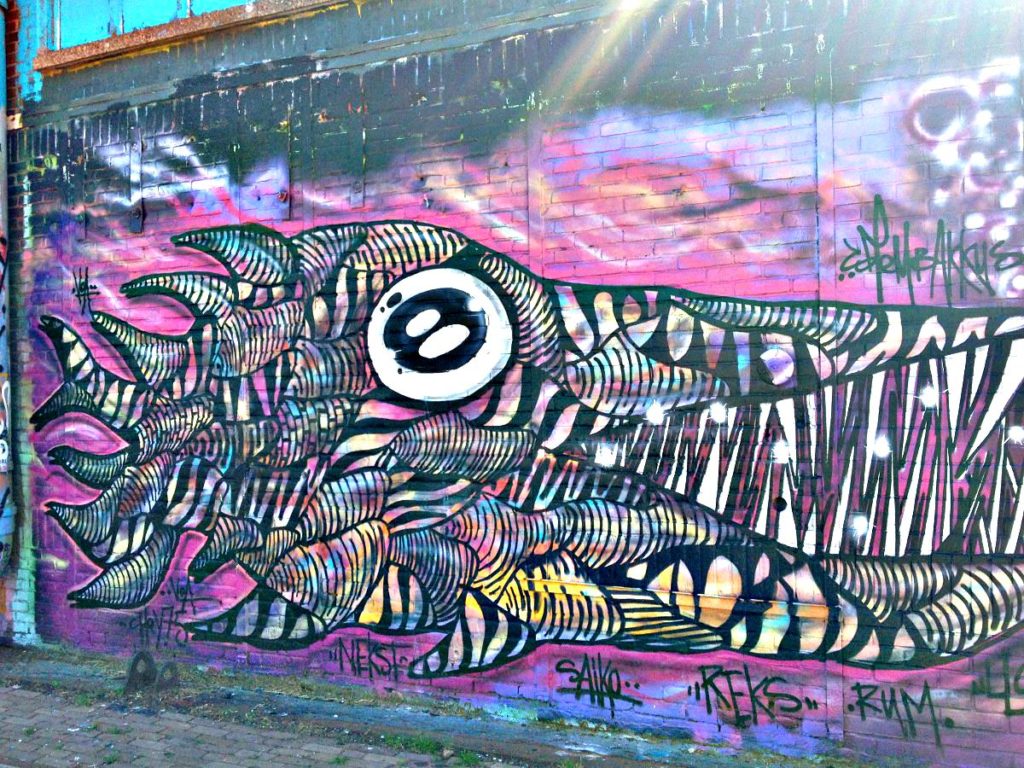 2) The Unique Accommodation Options
If you're looking for somewhere to stay while in Amsterdam then NDSM-Werf also has a plethora of very interesting and unique options. From the 'Botel' which is, you guessed it, a motel on a boat to the luxury rooms inside the giant crane (which you can also bungee-jump from) there is definitely something for everyone here! There's also the Double Tree by Hilton if you want something a bit more upmarket, and don't forget to wander by 'Trammeland', old trams situated beneath the crane that are managed by the Trammeland Foundation and often host creative events such as theatre workshops for children.
3) The Warehouse 'City'
Inside the giant warehouse where they used to construct the ships is now a miniature 'city' filled with over 100 small creative businesses, theatres, studios and start-up companies. This is definitely worth some exploration, if only to see the stacked up buildings inside the warehouse; they look like children's blocks stacked up on top of each other! There is also more stunning art on the walls, and the interiors of some of these businesses are also stunning. Keep an eye out for the futuristic-looking motorbikes and the iPhone cases made of wood!
4)Pllek
Another creative use for all the shipping containers lying around in the area is Pllek; a restaurant and bar made of three containers stacked together and opening up onto a picnic area and fake 'beach' overlooking the river. It is a favourite spot for locals and tourists alike to have a drink by the water, especially in the Summer weather. The food served here is organic and sustainable and Pllek also hosts music and parties as well as cultural events such as outdoor films, art exhibits and yoga. Check out the website for more information and photos!
5) Noorderlicht
Noorderlicht – or the Northern Lights cafe is a groovy little place made entirely from recycled materials! The building is like a giant greenhouse and there are spaceship-themed play areas for children as well a mini-amphitheatre where they often have live music. This is a lovely place to sit and relax on a sunny day, have a drink and a snack and watch the sun glint off the river, while you listen to chilled-out music underneath the brightly coloured flags. Check out the Noorderlicht website for information on food, drinks (they have a bar as well) and upcoming live acts.
As well as the top five reasons outlined here, there is plenty more to explore, discover and enjoy in NDSM-Werf, make sure you check it out for yourself this Summer!