It is very hard not to dig this piece of Rotterdam's city development, the one and only – Markthal. It is astonishing, mesmerizing, overwhelming and it makes you proud to live in Rotterdam. Ha, eat your heart out!
The great
Approaching the new beast from its side, you wouldn't suspect it there; it's inconspicuous. Markthal's wow factor will hit you when you are standing right in front of it. Or even better, some 30 meters in front of it.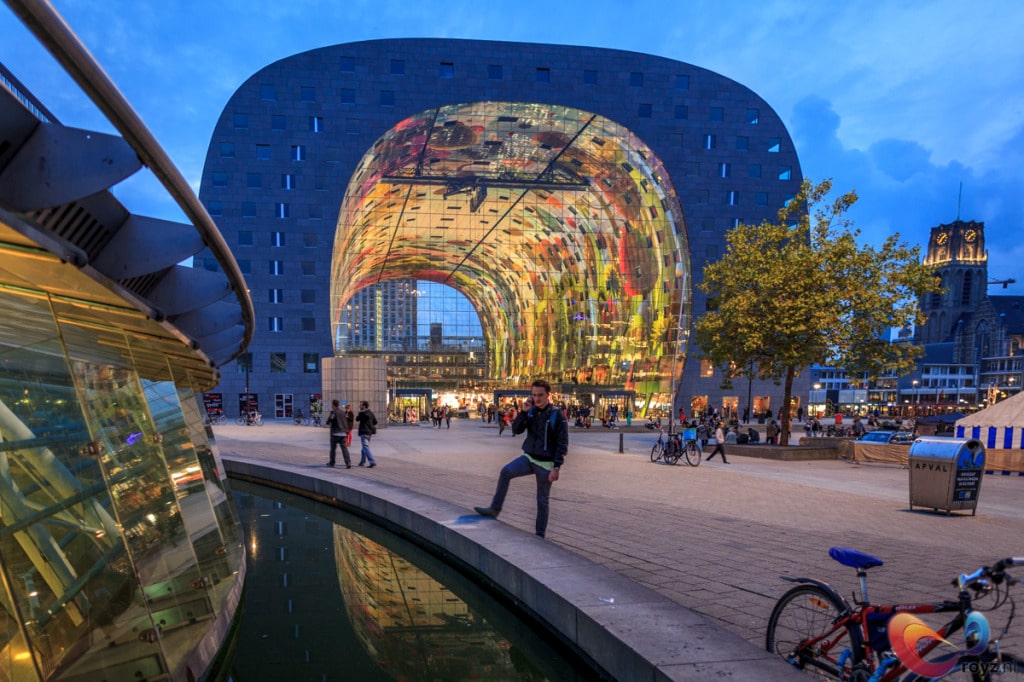 It's like a magic box that pops out of an uninteresting looking package. The boring side that doesn't let on the secret of the shape, the colors and lights that are begging to burst out, is quickly exchanged for an awe of wordless admiration when you are face to face to this horseshoe dome.
It took 5 years to build and swallowed around 175-million euro, so it's not exactly cheap considering the ongoing economic crisis and all. However, when you see it you forget at first any 'but'.
Largest indoor food hall in the Netherlands, biggest art work in the world (of giant fruits), biggest underground parking in Rotterdam and definitely the coolest thing you will see this year in this country. The bonus being that it's extremely photogenic.
There are 225 apartments within the complex some of which you can still buy if you have 300k /80sq meters lying around. For that you get a super gaaf view of the city, hang 40 meters in the air, whilst peaking directly to the market hall below you through a glass panel.
There has been a much ado and anticipation for months. It looked impossible to be finished by the promised 1 October and the more I was peaking in through the windows and gazing at the construction from distance, the more I was bewitched.
The good
You will find anything and everything inside within the food arena. There are over 100 stalls spread over 12k sq meters. Some fairly well known and established names (Vlaamsch Broodhuys, Albert Heijn, Gall & Gall), some upcoming stars (Rotterdamsche Oude, Uit je eigen stad produce) and also many unknown, who are seizing their chance for an impressive market launch.
The projected yearly turnover of 4.5 – 7 million people looks like an underestimation with almost a million of visitors in less than 3 weeks since the opening – a dream come true for the developers Provast who are behind the project.
Mid-morning coffee urge? Lunch break? A quick shopping for dinner? All under one roof, customer service with a smile and….queues and so many people that if it wasn't for that you cannot help but want to be inside, you'd wait for a few months before visiting.
But your senses will be teased at every stall you pass – the colors, the smells, the gourmet selection whispering 'pause and try me' from all sides. it is a foodie paradise. Or hell, depends how you look at it.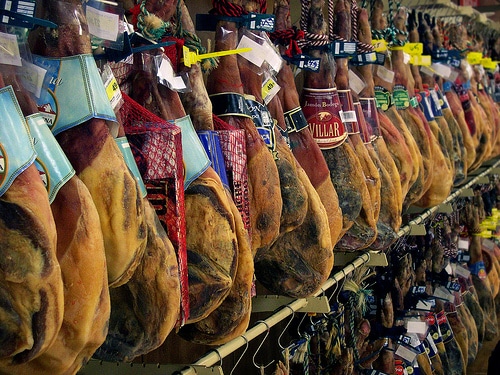 The bad
And now some 'but'.
Firstly, it's not that easy to get inside or out for that matter. There are two small-ish rotating doors that seem to get jammed way too often. It has clearly not been designed for the well above expected traffic of 350k visitors in the first week of its opening.
It can get very busy, so you cannot walk around to admire it all, let alone do shopping. A lot of tourists, locals, everybody is taking pictures of the space, food, themselves with the space/food. It can feel a little claustrophobic at times.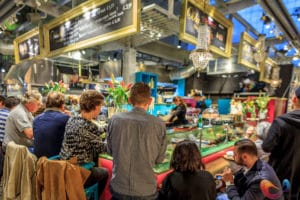 There are lifts to get up to the higher floor to admire the birds' perspective or you can take a staircase but in both cases, it's crammed with people to get into the lift and the stairs and crowds combination are an accident waiting to happen.
The latest hiccup is the realization that the fully glass front panel has a magnifying glass properties, creating a greenhouse effect which doesn't mix all too well with fresh produce or the fresh flowers that are positioned right at the front of the market. If October can heat up to 25 degrees under the glass, imagine what it'll do in summer. Not that summer is much of a risk in Holland but just saying that perhaps someone should have asked an obvious question at the design and development stage. The same sauna effect must be a concern for the flats too, although mind you there is nothing wrong with a gratis sauna.
Also, be sure to enjoy these pictures by Roy Poots!