In December 2012, we wrote an article in which we predicted the biggest ****-ups in Dutch culture for the year that was to come. It worked double time as a means to speak ill of people we don't like, and as a means of teaching you some useful-though-not-often-used Dutch words and phrases. (My personal favorite being inteeltkop, because I have no shame).
Now that we are about to exit the year 2013, I'd like to be the judge, jury, and executioner of my own words.
#1) GEERT WILDERS
WHAT WE PREDICTED: "He is also notorious for traveling around the world and spewing his ill-formed clusterfuck of fear mongering 'ideas', as well as having absolutely no understanding of how said world actually works", quoth the DutchReviewer. I won't bother giving you a list of all the articles in which we ranted against the political monster that is PVV or its equally monstrous head, Geert Wilders. The most meaningful thing I've ever heard anyone say about Wilders is the following joke: "What's the difference between Geert Wilders and a dildo? Wilders is a real dick." We at DutchReview never harbored any hopes that things would change.
WHAT HAPPENED: Lots, but surely nothing that happened this year is simultaneously as embarrassing and as funny to watch as his breakdown in a 'debate' with minister Pechtold.
http://www.youtube.com/watch?v=LyeobPIjlRA
So I can say that our prediction was spot-on, but we can hardly claim a big victory here, can we? Predicting that Geert Wilders will say something stupid somewhere in the next 12 months is like predicting that the sun will in the east tomorrow.
#2) BADR HARI
WHAT WE PREDICTED: For those who didn't know him already, we introduced Badr 'Bad Boy' Hari as the unstoppable kick-boxer who spends half his time beating up people in the ring, and the other half beating up people outside the ring (when he's not in jail, that is). We predicted that things probably weren't going to change for the better in 2013.
WHAT HAPPENED: The good news is that Badr hasn't added any more entries to his already impressive list of felonies. Yes, there was evidence that he used doping, but that's hardly something that surprises people anymore when we're talking about professional sportsmen, right? So I guess he took up the adagio: "If you can't do anything right, don't do anything at all." But hey, we'd rather see slow progress than no progress at all. As for his fighting career, Badr put up quite a fight at the K-1 World Grand Prix in Zagreb, but ultimately had to forfeit after breaking his foot in the opening match against Zabit Samedoc.
Also, he released a shitty rap song. Not sure if that was his most destructive act of the year 2013.
#3) CHRISTIAN CONSERVATIVES

WHAT WE PREDICTED: In brief, conservatism is a world-view entirely based on the logical fallacy that the way things were/are is the way they always should be. At the dinner table, these people are merely annoying. In politics, they are equal parts terrifying and hilarious.
WHAT HAPPENED: Conservatives never change, so that's a no-brainer. Regardless, the year 2013 saw a change in Dutch christian conservatism, and its coming was both funny and anti-climatic. What happened was that the Christian Conservative Party SGP was forced to allow a woman (yikes!) by the name of Lilian Janse-van der Weele to be the top candidate for the city council election of Vlissingen, simply because there weren't any men willing to step up. For the first time in its 95 year existence, a woman will be taking charge of some part of the conservative party. Hurray for winners by default!
#4) THE DUTCH NATIONAL SOCCER TEAM

WHAT WE PREDICTED: After the highly embarrassing performance at Euro 2012 (The Dutch XI got their sorrow asses spanked and came back home with zero points) we were fearing the worst for 2013: "Somewhat fortunately for the Dutch XI, 2013 only has qualification matches to offer, so any further embarrassments will hopefully fly below the radar", we said.
WHAT HAPPENED: Damned, we did quite well! "Tulpengeneraal" ("Tulip commander") van Gaal kicked Sneijder out of the selection, managed to make van Persie play well, humiliated any Dutch reporter who asked a decent question, and last but certainly not least: qualified for the 2014 World Cup in Brazil. Of course, the behavior of van Gaal can be kind of… well…
So to recap: we played well and qualified in impressive fashion. But did the embarrassing schizophrenic and paranoia outbursts of Van Gaal remain unnoticed? We hardly think so, considering the many YouTube hits… Anyways, we don't care as long as it brings us the cup!
#5) DUTCH YOUTH

WHAT WE PREDICTED: Seeing how we made international head-lines in 2012 for being a riot-loving bunch, we did not so much predict as we were holding our breath. The year 2012 saw some embarrassing outbursts of destructive stupidity, most prominently the one where hordes of teens en twenties ravaged the otherwise unremarkable town of Haren after a FaceBook invite for a sweet sixteen party exploded over the Internet. Was this only the beginning?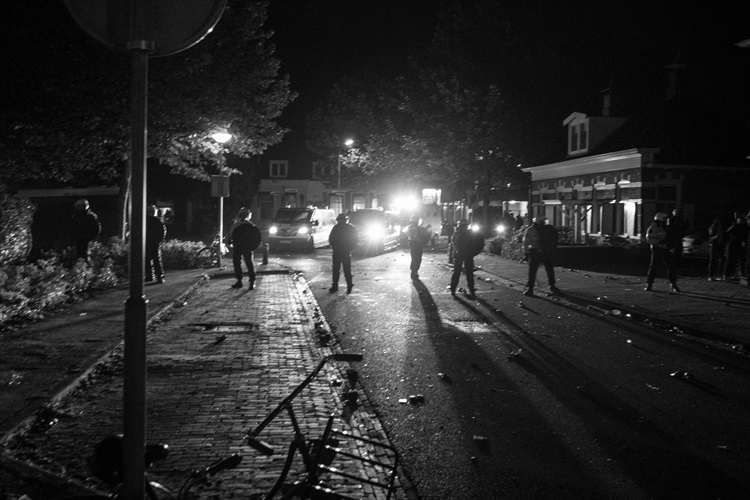 WHAT HAPPENED: The kids were, collectively, pretty good. That is to say: though there were many instances of violence, stupidity, hooliganism, and other kinds of debauchery, youngsters have not rioted like they did in 2012. There was great outrage at the beginning of the year over a brutal ass-kicking delivered to a random bystander by eight teenagers for no reason whatsoever, but there were no large-scale outbursts like Project X. Maybe it's because kids are getting tired of FaceBook anyway.
So, yay, I guess?
Credits to Jop Voorhoeve for wrting section #4.