Dutch culture is making international head-lines again, and since it isn't about soccer, ice-skating, or Dutch Game of Thrones actors, you can already tell it's about that guy they call 'Black Pete'.
The head-lines are coming from CNN, featuring a short documentary entitled Blackface. In the film, the US born Roger Ross Williams, a Dutch citizen for some years, explores the heated debate about Zwarte Piet, the controversial helper of Sinterklaas. Interviewing Sinterklaas policy-makers (yes, that's something you can put on your resume), historians, and protesters, Williams gives a remarkably balanced and thought-provoking image of the controversial tradition. It helps that he is able to 'switch' between the Dutch and the foreign perspective, understanding both sides of the story.
If there is anything that characterizes Williams' documentary, it is his sincere will to understand the phenomenon that is Zwarte Piet. Even though the tradition makes him uncomfortable and he is shocked to see the verbal abuse that protesters are subjected to, he really reaches out to those who cherish the Zwarte Piet tradition. By the end of the documentary, Williams accepts an invitation of a Dutch family to see how Dutch people celebrate Sinterklaas on December 5th. The whole family sits around a table full of snacks, the children sing songs, and then Sinterklaas and his Zwarte Pieten enter the house, handing out even more gifts and sweets. Williams' conclusion is rather moving: "They're lovely people who don't seem to mean any harm. Why is it that they choose to look away?"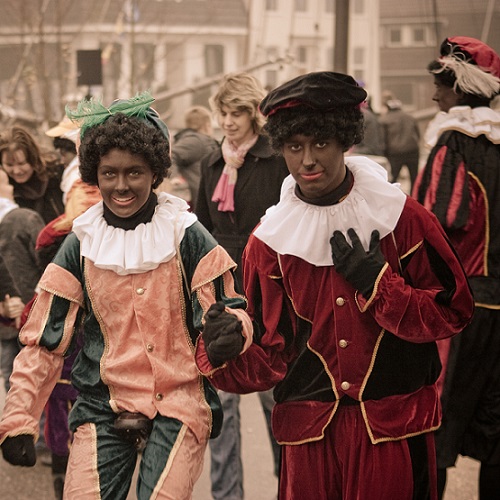 There's something odd and unsettling about the whole scene, as if Williams and the Dutch family aren't quite living in the same Universe. To me, it really captures the difficulty of the debate: namely that Zwarte Piet never is or isn't racist in itself, but only in a social context. I know that a mere "it's just your interpretation" isn't a very satisfying answer to a dilemma, but I've argued before that Zwarte Piet both is and isn't racist. If you'll forgive me the pun: this isn't a black and white issue: there are a lot of gray areas. If it is a fact that Zwarte Piet is/isn't racist, you have to explain why it is that the discussion about this character plays out so differently on the Dutch Antilles then it does in The Netherlands. The ongoing debate about Zwarte Piet says a lot about the social status quo of our country, and it may be a sign that we have to rethink the way different ethnicities engage with each other here.
By the end of the documentary, Williams witnesses at a boat carrying Sinterklaas and the Zwarte Pieten leaving a harbor (symbolism much?). He thinks to himself: "Standing here made me realize that the world will not stand for this much longer, and Black Pete will have to change."
He already is, Williams.
For better or worse, the Dutch Sinterklaas tradition as it is now cannot continue to exist. But this change will need its time: it's impossible to abruptly end a tradition that so many people have cherished for so long. That's why small steps are taken each year to change the character of Zwarte Piet, such as introducing Pieten with various colors or with soot smears instead of the 'blackface'. Slowly but certainly, the overly ethnic aspects of Zwarte Piet (red lips, curly hear, golden rings) are removed. All these changes are incorporated in the storyline of the Sinterklaas journaal, a faux news report for children featuring the latest news on Sinterklaas. This way, children will understand why the Zwarte Piet they once knew now looks different.
Personally, I'm all for a Piet who has soot smears instead of a blackface, and without the stereotypical red lips, curly hair, and golden rings. I'd like to keep on celebrating the Sinterklaas tradition of songs, delicious candy, make-belief, presents and all-out Dutch gezelligheid. I think we can do this without others having to feel offended.