This guide on room viewing in the Netherlands (and not sucking at it) is a follow-up to our previous article on responding to room ads in Amsterdam.
So, brave flat-hunter, you've followed the tips in our previous article about responding to room ads, and now against all odds you've been invited to the fabled "kijkavond" aka the room viewing night? How could anything go wrong now! The room must almost be yours, right?
No. Far from it. Very, very far from it. The true ordeal has only just begun.
"We would like to invite you to a room viewing"
If you've been invited to the kijkavond then clearly, somehow, you have managed to come across as someone that potential flatmates might want to live with. Now you have the chance to convince them otherwise in person. Short of an emergency personality-transplant, how is this to be avoided?
You can do several things in advance of the room viewing.
Ask a brutally honest friend to identify the least appealing aspects of your personality, so that you know not to reveal them when you meet your potential flatmates. As a bare minimum, bodily hygiene and the basic rules of social etiquette should be observed during the viewing.
Reread what your potential flatmates wrote about the room in the original ad. This will help you to avoid asking obvious questions, and your knowledge of what they're offering will make it seem like you're actually interested in the room. But wait, you didn't save the original room ad, and now it's been taken offline and you can't remember what it said? Of course you didn't. Which brings us to:
Save the original room ad to which you responded so that you can refer to it in case you are invited to a kijkavond.
DO NOT:
Pay someone better-looking and more personable to go to the kijkavond and pretend to be you.
Show up really late to the kijkavond without a good excuse.
Come clean to your potential flatmates about all the lies you told when responding to their ad.
How not to screw room viewing up in person
So, following these steps, you have turned up for the room viewing on time, you have washed and groomed yourself to an acceptable standard, and you have memorized the room ad and prepared pertinent questions. So far so good. Now the room viewing fun starts!
When you arrive at the apartment/boathouse/squat to which you've been invited, several possible situations may await you. The kijkavond can take a number of forms:
You may be the only guest. This is the ideal outcome, and gives you the chance to really shine. Your potential flatmates get the chance to get to know you better, and vice versa.
But because there are more flat-hunters than rooms, you may be invited together with somebody else. This can also be good. You can spend the entire kijkavond undermining the other invitee, giving them snide looks, and generally trying to show that you are less of a freak than they are.
But because nobody has time to set up multiple kijkavonden, you may be invited together with about ten other people, all of whom are as desperate to move into the same squalid, noisome, but available room as you are.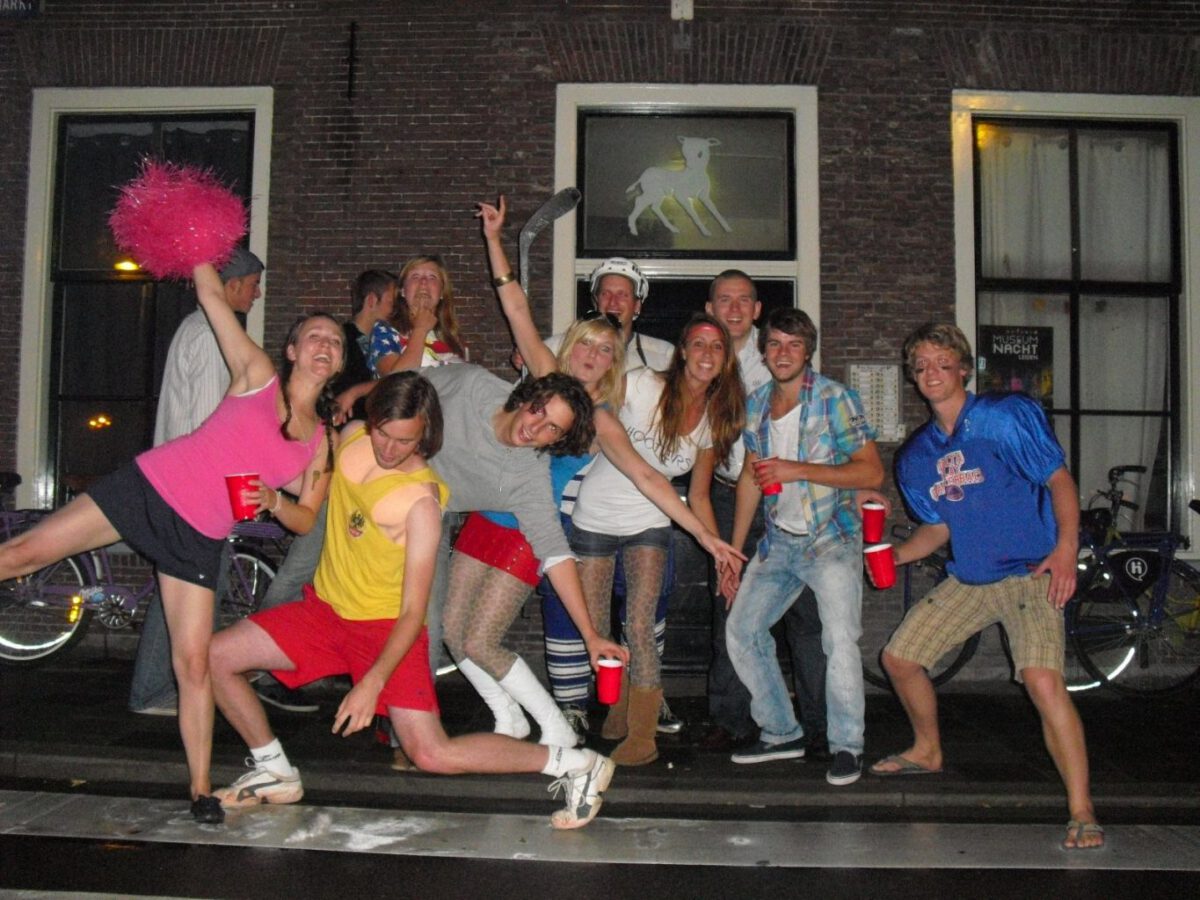 Notes from my therapist
I will share with you a personal account of the kijkavond, back in October 2015, which led to me getting a room. (I will not share the unsuccessful times, because the wounds are still raw.)
I arrived at the flat and was buzzed in. As I ascended the stairs, I heard Dutch voices. As I got closer to the door I could tell there was quite a crowd inside the flat. And there was no mistaking it: they were all speaking Dutch. At this point I assumed that the odds were against me, and I considered turning around and leaving. Then I remembered that I had nowhere else to go, so I carried on inside.
Inside the flat there were:
The three Dutch girls who lived in the flat, one of whom was moving out.
Two more Dutch girls and one Dutch guy, all of whom were here to view the room.
A Chihuahua.
Due to the level of my Dutch at the time, I thought that I would have most success communicating with the Chihuahua.
The kijkavond had the flavour of a low-key house party about it. There were snacks, and there was lots of wine. After introducing myself in barely-passable Dutch, I settled down on the sofa, made inroads into the wine, and allowed the Chihuahua to lick my face. Having been homeless for a month and a half, I would happily have let it hump my leg if I thought that it would get me the room.
The Dutch people talked to each other for a while, sometimes directing a question towards me, but mostly ignoring my presence. By the time it was over, I had drunk more than half the bottle of wine, and even the Chihuahua had got tired of licking my face, and was sniffing one of the Dutch girls, which she did not like at all.
A few days later they told me I could move in.
"You just seemed really chilled. All the others were too uptight."
If by chilled they meant drunk, uncommunicative and happy to be a dog's chew-toy, then yes, chilled is what I was.
To be honest I'm not sure what this example illustrates. Perhaps the main moral of the tale is not to be too pushy and outspoken. Try to relax, don't say more than you have to, get a little bit drunk, and pay serious attention to the pets. And yes, if you have to, let the Chihuahua hump your leg. It will be worth it in the long run. You can always have it neutered once you move in.