Sexual scandals aren't just a Hollywood thing, Dutchies have their own cases and an intense debate as well. A look at #MeToo and the Netherlands.
It seems like every other day a new story comes to light about sexual assault scandals in Hollywood, and other acting and television establishments at home and abroad. So why is this all coming out now? What impact does this have?
It all began with a Harvey Weinstein allegation, which later resulted in a 'snowball effect', uncovering allegations against some of Hollywood's elite. It isn't coincidental that this has occurred with the heightened education on consent and the #MeToo campaign.
How did this all begin?
On Thursday 5th October, The New York times discloses details of sexual harassment allegations against Harvey Weinstein by actresses Ashley Judd and Rose McGowan. In light of new information over the following days, The Weinstein Company says it will launch an inquiry and he is later sacked by the board of his company. Later, the likes of Angelina Jolie and Gwyneth Paltrow come forward with allegations. This follows with his wife, Georgina Chapman announcing that she is leaving Weinstein and BAFTA suspending his membership. It later emerges that victims and others who knew of his behaviour were 'paid off' hundreds of thousands of dollars to keep quiet. Even more allegations have arisen over the past few days (so far totaling more than 80 altogether). Since then Hollywood and the world has been rocked by these scandals.
So far accusations have come to light against the likes of Ben Affleck, Roy Price, Oliver Stone, Bob Weinstein, John Besh, James Toback, Leon Wieseltier, Terry Richardson, George H.W. Bush, Mark Halperin, Kevin Spacey, Michael Oreskes, Jeremy Piven, Dustin Hoffman, Brett Ratner, Ed Westwick, Steven Seagal and Louis CK.
The #MeToo campaign and the Netherlands

What started with countless allegations against Harvey Weinstein, ended in a campaign for others to speak out about any sexual abuse they have encountered. After a suggestion from a friend, and after the Weinstein allegations, in support actress Alyssa Milano tweeted this: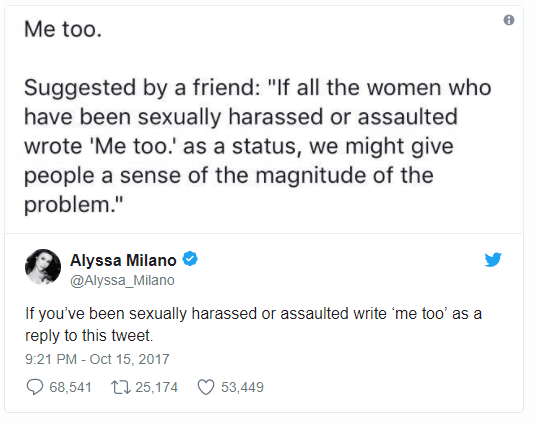 This hashtag started trending almost immediately and encouraged both men and woman of all ages to share their stories. In a short space of time, the #MeToo was tweeted more than half a million times.
The #MeToo campaign hasn't been met with complete open-arms though. Pieter Van Vollenhoven (husband of Princess Margriet), took to Twitter to voice his opinions a few days ago: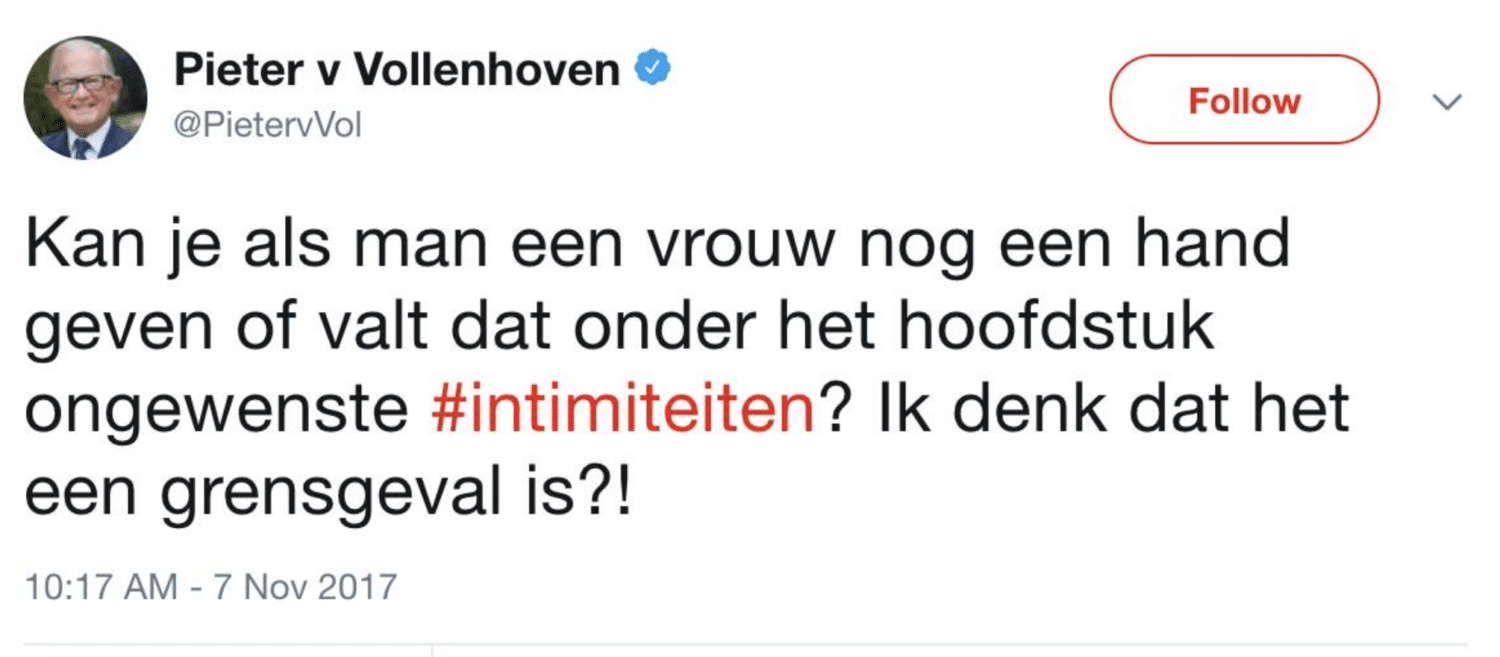 His tweet was later deleted.
That isn't the only thing up for discussion in the Netherlands.
It emerged at the end of last month that journalist Jelle Brandt Corstius was a victim of sexual abuse. He stated that tv-producer Gijs Van Dam had forced him to engage in oral sex back in 2002. He shared his story in a newspaper after the #MeToo campaign went global. Gijs Van Dam denies the allegations, by claiming that sexual advances happened once and it was fully consensual. Brandt Corstius calls for more victims to come forward with their stories. He quotes:
"Every story that has appeared in the past has ten stories that can never be told."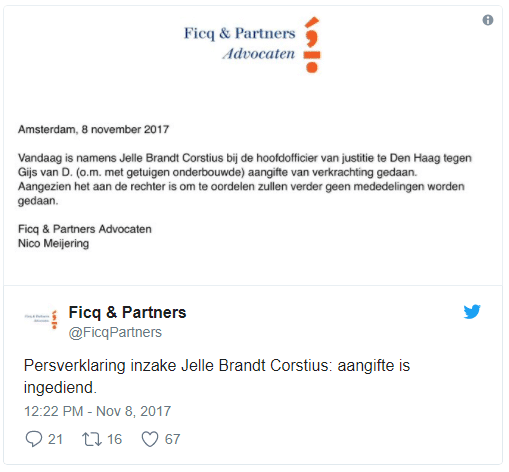 As you can see, the case is ongoing.
Similarly, director and producer Job Gosschalk has had more than 20 cases of abuse reported against him in the past few weeks, regarding inappropriate sexual behaviour towards actors. He is seen as one of the most influential people in the Dutch film industry. He was known as someone who could 'make or break' actors. These allegations include, forcing someone to satisfy him, getting actors to undress for him for pleasure and many more explicit actions. These occurred between the year 2002 – 2015. In a statement, Gosschalk admitted that he would have one-to-one sessions with actors involving nudity, he has apologized for this behaviour, however denies any other accusations involving drugs and minors. He has now been dropped as director of the new film 'All You Need Is Love'.
Moving forward or stepping backwards?
It may appear obvious that over the years there has been an overhaul of the way rape and sexual assault is being dealt with. After all, it was only in the 1990s that marital rape was considered illegal within law. The #MeToo campaign, the 'wave' of reporting of sexual offensives and the altering of public opinion of what constitutes as rape, is a positive step forward. However, is it as simple as that?
It was impossible to ignore the criticism of the allegations. From the tweet from Pieter Van Vollenhoven, to even just the comments on online news platforms reporting the cases (I'm sure this article will also evoke the same feelings). Questions such as "Surely if this happened, you would have told the police years ago?" or a simple "I hope they aren't lying." While it may seem completely innocent to say that you don't have a problem with it if they aren't lying, just to state, 'I hope they aren't lying', could result in somebody not coming forward out of fear of being criticised. The truth is none of us truly know what happened with these allegations and it's down the court to decide that truth. All we can hope for with this process is that victims are empowered to come forward.
An example of this is with the heavily criticised allegations against Ed Westwick. Actress Kristina Cohen and Former actress Aurelie Wynn, claim that Ed Westwick had sexually assaulted them. Initially, Kristina took to Facebook to share her story and then went to the police to report the allegations. Both have faced extreme backlash for their stories. Claims such as they took too long to report, their stories are too similar, the Facebook post is inappropriate, their careers are failing, they are after money, they are too ugly and Ed is 'attractive' are some of the comments to emerge from this allegation.
Are we at risk of going full-circle?
That is really what makes sexual assault such an incredibly complicated and sensitive topic. In the eyes of the law, you are innocent until proven guilty. As a result, you are then trialed fairly through the court. However, unlike other serious crimes like murder, there isn't always actual physical evidence that the crime took place. Especially so if it is a historical case (such as the current allegations). As a result, it makes the burden of proof hard to distinguish for the court in some cases. So, what should we do? Some would argue that we should provide anonymity to the accused until a trial takes place. This means that if the allegations are falsified (I'll add this is extremely rare), then the individuals social and economic life will not be tarnished. This can provide protection for both the victim and the accused. However, if that were to happen, what would happen to the other genuine cases? If someone comes forward with an allegation against someone, it empowers others to come forward against that same individual. If we were to wait until after trial, then that wouldn't happen, and only half of the real story would immerge.
Another complication is that people deal with sexual assault in different ways. As much as some people like to 'predict' the correct procedure if it were to happen to them, for others this isn't the case. Some people may tell someone right away, and not the police because they don't trust them, others may inform the police and no one else. Some may never tell anyone for 30 years or never tell anyone at all. Some may write it on a social media platform before informing the police, some may do it the other way around. The truth is, we aren't all the same, we don't deal with things in the same way, or maybe even what people would consider the 'correct' manner. When allegations like these arise, people are bombarded with judgement on how that person maybe should have dealt with it better. "It couldn't have been true, else they would have done this…" is a classic assumption. It's also important to remember that unless the accuser sells the story to the press, it's unlikely they will receive any money for the allegation. It isn't worth the risk of not being believed, for compensation which is usually non-existent.
It is important to remember that in these cases we are not the judge or the jury, or the accused or the accuser. People are not innocent, but in some cases someone is not guilty. Not everybody lies. In fact, thankfully, most people don't. We should be encouraging people to speak out and not leave them in the dark as the result of our assumptions. If we remain neutral (or at least try to), then hopefully it will help prevent the movement from going full circle.
*All current allegations are pending investigation.