This article is the introduction to a 5 part series about the shared economy.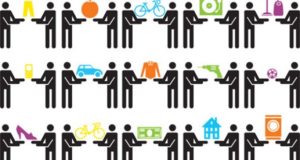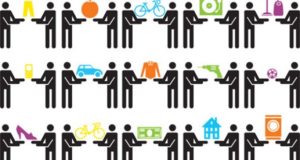 As pensions are losing value, as the recession deepens and as we lose jobs to an ever-increasing global competitive market we lose trust in a banking system that might not be designed to serve us. We lose faith in a political system that might not be working in our best interest. The idea of working hard and thereafter enjoying ones pension starts looking like a naïve fairytale. Look at how an older generation is struggling to maintain it while the recession once again teaches us lessons about the fickle nature of our currency.
It's easy to become pessimistic, to become hardened entrepreneurs: bitching and moaning. 'We have to do everything ourselves!' 'The system is rigged!' 'No one is looking out for us' We compete more fiercely with each other for the available jobs.' I am better.' 'No, I am more qualified.'
With a second parliamentary serving of liberals opening up more industries and the governments retracting influence and control over our economy one can wonder: should politics and their industry lobby twin be the center of these decisions shaping our lives, our daily bread.
And so there is talk of a different model of economics: A reshaping of liberal capitalism that doesn't focus on a 'survival of the fittest' mentality and a 'shortcuts to profit' morally ambiguous trajectory plenty of organizations are on, but an economy that is shaped around our capability to empathize and share our wealth. In these times of economic hardships we become more aware of the worth and value of things. We see the excess and throw away culture from before for what it is. We get tired of the 100 times a day posters, tv, film, billboards, cars, facebook and youtube are addressing us solely based on our marketable boxed identities as consumers.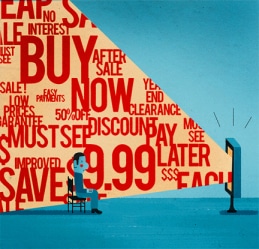 In a further and further individualized society can our economy, instead of tying us down like target audience cattle, help promote a sense of community?
The Shared Economy
The shared economy. Some see it as a magical antidote while others scoff at it. Is it communism 2.0 or is it nonsense? Is it a pleonasm? Or maybe a forefront to something bigger and better?
I personally see the surplus of this concept to start to think differently about wealth distribution and how we can value our lives and happiness. Let's stop trying to keep up with the Joneses. I see it as a way to empower ourselves to participate actively and realize that not all of us need our own car, not everyone needs the same drill in their individual households and not all of us need to compete on an already overly full job-market to get job satisfaction. We don't need a small group of representatives in The Hague to take care of things for us because we can make change ourselves. It's not a hindrance, it's a challenge. We are becoming more innovative! We are not just in it for the money. Innovation and not competition can set us apart. The recession will bring forth an empowered generation!
So therefore in the next couple of posts I will share some tips from the online yonder: For those who are unfamiliar it will contain tips to be able to save or get some cash and for those who are using them to become aware of how their activities are tying in to a bigger whole. Our spending power can be Our ideological and political voice. It's an online exploration of new possibilities and opportunities, of different ways to think about our lives. I will bring them to you in the following categories: Share our Stuff, Share our Work, Share our Knowledge and Share our Homes.