While most of the world suffers through a cold November, Amsterdam already has a VIP who's bringing the Christmas spirit! If you were out and about in Holland today, you might have noticed more than just rain. There was a large number of dark-faced people in Renaissance outfits, and one big guy dressed in red.
No Reindeer Here
While Santa Claus is known to leave the North Pole in a flying sleigh pulled by magic reindeer, his Dutch counterpart does things a little differently. Sinterklaas (whose name also comes from "Saint Nicholas") chooses the warmth of Spain over the icy north, so when he travels to Amsterdam, he skips doing so at a high altitude. Like a true Nederlander, he makes the trip by boat.
The Wet Part of the Parade
This maritime tradition led to me standing in the freezing rain on a draw bridge over the Amstel River this morning. It was crowded with two very distinct types of people: tired parents and excited children. Fortunately, the pre-arranged schedule was very accurate, so I only had to soak up a limited amount of water before I saw Sinterklaas go waving by on a ship bellowing out steam. His trusty friend Zwarte Piet, or Black Pete, was all around, and many other sightseeing boats were following along.
After he floated by, all the onlookers scattered from the bridge as if afraid the sea was about to retake this particular area.
So Who is Zwarte Piet
Sinterklaas has sort of sidekick, and he is both loved and hated by many. He was originally devised in the 1800's to make the scary old man lighten up a bit, but it was sort of like fighting fire with fire. Piet is supposed to be a Moor from Spain, which in turn means he has black skin. But, the fact that he's typically portrayed by white people that have painted faces and bright red lipstick has led many to say that he's not very politically correct in the modern world.
But, there's one major thing to remember about Piet, he's kind of awesome. He's a crazy, playful guy who loves to give out candy.
The Dry Part of the Parade
A few hours after watching a Christmas navy go by, I ventured out in some dry clothes. I lined up in a closed of section of tram tracks in Frederiksplein, and I was again the only person over the age of 8 who wasn't watching out for a kid. After an eternity of little sugar addicts yelling "Piet! Piet? Piet!?!" over and over again, a legion of dark-faced heroes started rollerblading by.
Eventually, this started turning into an elaborate mix of floats stocked with more and more versions of the character, and it was clear that Piet is a little mischievous. His three biggest activities were playing music, handing out pepernoten, kruidnoten, and strooigoed candies to the kids, and stuffing the treats in little hoods of those who aren't paying attention. Oh, and high fives.
Piet is utterly obsessed with giving high fives to people.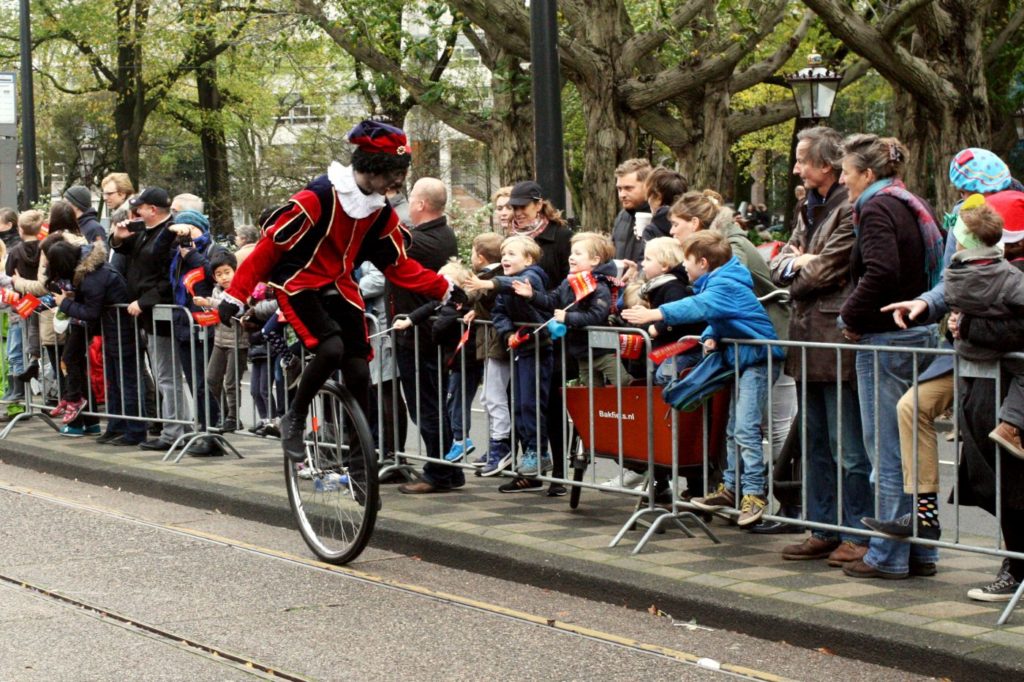 Eventually, the big man himself showed up. Sinterklaas strolled by on a beautiful white horse, waved to a few kids, then wandered off to go meet the mayor.
But, Doesn't St. Nicholas Come in December?
Yes, he does. He'll make his rounds through the Netherlands on Sinterklaasavond, or Sinterklaas Night, on December 5th. Sometimes Sinterklaas uses his magic powers to shoot presents into houses, and other times Zwarte Piet shows up with his famous burlap bag full of goodies. Then, the generous old man hops on his white horse and visits the other little good children of Europe.
So why does Sinterklaas show up in November? That's a good question, I assume he knows how long the lines are at the museums, so he budgets some extra time for his visit.