Snowing in the Netherlands: it's pretty but it also causes some trouble
We were hoping to wake up in a winterwonderland but Winter took its time, however it's now finally happening with snow falling throughout the country. This means that that sledriding can finally take place but also that road users must be careful. The winter weather also causes some nuisance on the railways and at airports. In many places today there is 5 to 10 centimeters of snow, but in a single place that can be up to 15 centimeters.
Gelderland, Overijssel and Drenthe seem to get the most snow: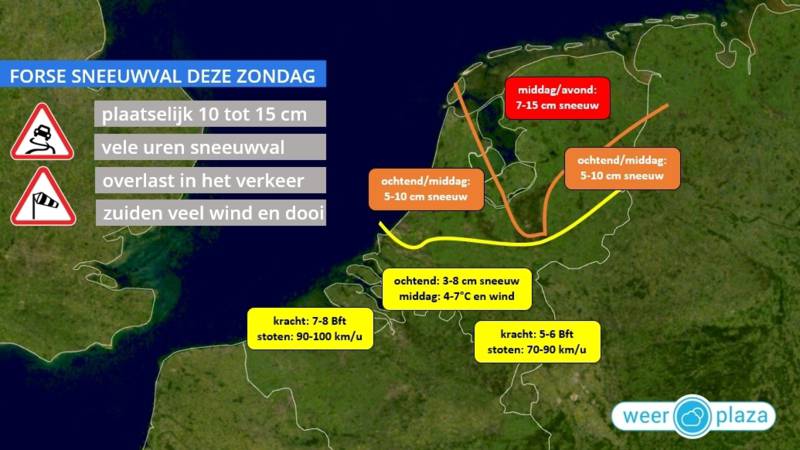 Because the winter weather can lead to slipperiness, the KNMI has issued code orange (yeaah! Orange) for almost the entire country. Only Zeeland and the Wadden-islands are an exception.
The snow leads to heavy delays both on the road, on the track and in the air. The ANWB advises car drivers to be careful and not to go on the road when this is not necessary.
Accidents due to slipperiness
Scrapers and snow blades are ready to keep the roads accessible throughout the country. In Zeeland, where it first started to snow, the first cars started on the road around 10.30 am. Rijkswaterstaat has deployed additional road inspectors to monitor the situation. Motorists must adjust their driving style, says Rijkswaterstaat.
The trains are also on an adjusted schedule because of the snow today. Less trains are used on some routes. This creates space to solve problems faster, but obviously there will be delays.
KLM has canceled 94 return flights to European destinations. Because of the snow, fewer aircraft could land and take off from Schiphol. The affected passengers have been informed by the airline.
The Dutch Football Association KNVB has canceled all amateur competitions for today as a precaution. Matches will not take place in many other sports too. Ajax – PSV still seems to be going on though.
When it's snowing in the Netherlands you better enjoy it quickly!
This afternoon it will thaw in the south and the snow will turn into rain, so better enjoy it while it lasts. In the North there is a greater chance that the snow will remain. It is just above the freezing point and the chance of rain is small. What remains of the snow (you know, that dirt mud) can lead to slipperiness in the Northeast tonight and tomorrow. In a large part of the country there is also a chance of freezing wet road sections.
Pretty picture time
Let's give you now what you came for! Those beautiful shots of the Netherlands when it's snowing. Feel extremely welcome to share, send and tag us so we can share your snowy Holland pictures with the rest of the world.