This article will help you figure out what you need and don't need to bring with you on a long-distance cycle trip in the Netherlands.
The truth is, you definitely don't need to spend lots of money to enjoy your time on a bicycle – it can actually be a very cheap and fun way to get around and see the Netherlands.
The Essentials for a long-distance cycle trip in the Netherlands
A bike!
Perhaps it is stating the obvious but you will need a bicycle to get around! This is an area where you can spend thousands of Euros but the truth is, you definitely don't need to. Some things to bear in mind though, are that you will need a pannier rack, and you may need more gears than usual if you want to cover more distance. This is especially important if you are going to be travelling through terrain that isn't completely flat – obviously, this is a rarity in the Netherlands but some routes do contain hills, such as the dunes which follow the North Sea coastline for hundreds of kilometres, and offer a beautiful landscape too!
Anyway, back to your bike. You can always buy second-hand bikes on Marktplaats, for the real Dutch experience, or another option is to rent a bike if you are planning a trip for a week or two. This can work out cheaper than buying one especially, and means that if by some small chance, you absolutely hate bike touring (unlikely) then you aren't stuck with a bike you won't use again!
Panniers (Bike bags)
This is another item you can spend a little or a lot on. Some fancy panniers can cost as much as €200 per bag. If you will definitely use them again then they can be a worthwhile investment, but generally speaking, you can definitely find cheaper alternatives if you shop around.
In the Netherlands, it is important to get waterproof options if possible (more on this later), and depending on how long you will be going for, you may need bigger sizes. Larger bike shops should have a selection, or you can try online. Bike rental options may also include panniers if you don't want to buy them yourself.
Repair stuff: Spares and tools
It is a good idea to bring a spare inner tube that fits your bicycle – check the sizing before you buy and if you're not sure, ask! Most staff in bike shops will be happy to help. A puncture repair kit is also useful for those small holes, to save you changing the whole tube.
It is also a good idea to bring a pump to pump up your tires, particularly if you are carrying a lot of weight from your bags, and of course, this will be necessary if you have to replace an inner tube too. Compared to other countries you are probably less likely to get a flat tire in the Netherlands, as most of the cycle paths are separate from the roads and therefore less likely to get covered in broken glass. That being said, you can never be too careful!
The Netherlands is great for long-distance cycling because, ironically, you're never really that long a distance from the nearest town. Paired with the fact that pretty much everyone cycles here, you're probably not going to be too far from a bicycle shop either, meaning that if you do get a flat tire and don't know how to fix it, you should be quite close to someone who does. You will usually have to pay for this service though, so if you want to learn how to do it yourself, a class can be a wise investment before you go! Or perhaps you have a friend who can show you a few things too 😉
Maps
Although there are usually signs around that show local maps, with handy numbers on certain routes – it doesn't hurt to have a map as backup. There are a few options for this, but the best ones I have found are in this guide, containing 22 maps of the LF routes network. If you want to cover more than one route then these may work out cheaper than buying the individual maps. They are also a handy size, and, most importantly, they are waterproof, which leads me to the next essential item in your pannier bags…
Waterproofs
It's a fact: it rains in the Netherlands. A lot. There's a reason that a well-known Dutch saying compares the precipitation to 'steel pipes'!
Obviously, seasons affect rainfall but generally speaking, you are probably going to need your waterproofs at some point. Waterproof jackets are a must, and you may even want waterproof trousers too, depending on how long you are going for and how warm it will be. I did a week-long trip in the summer without waterproof trousers, and fortunately, we got enough sun to dry out my shoes and cycling shorts following the (torrential) rain. It really can change fast though, so it might be worth investing in some (ever-so-sexy) waterproof trousers, and maybe some shoe covers too if you don't want to bring two pairs.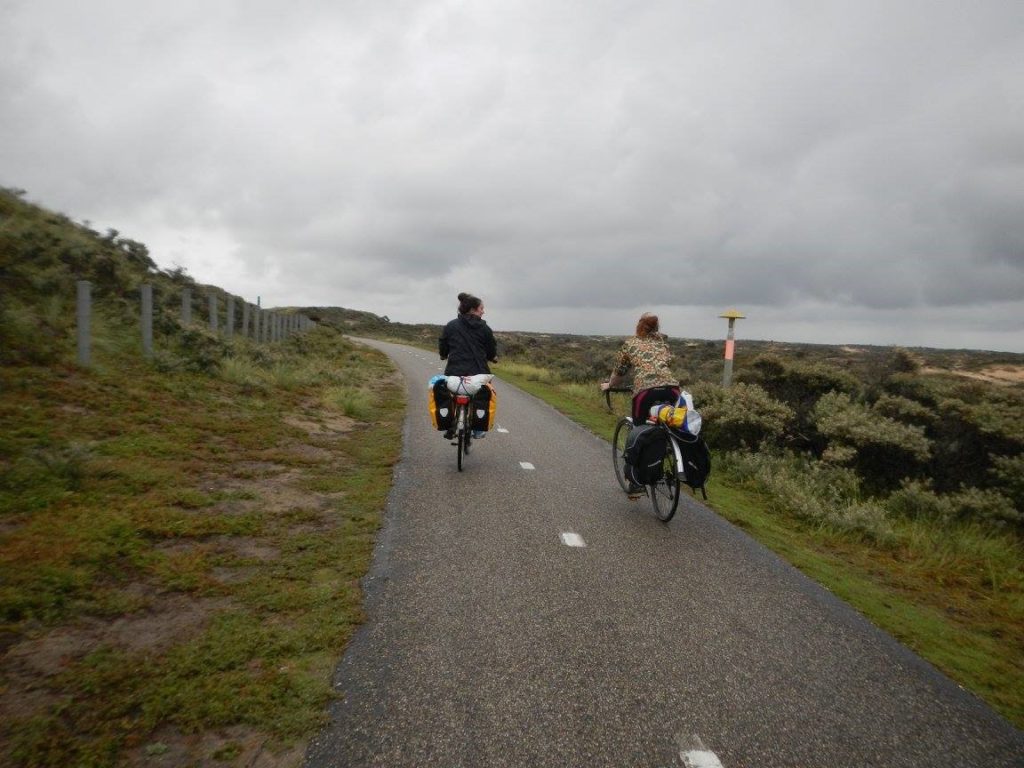 Warm Clothes
Once you get off your bike, you will be amazed at how quickly you can cool down. Particularly important if you are camping, remember to bring a hat, gloves, some warm socks and a thick jumper that you have kept dry for the evenings (even in the summer!)
Lunchbox
A plastic lunchbox or Tupperware box is really useful for storing bits and pieces, and for keeping fruit and soft foods fresh and firm while you're on the road.
What NOT to bring on a long-distance cycle trip in the Netherlands
Too many gadgets
It is nice to snap a few photos of your trip, and a smartphone can be useful for navigation sometimes, but generally speaking, I find that cycling trips are a good excuse to get offline and experience the world without screens for a few days.
Obviously everyone is different and if you feel like you absolutely need to bring more gadgets then by all means do. Personally, though I would not recommend bringing too many as they can add extra stress and the risk of being stolen or damaged by water.
Your best clothes
Again, this might be stating the obvious but anything that is formal wear, clubwear, or even just plain white tops might be better left at home! (Unless you love that sweat marked, rugged look, in which case, go for it!)
Too many expectations
While it might be a good idea to plan a route, don't be too overly optimistic, especially if this is your first trip. The Netherlands is very flat which can mean it is easier to cover more kilometres, but then again, it can also be very windy. When the wind is in your favour, life is great, but when it's against you… well, let's just say it might slow you down a bit.
Allow yourself time to relax between big rides, and if you only cover 50km, or even 20 or 10km a day, that's OK! You're supposed to be enjoying yourself, not beating yourself up for not covering all the miles you hoped to. And if you run out of time, you can always take the train provided you pay for your bike (about €6), and travel outside of peak hours.
Above all, enjoy yourself, and the feeling of the wind in your hair, the sounds of the landscape around you, and the friends you might meet along the way!
What are your favourite places in the Netherlands you biked long distance? Let us know in the comments!
Feature Image: Holly Vandyke/Supplied