Maastricht is a beautiful city in the most southern parts of the Netherlands. It differs in many aspects from the Western part of the Netherlands that most of you know: there are hills, the food is 'bourgondisch', the accent is vastly different than 'Hollands' and most importantly: Maastricht is actually more than an hour away from the Randstad. Expecting that you want to make a weekend- or day trip worth your while and want to get the most from it when visiting; here's the lowdown on what to do in Maastricht!
Sights:
Get your bearings in the city and do what you always do first when city tripping, see the highlights. Maastricht is actually jam packed with charming sights and scenery, it can claim to be one of the older and more classical cities of the Netherlands. These are some you don't want to miss:
#Sint Servaasbridge
Said to be the oldest bridge in the Netherlands the Sint Servaasbridge is classy as hell as well. It spans the Meusse river and is more or less the unofficial center of the town.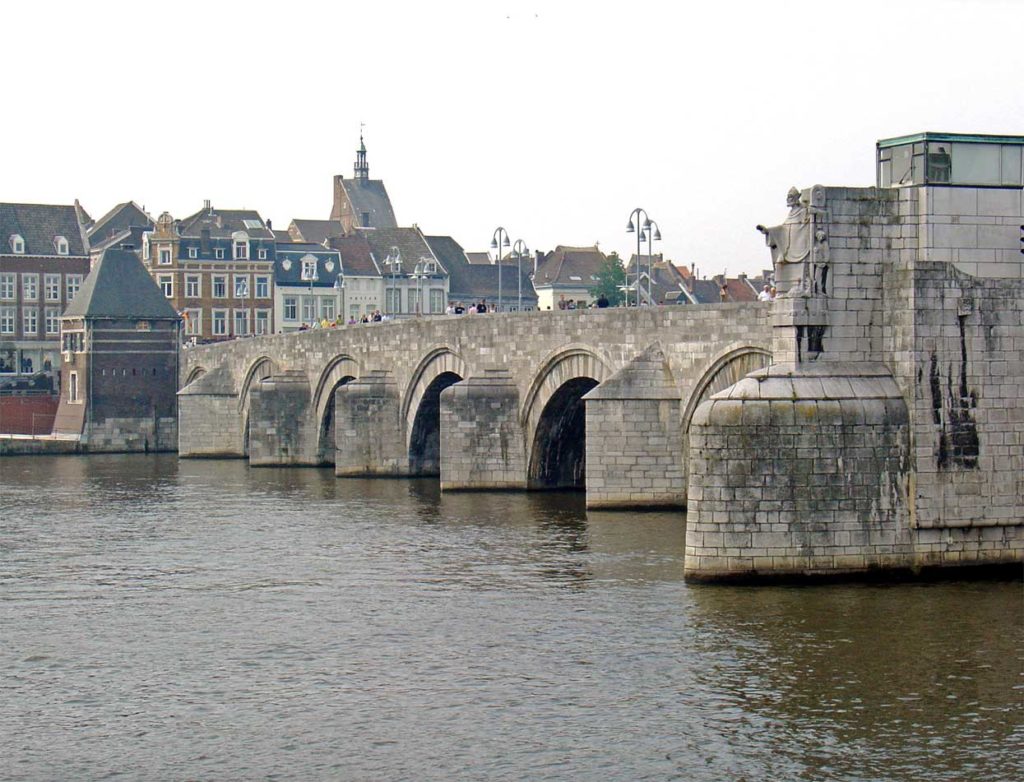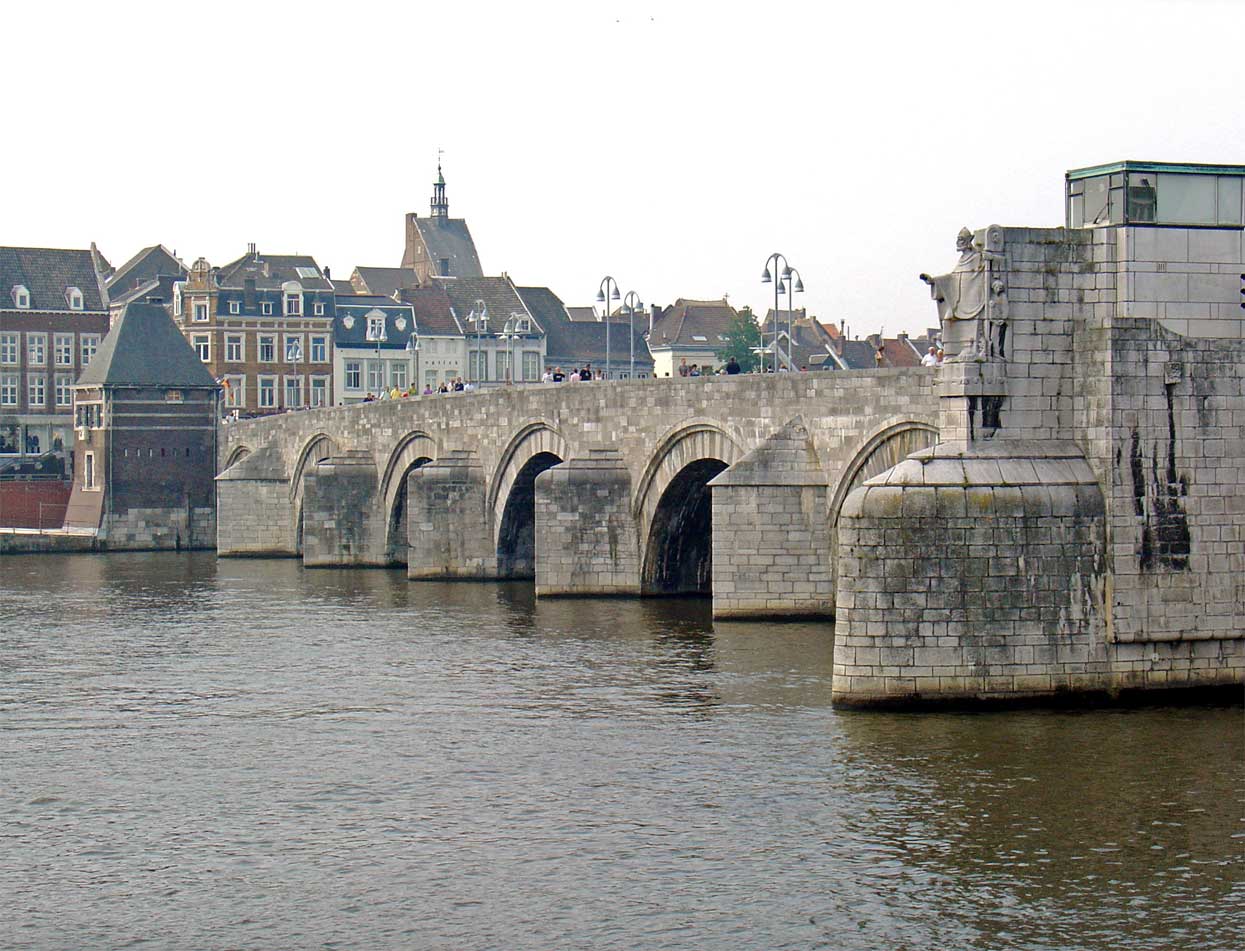 #Vrijthof
Or perhaps this is the center of Maastricht? The Vrijthof square is grand, classic, has a few churches located on it and some terraces to enjoy a well-deserved beer. All in all making the Vrijthof a must visit spot.
#Wijck
Right across the Sint Servaas bridge is the up- and coming neighboorhood Wyck. You can find everything there: picturesque sights and cool industrial buildings, the whole area is littered with delightful art shops, vintage boutiques and neat little restaurants.
Where to sleep in Maastricht
Right at the Vrijthof square is this gem of a boutique hotel. Combining the best of Maastricht's views and the deliciousness that is Dutch design is the Haas op het Vrijthof guesthouse. Out of all the places to sleep in Maastricht why would you want to go for this one?
First off, the location can't be topped – nestled away on the Vrijthof it is not only the perfect spot to start exploring Maastricht but it also ensures a stay in this city you'll never forget.
Private wine cellar and breakfast served at your room!
For such a small place, the 'Haas at the Vrijthof' boasts some incredibly luxurious services such as the breakfast, served to your room without extra charge – because no-one likes getting dressed before eating. The private wine cellar for each room was perfect, because no-one likes city tripping without some wine nipping (sorry for that ryhme).
(Dutch) Design everywhere
The 'Haas op het Vrijthof' is run by a creative young couple and it shows! The whole place is lit with beautiful mid-century stuff, and there's certainly no shortness of Dutch design furniture in the guesthouse.
It all comes together wonderfully in the superior suite:
Address: Vrijthof 20A, Maastricht
Neighbourhood: Maastricht city centre
Website: haasophetvrijthof.nl
Sights, sleeping – what's missing?
FOOD
Both the city centre and Wyck have a great variety of restaurants to visit. The city has abundantly more to offer since I was there last time more than 5 years ago. Besides the special accent, Limburg can also claim a more prominent role in the cuisine industry than the rest of the Netherlands, so prepare for some un-Dutchlike and delicious food. We went for the local specialities, having already been treated to some typical 'vlaai' we threw ourselves at the shrimp-croquettes and 'Zoervleisch'.
Cafe Sjiek
THE place to go for a quintessential Maastricht dish is Cafe Sjiek. They've got a lovely terrace right next to the 'Stadspark'  and the Pesthuis and Helpoort (Plaguehouse and Hell's gate – but don't let the name fool you – great looking buildings!). Cafe Sjiek has plenty of good seasonal food on the menu for decent prices but we came here for one thing; the 'Zoervleisch'. This hearty stew is perfect for when the temperatures drop a bit. This 'Sourmeat' isn't a winner in the looks-department but the mixture of meat, beer, apple syrup (I think) and the classic Dutch ontbijtkoek make this surprising dish a treat everybody has to experience once when they're in Maastricht.
Classic pub style dining:
Make sure to arrive on time for lunch or dinner as they don't take any reservations and it's first come first serve.
Address: Sint Pieterstraat 13, Maastricht
Neighbourhood: Maastricht city centre, next to the citypark/Jekerkwartier
Website: cafesjiek.nl 
Looking for something else to eat? No worries, Maastricht has come a long way the past few years and boasts a ton of little hip places to eat. I found that the best of them were located in Wijck.
Hidden Gems of Maastricht
Places to see, great hotels that you don't want to leave and good food. What more is there to want? Well, in case you've got a couple of hours to spare, here are some hidden gems of Maastricht.
The Underground Roman Ruins
The Derlon Hotel at Onze Lieve Vrouweplein 6 is a  restaurant and design hotel and has a secret in the basement. Descend down the stairs into their basement (I guess they've got people walking up and down there the whole day) to discover a part of a third-century Roman well and street.
Nice church; amazing bookstore
Need a book? The beautiful Boekhandel Dominicanen fills a 700-year-old Gothic church just north of Grote Staat. Shelves spill into every alcove and an industrial steel structure fills the nave with two more floors of fiction. Besides being a great attraction on its own they've also got a decent amount of English-language books om sale.
Okay, maybe a not-so-hidden-gem (at 1.39):

Maastricht's industrial past
Wijck has really begun to shine over the last couple of years and Maastricht has some beautiful buildings from the Roman and medieval era's hidden around every corner. But if you look closely enough, Maastricht also has some beautiful architecture from the bygone industrial century. Being a region which mostly made its fortunes from the mining industry, Maastricht (and the southern part of Limburg for that matter) is scattered with awesome abandoned buildings.
That's it for this article, but certainly not for Maastricht. Did we miss anything? Should there be a part 2? And is Zoervleesj really tasty? Let us know what else to do in Maastricht in the comments!