I have recently attended one of those Dutch naturalisation ceremonies, where people who are not Dutch become Dutch by virtue of pronouncing (part of) the oath and singing the national anthem – the Wilhelmus (the first and the sixth stanza). Most of the present naturalisandi were non-white (or, as we arrogantly call them, people of colour). This means that, at a certain point, I was in a room with few white and many non-white people singing first something about being called Wilhelmus, then claiming that they were all princes of Orange, then stating that they were of German blood, but would always be loyal to the king of Spain, and concluding by chatting with God a bit.
What happened there could be summarised in the following terms:
(1) All the women had to state that they were men.
(2) All the men had to state that they were someone who they were not.
(3) We all had to state that we were of German blood. Saying that one is of German blood is something most Germans would avoid saying. German blood is something that people associate with the Blut und Boden ideology. It is difficult to decide whether singing this passage is more absurd for us who were white (and could possibly have some German blood to sing about) or for the non-whites.
(4) We all had to say that we were loyal to the authorities of another country.
(5) We all had to ask God to enable us to remain pious.
Based on this, one may claim that the Dutch state is actively promoting and imposing (1) female-to-male transsexualism, (2) identity theft, (3) claiming German ancestry, (4) Spanish national interests and (5) some unspecified monotheist religion.
Note that this was all part of the ceremony, also in the sense that if any naturalisandus refused to utter any of these obvious lies, (s)he might have been denied the Dutch nationality.
Does this make us a nation of pathological liars and should the United Nations send a committee of schizophrenia specialist to teach us some mental health? If we follow the logic of the discussion on the Zwarte Piet, the answer is: absolutely!
Zwarte Piet = Slavery?
The reason why no one follows this logic when it comes to the national anthem is that we know that the potential of the Wilhelmus for providing any kind of real-life justification for, for instance, claiming that all Dutch people are called Wilhelmus, or that we are all entitled to a German passport or an excuse for working for the Centro Nacional de Inteligencia is zero. However, the story of a saint who comes from Spain on a steamboat for one day with a ridiculously dressed servant who has a face painted black or brown and with a just as obligatory feather in his hat somehow seems to be a direct throwback to slavery. As a person who lives on Dutch classes, I'm a professional overinterpreter of everything Dutch, but I somehow keep failing to get this link.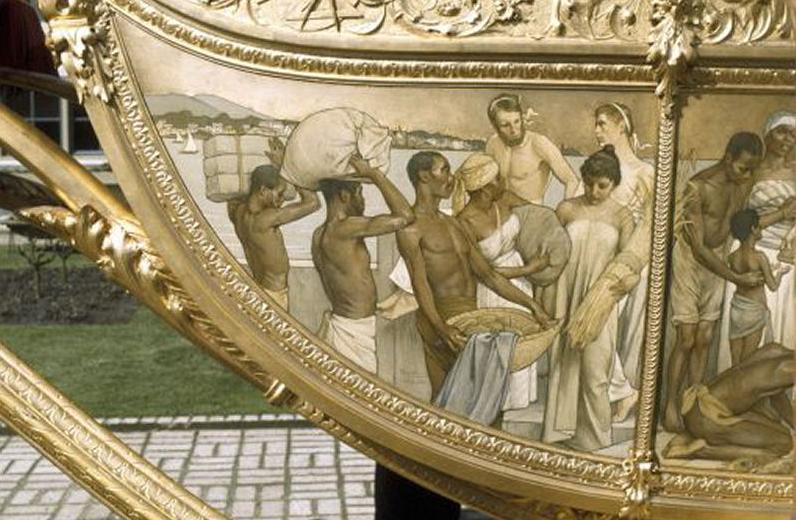 Don't get me wrong, I do believe that every tradition is about (re)production of memes, typically full of ideology and troubling history, and that we should be mindful of what memes we are reproducing and what relations we are making "sound logical". But exactly because this mindfulness is so important, we shouldn't waste it on far-fetched non-discussions.
So while it is entirely legitimate to consider whether the story of Cinderella is sexist, whether most telenovelas are classist (in the inverted classist way, since rich people are generally evil) or whether Taped is xenophobic, I think that no comparable case can be made for the Zwarte Piet tradition being racist. Why? Because I have known girls identifying with Cinderella and Rosa Salvaje and people identifying with those poor Dutch tourists in some lawless non-western country, but I cannot imagine anyone, young or old, who can relate to being or becoming Sinterklaas or the Zwarte Piet or anyone who would be interested in reproducing their relationship (the word knecht "servant" is now only used for the Zwarte Piet-to-Sinterklaas relationship in the language the kids speak). Sinterklaas and his potentially racially marked helper are creatures whose existences are as incomparable to ours as that of that strange German-blooded prince from the 16th century whose words we keep repeating, just as mindlessly.
The prohibition vs. maintenance discussion
This is not to say that either Zwarte Piet & Sinterklaas or the Wilhelmus are to be considered intangible or sacred in any way. It is totally legitimate to approach them creatively and try to compete/question/subvert them as standard cultural patterns. But this should be done in way that is clearly distinct from the normative prohibitory arrogance which now dominates the "against side" in the Zwarte Piet discussion. Adding the regenboogpieten (those Petes in all the colours of the rainbow) to the offer is totally legitimate and, if you ask me, also sufficient for showing that black is just one of the colours one can paint ones face with. Forbidding the Zwarte Piet, on the other hand, amounts to turning a non-discussion into a conflict (or, as Bas Heijne brilliantly puts it here, turning a problem into a scandal). Verene Shepherd seems not to be the only person who believes that the Zwarte Piet should be forbidden: the only Sinterklaas party I've been invited to this year, organised by a German colleague, prohibits Zwarte Pieten or any other pieten which can be interpreted racially, and allows only the remaining regenboogpieten because "we don't want any racism at the party". Quite some Dutch colleagues are planning to not show up.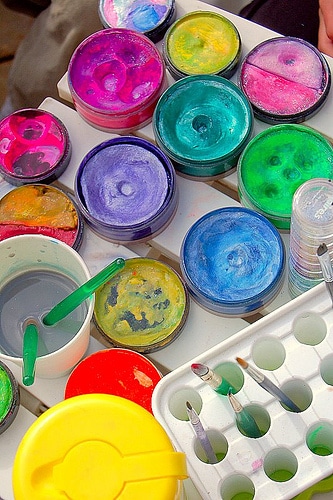 This creation of "non-racist" enclaves seems to me to be missing the point badly. The prohibition discussion is attacking an extinct form of racism and, in this sense, it is beating a dead horse: virtually no one believes it is OK or that it was ever OK to own a black person, put them in chains and make them do all kinds of chores for you for free (which, again, is not something the kids can infer directly from the the story of the Zwarte Piet anyway). We all agree that slavery was bad, we just fail to agree whether the Zwarte Piet tradition can be interpreted as somehow symbolising it or not. In this sense, in addition to elaborating on an issue of interpretation (which is always elaborating on a non-issue), the prohibition discussion is creating the illusion that slavery is over and we can now relax and erase the stains it left on our folklore. And so, as a result, while keeping talking about slavery, we somehow fail to say anything at all about today's slavery, the one that is not celebrated, but just as strong, the one that is all about people invisible to us, involved in prostitution, making our clothes, growing our coffee, bananas and rice, restricted to spaces far away from where we live and raise our kids. In the prohibition discussion, the question somehow becomes not what kind of world we want to live in, but how perfectly clean we want to show it to our kids.
The Zwarte Piet is a way of staying with the trouble
The question should then not be whether we should forbid the Zwarte Piet tradition and pretend that it has never existed or continue celebrating it as fiercely, the question should be what we, the adults, ought to do with this past that seems to be oozing out of pretty much every tradition. Everything that involves any kind of past will have some bitter aftertaste and the question should always be what we do with this past that has been entrusted to us.
Let's face it, our history is a history of great white men, our language is still the one that was used by our racist, sexist ancestors and our country has been involved in bad and unfair wars, long before the Geneva conventions were even an idea. In this sense, the history of the Zwarte Piet tradition seems to me like a very good place to maintain exactly this feeling of responsibility for what we are passing on to the ones who will stay here after us, accompanied by just the right amount of discomfort because our world simply has not been fair and our culture does not have a past we can only be proud of. I think it the Zwarte Piet indeed has some aspects which are capable of reminding us, the adults, of slavery without reproducing it in any way. Slavery is indeed built into the streets we walk in, the food we eat and the language we speak and washing it off by prohibitions and UN commissions simply won't do. The Zwarte Piet tradition is, in this sense, a stylised cultural form that may help us achieve what the feminist philosopher Donna Haraway calls staying with the trouble. For us today the potential racial aspect of the Zwarte Piet is, just like that piety and Germanness of Wilhelmus, a beautiful scar which reminds us that we have been through something. I believe we should learn how to carry that scar rather than having it removed in order to become even faker and more self-righteous.