The week begins, as it tends to do in Dutch autumn, with water.
Particularly the west of the Netherlands has been hard hit by the heavy rain that hasn't stopped (and doesn't particularly look like it will any time soon). The provinces of Zeeland, South-Holland and Utrecht have seen up to 75 mm of rain, which is simply too much, according to the Royal Netherlands Meteorological Institute (KNMI). This is not normal, even for the Dutch. According to reports, generally in October the overall rainfall reaches 80 mm. Perhaps it is time for the Randstad to move to Groningen, where it remained mostly dry. Apparently all the rain they had was given on loan directly over Amersfoort Zoo, which had to close its doors because the water was too high to allow visitors. The weather has already caused accidents this morning, particularly around the busiest road hubs.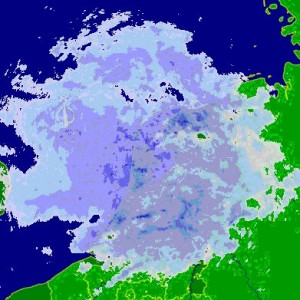 Of course not all Dutch men and women will be able to enjoy the public (if unwanted) pools right outside their homes. The United Nations has decided that the Dutch Sigrid Kaag will lead the disarmament mission in Syria, in collaboration with the Organization for the Prohibition of Chemical Weapons (OPCW), housed in the Hague and the recent winner of a Nobel Peace prize. Rumors went about that the UN Secretary General Ban-Ki Moon would lead the mission but last Thursday Prime Minister Rutte offered money, logistical help and people to the mission, and the UN took him at his word.
On a more friendly-ish note (is that a word? It is now!), today the Dutch celebrated their long-standing, though somewhat strained diplomatic relationships with the Russians by showering them with free flower bulbs: 500,00 to be precise. Secretary of state Dijksma presented this gift of tulips, hyacinth, saffron crocus, lilies and daffodils to the Russians, in Saint Petersburg. No word if the Russians responded by giving the Dutch half a million gallons of Vodka, but we always hope.