Hello there, today is a day to remember and I, Frank, am your host for the Dutchiest of news.
Please take a moment to ask yourself what legal punishment would be fitting for trying to cause chaos by threatening to commit a school shooting. Well, according to the Dutch, 150 hours of community service and one month in jail will do just nicely, thank you very much. Today, our public prosecution service demanded this punishment for a student who caused a stir on April 20th this year by posting a message on the infamous forum 4Chan wherein he stated that he would cause a massacre at an unspecified school in the city of Leiden. April 20 is a day that is notorious for being the date of the Columbine High School shooting of 1999, which itself was in commemoration of Adolph Hitler's birthday. We reported of this horrible event on that very day. In fact, our Captain and Founder of DutchReview, Abuzer van Leeuwen, risked his very life to storm the city of Leiden and behold the madness with his own eyes.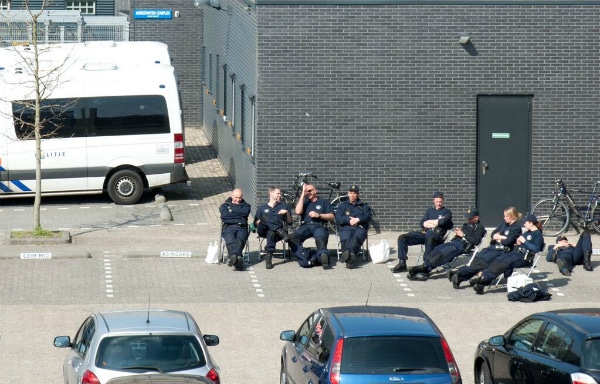 Needless to say, the city was never the same again.
Yesterday, I already spoke of the forthcoming Dutch military mission to Mali. Restating the fact that few people here are looking forward to this little exercise where close to 400 soldiers will be send to fight and perhaps even die in a far away desert, we really have to ask ourselves if our army is in shape for this expedition. The state of our national defense force has long since been a matter of debate, which growing government funding cuts leaving many soldiers more and more frustrated. These cuts would have forced many people out of the military, if only there weren't already leaving on their own volition in alarming numbers. On top of that, the military personnel in general does not have faith in our Minister of Defense (Jeanine Hennis-Plasschaert), mainly due to her lacking both military experience and a penis. And it you're looking for further signs that maybe we should just stay home: yesterday, the pilot of a F-16 fighter jet screwed up during an exercise over the Dutch island of Vlieland and fired his board cannon at a command tower that housed three people. None were wounded, but the material damage was significant. Oddly enough, the tower had previously been taken under accidental fire by a German Tornado jet in 2001 and by a Danish F-16 in 1992, making it the only piece of Dutch territory to have been under unintended military attacks by three different nations. Thus we have no other option than to assume that this island is cursed.
That's it for today. Now on to the weather report: