Greetings, lovers of Dutchness. It is I, Frank, with your daily dose of Dutch news.
Russia is about to make up its mind about the infamous 'Arctic 30', the Greenpeace activists who have been in custody after being arrested during a protest at sea. Several of the activists have already been released on bail, but others, such as the two Dutch crew members, are still awaiting their verdict, which will be passed tomorrow.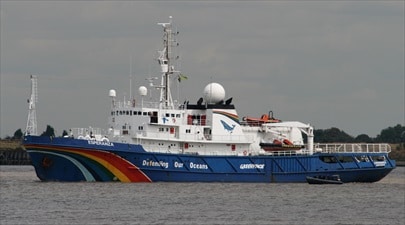 Meanwhile, justice is still being served in The Netherlands, as the 'Internet though guy' who threatened to commit a massacre at an unspecified school in Leiden got served with a stunning 150 hours of community service. A message on the infamous 4chan forum caused concern in Leiden and as a result, many schools were closed for the day.
In other news, here's a good reason why anyone over forty should be kept away from anything with a keyboard: a call for charity (*cough* publicity stunt *cough*) hilariously went overboard today. The kinda-of-still famous Dutch singer Trijntje Oosterhuis tweeted a promise to donate one euro to the victims of the Haiyan typhoon for every FaceBook like she received. Not understanding how eager people are to make a stand for a good cause when all that stands between them and sainthood is a click on the mouse, Trijntje quickly found herself staring at roughly a € 250,000 pledge. I guess someone has not learned her lesson from Project X: Internet trends are unpredictable and as soon as things start to snowball, there's no stopping it. Well, except when you make the obvious excuse that a quarter of a million euros is a bit too much for your B-level stardom.
So much for that wackiness. Now on to the weather report: