And so Holland yet again becomes the laughing stock of the international news. This time the honor goes to Gordon for making clearly racist comments at an Asian Opera singer.
After the Zwarte Piet debacle, and now with this, I think we can all safely agree that the Netherlands has issues. We have issues with introspection and we have issues with acknowledging racism and discrimination. A decade of 'Dutch Tolerance' in the nineties made us delirious in thinking we have become invulnerable to racism or discrimination. We are not! Of course racism and discrimination happen in gradations and of course a lot of countries have worse examples, but wake the fuck up! Ignoring that these issues occur in Holland just makes you look stupid and ignorant. Racism doesn't evaporate once it crosses state lines.
Just a grain of empathy can actually go a long way. Let me give a few examples to make visible the problem our small country has. Mind you, these are just a few! :-P, I'm not even going to start about the more obvious ones.
Case #1: Asian Culture
Our dear Gordon is not the only one making racism funny. We have a pretty interesting history of making fun of Asians. Maybe Gordon was inspired by these people.
http://www.fail.nl/videos/anita_en_ed_een_chinees
That's just the tip of iceberg. The West in general has a rich tradition as making Asians into nerds, dragon ladies and dictators.
Let's talk Ushi. I will admit I have found Ushi of Ushi & van Dijk funny. I do believe Wendy is a talented presenter and a good actrice. I like her wacky antics in the show and her out there mentality. And I don't think she means this to be racist. But let's call a cow a cow, shall we. Ushi is racist. She makes fun of Asian culture, of Asian accents and caricaturizes Japanese as a crazy and an oversexualized people. Is there really no way that Ushi can be crazy without bashing a culture?
I'm not advocating that minorities and humor don't mix. But there's a lot of ways of doing that without resorting to blatant racism. And even if the humor involves racism then let's still be able to talk about it. But unfortunately our last debate showed that we have trouble doing so.
Case #2: Zwarte Piet
Plenty of information you can find over here and here about Zwarte Piet. I don't feel the need to discuss Zwarte Piet anymore, I'm done for this year.  But I do like to point out some of the responses people have received during this discussion.
Please watch that film and tell me racism does not exist in Holland. Please delight me with your superior vision on things.
And for the last time: Just because you don't think something is racist and because you don't think there is racist intent does not make it so. If in the States everyone would've agreed over the existence of racism back in the day you think Martin Luther King would have felt the need to give his speech? Racism is per definition NOT a shared experience. If everyone would agree over racism, it wouldn't be racism anymore. So stop being such a narcissistic little brat thinking your opinion about racism is the only valid one. It might come as a shock but having a vagina, a darker skintone,  a different religion, sexuality or ethnicity influences how people treat you. It's not about one trumping the other, it's about the ability to listen to each other and see how our experiences differ.
Let's not try to defend our own position too much without listening. It makes us look laughable and a little slow.
Case #3: Jewish Guilt be gone!
Remember the second world war when more then over hundred thousand jews got deported from our country because we had such a splendidly intact administration? Well it's getting pretty hard to conjure those memories up. There is this theatre production: Soldier of Orange. It's a really cool play that sets the audience on a platform that moves around it's own axis. The play takes place around the platform. But the story…..ahh yes the story. The story is about this Dutch Fraternity being torn apart by the war. It focuses on the hero who fights the Germans, helps the Jews, escapes to England and goes back to confront his enemies.
Let's get things straight (and that's coming from a gay-guy): this is a romantic fairy-tale trying to make us seem brave and cool about our part in the war.  But this is not how a large majority of Holland was run in these times. More than a 100.000 jews got deported. If all of us were truly that heroic that would not have happened.
And yet this theatre production is in it's third year. We love it. We gobble it up. This is guilt washing. We are cleansing our past from any guilt that might be still there for letting the Germans take over and let them deport more than 100.000 of our own citizens.
I'm not even going to talk Zwartboek here. There is a interesting red thread that ties Zwartboek together with Soldier of Orange. We are trying to wash away our guilt. We were courageous, we were rebellious! Of course we were. And now I would like you to put your straightjacket back on before you hurt yourself.
Dutch Don't Do introspection
Underneath is a fascinating phenomenon. All of this reveals our lack of Dutch introspection. Have we become such an insecure nation that can't take criticism?
A perfect example comes from commerce, where a commercial from a fast food chain was shot for the Dutch Market
As you can see this is English spoken version. They are talking about going Dutch. This created an uproar. People were offended. Why should Americans be able to talk to us like this? This is false! We don't do that. How dare they portray us like this? This is offensive!
But then it was revealed it was actually produced in Holland. The same commercial was also shot in Dutch. They fooled us. This commercial shows how incredibly short sighted we can be. Nobody can say bad things about our culture without being made as an outsider. And apparently being an outsider makes everything you say nonsense.
This pathetic and Xenophobic way of dealing with debates like the ones mentioned above is ridonculous. So what? Even if they are an outsider(which they usually aren't), can't they have an opinion? They can't show us our own shortcomings? We are so much better? We can dish it, but can't take it? They are less human, less entitled to an opinion? Dismissing someone's opinion based on whether they are Dutch or not makes you look like a fool. It's not an argument nor will it ever become one.
How would we feel if the Asians made us look like cranky cheap skating cheese makers who are stoned all the time? What if the Africans make us look like greedy and angry slave traders with dollar signs in our eyes? What if the Middle east made us look like sleazy prostitutes trying to euthanize each other? Would we be able to laugh about it?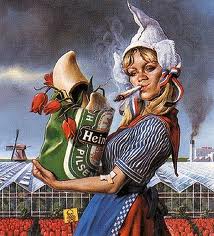 Well, would we?