Here deciding for you what is relevant news today and what is not, this is Martijn with your daily Dutch of the 25th of October. First off…
Zwarte Pi….
Hell to the No. It's been fun. But we all need a break from this media event called the 'zwarte Piet' discussion. Everyone needs to replenish their energy and get their death threat letters alphabetized before we continue.
Crazy Cat Lady lives!
The police has confiscated not 1, or 2, but a whopping 40 cats from a woman living in Zaandam. Neighbours were complaining about the foul stench. Now devastated by her loss, the woman has adopted a shopping cart and is considering switching her profession to crazy bag lady.
The police have their hands full and are making a special offer just for you!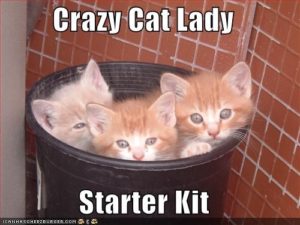 Gender the 13th
Bringing you yet another list, it appears that the gender gap is slowly disappearing on a global scale according to a report from the World Economic Forum. Holland comes in at (drumroll please)
Number 13. D'oh! And that on a Friday!
But Holland won't just sit there and take this grave insult. We are retaliating with Magazine Opzij releasing a list of the most powerful women in Holland to prove that we have at least 100 empowered women. Hahahaha (maniacal laugh of victory)! That will show the world. We have 100 of 'em! 100! Take that Iceland!
Bitcoins Bonanza
Bitcoin has really been taking off since it's conception in 2009. The world seems to be embracing the new global currency as John Nelson has now visualized for us!
Holland is shown to also be quite smitten with Bitcoin.  Between five and ten percent of the population is now getting in on the Bitcoin action. With companies like the Chinese Baidu opening up to the Bitcoin currency it will only be a matter of time before we'll be using our Euro's to light a bonfire!
Until such time enjoy this ridiculous audiovisual experience where you can see all transactions pass by your screen visualised as bubbles (sound effects included). Rest assured that whenever a transaction passes the 1000 mark (1 bitcoin is about 190 Dollars) a hitman gets his or her payday or a druglord will do a happy dance!
IRSOS
Speaking of revenue the government will never cash in on, the Dutch IRS (De Belastingdienst) is apparently being played. RTL News found out that about 237 million Euro's in government premiums and subsidies will not be finding it's way home to the Belastingdienst. Another 200 Million has also yet to be reclaimed. It turns out rent subsidies have got a lot to do with the shortage. The Belastingdienst gives out rent subsidies up front and only reclaims rent subsidies at the end of the fiscal year (post facto) which makes it vulnerable to fraud. Urban legends of Bulgarians coming to Holland with the explicit goal of scamming the Belastingdienst might turn out to be a realistic concern. It seems that regarding scams the Belastingdienst's slogan is actually quite accurate:

And for the weather..