This week something symbolic (or stereotyping, the jury is still out on that one) for the Netherlands happened. In a tragic case of hit-and-run, where a 13 year old boy lost his life, the always so decent court was turned into something less civil. Since statistics indicate that 149% of the population likes violent videos on the internet, I'll let you have your violent visual drug first:

Yeah, nothing shocking when it comes to online violence. But still interesting due to a number of reasons.
Soft justice department, even softer judges
Fighting breaks out after the Dutch Justice department demands 240 hours of community service. The family of the deceased kid just loses it then as you can see in the video above (also, the Dutch curse a lot with cancer). In case you're an American, yes that is hours – not months in prison. Oh, and in case your wondering, judges usually pass lower sentences around than the justice departments demands. Of course, lengthier punishments are only worsening crime rates, but does that apply to this case as well? Does it matter that the defendant is Bulgarian? Also, the sentencing system is also around to make sure that society feels like justice is being done. 240 hours of work doesn't seem like justice to many.
For all around the world honing in on this topic, how's sentencing in your country when it involves a fatal hit-and-run? How's that in your country when compared to Dutch sentencing?
Vigilantism and street justice!
At least Zimmerman's sentence provoked worldwide disapproval and US riots. In the Netherlands, reactions with regard to this video were sometimes: 'Now the family will get locked up and this murderer gets off free' and 'Look at this white-thrash fighting in court!'. With court sentences this low, people are bound to take matters in their own hands. Or should we all get civilized and let the system do it's work?
How's street justice in your country? Vigilantes roaming the roads?
Ah, smoking it up in a car.
In a clusterfuck of cliches, the Bulgarian on trial also wasn't that good of a guy to begin with, breaking speeding limits continually. And also getting snapshotted while smoking weed in a car. Well hey, the system is finally getting this one right, as foreign people are banned – more or less – from using softdrugs in coffeeshops soon. Boy, that plan sounds waterproof.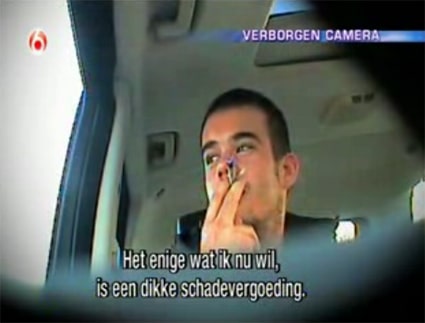 The verdict
We here at DutchReview like to think of ourselves as the people's court. So you tell us what to think! What are experiences in your country with lower sentencing and vigilantism? Should we close off the EU for Bulgarians and Romanians? Are all judges liberal pot smokers? Did you only read this article because you wanted to see a violent YouTube movie? Tell us internet!
BONUSPICTURE
The Dutch people were once pretty big in Street Justice, as you can see in this painting by Pieter Frits. It shows the four stages of the murder of Johan de Witt and his brother in the international city of Peace: The Hague. Poor Johan was the Stadhouder of the Netherlands and opposed our current reigning family 'The House of Orange'.