This year is big on elections as you might know. Besides the Frenchies and Germans, Turkey is also going to the polling booths in April this year to vote for 'same amount of Erdogan and throw me in jail (NO)' or 'More Erdogan for longer (YES)'. And because of the fruits of this multicultural society (which also brought you yours truly) Erdogan and his cronies are also bringing their push for a full blown dictatorship to the Netherlands and into our electoral campaigns.
What's going on?
With about 240 thousand eligible Turkish voters in the Netherlands there's something to win here for Erdogan and his henchmen (notice how this is not going to be a neutral article by now?) and they aim to capitalize on that potential pool of voters in order to hold objectionable rallies where they will brand everybody opposing the 'yes' vote traitors and terrorists, say Turkey is the best and the host countries like Germany and the Netherlands are crap and wave around a bunch of flags.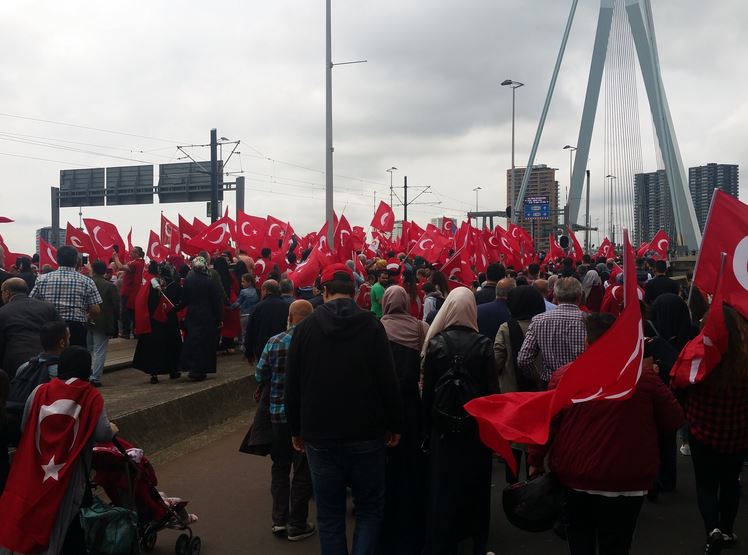 The current regime in Turkey is as tactically cynical as it is undemocratic – knowing that they will be either allowed to hold the rallies or, even better for them, that they'll be barred from holding them. In which case they can point the finger and shout 'THIS IS ALSO NOT DEMOCRATIC'.
Why the Dutch politicians might just have a spine this time
Freedom of speech is a good thing and also not just there for messages you and me like, but clearing the way for the power play of a foreign dictator might just be a step too far. And good lord, politicians in both the Netherlands and Germany for once may have found a spine! Almost all the Dutch political parties are now opposing any Turkish government officials holding rallies in the Netherlands. With even Rutte stating that the government isn't afraid of a diplomatic incident if that's what's needed to keep them out.
Things are especially getting heated around a planned visit by Mevlüt Cavusoglu to Rotterdam on the 11th of March. It can now only be stopped by Dutch Moroccan mayor Ahmed Aboutaleb who has already been branded a traitor by local Erdogan fanboy Kuzu (those Turkish guys from DENK). Even more controversial, will the Turkish visitors give voting advice to the attendees?
What we should do
Guess what? I'm thinking the Turkish rallies should be allowed to go on because that's what the legal situation is and we're a country of the rule of law, which sadly Turkey isn't anymore. However, let's not idly sit by while they happen: put your money where your mouth is, Wilders, Buma, Rutte and everybody else. Cancel all talks between Turkey and the EU, get economic sanctions going against the AK-party regime and start supporting journalists in Turkey.
Faces of 154 lawyers arrested in Turkey since last summer. 341 arrested in total. pic.twitter.com/VBGuuLKG5G

— Mahir Zeynalov (@MahirZeynalov) 28 februari 2017
And for once stop all the goody two shoes talk, Erdogan is a dictator and not our friend – stop treating him like it (and while you're at it, stop all the 'goat' insults – those are just racist remarks). Just because we're a decent democracy that doesn't mean we have to just sit there and say nothing. The opposite is true…
Anyways, this is a tough debate. What do you think? How should the Dutch handle these Turkish questions?