Defending gay rights? 
Today Dutch Prime-Minister Rutte spoke to the Russian President Putin and, among others, told him something along the lines of: We don't like your policies on gay rights, we strongly object to them." Nothing wrong with this statement, in fact we support it, be it that the Dutch delegation for the 2014 Olympics in Sochi is quite extensive compared to other EU countries (besides Rutte, the King and Queen, plus the Minister of Sport will be present in Sochi). Stronger statements obviously have been made…
Who or what did it?
Meanwhile, in our country where tulips spontaneously start to grow due to the 'warm' winter, a rare phenomenon occurred. The wicks (Dutch: wieken) of a flour mill from 1908 in the village 's-Gravenzande suddenly broke Thursday night. Unfortunately, the cause of this accident is still un-known. Tell us, who would try to hurt our beloved mills?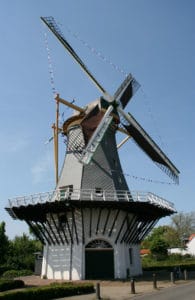 Where to find a job?
Some happier news… Still looking for a job? Try Rotterdam! Last year, the city has attracted 29 companies creating almost 3000 jobs. The good thing is, they're international! So, everyone who is still in hibernation: Hurry up, to Rotterdam!