Yesterday, the world lost one of its last remaining moral heroes. On December 5th, 2013, the legendary Nelson Mandela (Madiba for friends) drew his last breath, leaving behind the legacy of a mind that was simply unbreakable. We're not saying that Mandela was like the Wolverine of the human cause, because that would be giving too much credit to Wolverine.
Not surprisingly, the Mandela-Dutch connection goes a lot further than him simply posing with our national soccer team and our ironically fat secretary for Health, Welfare and Sport. Mandela would spend the better part of his life fighting Apartheid in South-Africa. Apartheid is a Dutch word that later became part of the English language, but unlike nice words like 'cookie', 'luck' and 'Santa Clause', Apartheid refers to a politically enforced system of racial segregation that was imposed in South Africa shortly after World War II and remained in place until as recently as 1994.
Born into a royal family in 1918, Nelson Mandela was privileged enough to be able to attend university. However, his involvement in human rights in light of his struggle against segregation would cut his prosperous future short, as Mandela would soon find himself behind bars. Mandela's devotion to the African National Congress would later be his downfall, as the organization became to be considered a threat by many ruling powers and would even be labelled a terrorist organization (more on that later). For his not so small efforts in trying to sabotage the racist government of South Africa, Mandela was arrested in 1962 and sentenced to life in prison.
For the duration of his prison sentence at Robben Island, the not-so-free world responded to his suffering with a stone-cold "Meh…". We'd like to use this moment in our history lesson to remind you of the fact that none other than the later vice-president under George W. Bush (2001-2009) Dick Cheney actually voted against freeing Mandela from his unjust prison sentence in 1986 and even expressed his lack of regret about it afterwards. You know, because Mandela was a terrorist and part of a terrorist organization.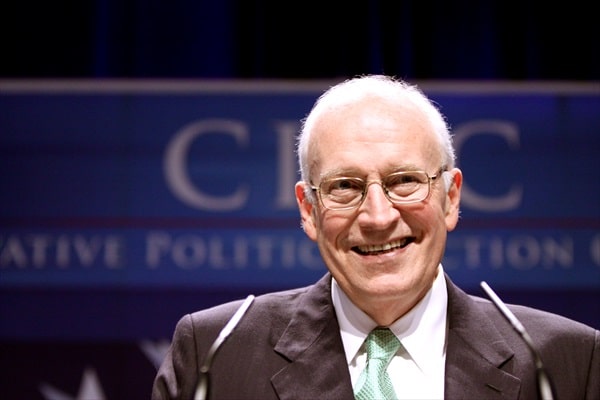 Fortunately, we don't use ideological terms like 'terrorist' or 'threat to society' anymore to demonize people and make them less than human in our minds anymore, right?
Moving on.
It was only in 1990, after 27 years of what he thought would really be a life sentence, that Mandela was released. You'd think that a man who spend almost three decades thinking that he'd never get out of jail and have a life of his own would be one bitter individual, but then you'd be wrong. Unlike some people (we're looking at you, Mother Theresa!), Mandela never lost his faith in both his convictions and humanity. He would later become president of South Africa (1994-1999, also the first South African president of colour) and devoted every ounce of energy he had to promoting international peace, the end of racial segregation, and the fight against AIDS.
As easy as it is nowadays to be cynical of pretty pictures with easy-to-swallow and inspiring quotes, you can't deny that Mandela's message is one to cherish.
No one is born hating another person because of the colour of his skin, or his background, or his religion. People must learn to hate, and if they can learn to hate, they can be taught to love, for love comes more naturally to the human heart than its opposite.
Rest in peace, Nelson Rolihlahla Mandela. May your achievements never be forgotten.